Scouts concerned Yankees great Derek Jeter may be out of miracles
Though the scouts are saying he looks old and slow, Yankees great Derek Jeter professes faith he can finish strong.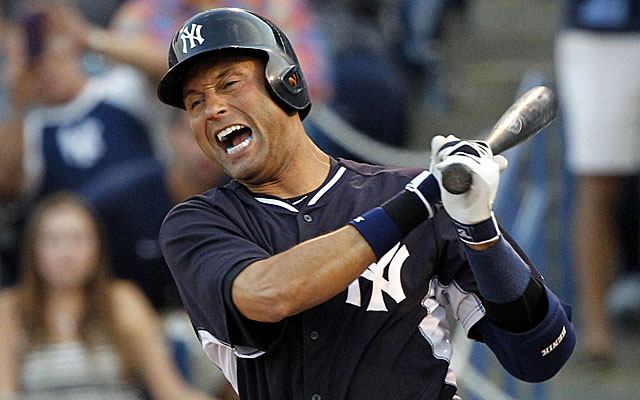 MORE: Spring Training | Scoreboard | Team previews
TAMPA, Fla. -- Derek Jeter, the skinny kid from cold-weather Kalamazoo, Mich., who was passed over for five iffy prospects in the 1992 draft and made 56 errors one season in the minors, is better at tuning out doubters and detractors than just about anything else.
He is hearing it once again. He doesn't look great, some scouts are saying. He is 39, he's coming off a severe ankle injury, his feet and bat look slow, they are saying. But Jeter is an all-time great at beating odds and overcoming challenges.
According to a couple scouts who have trailed the Yankees this spring, his final season may be Jeter's biggest challenge to date. The facts are part of the picture, including the .128 spring batting average. In some cases, the words are worse. But they are still only rhetoric. Jeter always has answers for that.
He, characteristically, gives none of it any attention. Jeter has been toppling expectations and the odds longer than he can remember, and as long as he's healthy and sound, he's been consistently right. An opinion or two from an unnamed scout or two isn't going to deter him.
"I feel good," Jeter said the other day. "It takes a little while. When you miss time it takes awhile to get back. I've got one week left. I'm in a good spot."
Considering the track record, it's easy to take Jeter at his word. He's backed up his belief in himself all but the first year (when he barely played) and last year (when he also barely played) of an iconic career that ranks with the greatest Yankees ever, even if Jeter doesn't want to rank it yet, or probably ever. Rightly, he belongs with Babe, Lou, Mickey, Joe D., Yogi and Whitey, right near the top.
Folks are rooting for Jeter. David Ortiz, having a similar spring, recently said aloud he appreciates Jeter, and if a rival Red Sox star can say it publicly, you know just about everyone is thinking it. Even the scouts who don't see it this spring say they are rooting for Jeter.
The scouts, too, allow for the possibility they could be dead wrong, that Jeter could have one more miracle in him, that in the year he turns 40, he can turn back the clock, just like he did in the year he turned 38. That year he led the American League in hits with 216 hits and was nothing short of brilliant, the most brilliant 38-year-old shortstop anyone has ever seen.
Spring averages are virtually worthless, especially in a case where a great veteran player basically hasn't played for two years, but Jeter's average so far only adds to the scouts' suspicions that he may not be able to summon the greatness within one more time. No surprise, Jeter doesn't give the idea he may not do it even a nod or a pause. He's sure he can do what he did in 2012, when he amazed all of baseball by improving 19 points in batting average to .316 over the year before, and by 46 points over the year before that, when everyone strongly suspected he was finally on the downside of brilliance.
Jeter has defied age once before. In his mind, why not do it again?
 "Why isn't it possible?" Jeter answered my question with his question. "If you don't think it is, you shouldn't do it. You shouldn't even be out there."
None of the scouts who have doubts are suggesting there isn't hope. But while they are leaving room he may fool them all once again, they aren't seeing it so far. Spring is the worst place to judge, a spring after a (basically) missed season is even worse than that, and Jeter has had more misjudgments passed on him than anyone in the history of baseball. But the words being used still seem worrisome.
"He looks old and frail," one AL scout said. "He looks like he lost 10 to 15 pounds rehabbing his ankle and the biggest difference is in his strength. He always had the strength to muscle that pitch on the inner half to right field for a base hit. (I) don't see it anymore."
 If the strength is a question to this scout, so is the speed. For the first time, Jeter is something other than an excellent or very good runner, at least according to this fellow with a stopwatch.
"Those infield hits are going to be limited now because he is a tick below average runner with a [bad] ankle," that scout also said. "He always figures out a way defensively, but you have to hit to be a regular. If anyone can prove me wrong it's Jeter. But the Yankees are going to have to make some really tough decisions if he doesn't start off well offensively."
Another scout saw similar things, and seems similarly concerned. Like the first scout, that scout identifies himself as a great Jeter admirer, and he'd like nothing more to be proven wrong. But he's not seeing it so far either.
"Jeter's bat speed has slowed down and he needs to make adjustments, to open up his stance to see the ball more clearly," that NL scout said. "He's running on eggshells right now to protect the injured foot. I hope he can stay healthy. [But] the first-step quickness is gone. It's tough to get back at 40. He'll need to read hitters counts and position better to make up for the deficiency."
Jeter was told there were a couple negative reviews, and he didn't want to hear it. Can't blame him there. Wasted time for him.  He's heard it all before, heard it when he was drafted that he wasn't even a shortstop, heard it again when he made those 56 errors at Greensboro as an 18-year-old,  heard he was done or getting there a few years ago, even heard from some stat guys that he allegedly isn't as good as some other say. He hears it all, and manages to tune it all out. Remarkable.
Let's face it, he's proved every last one of them wrong time and again. The man is a magician, the greatest producer of hits of every last Yankee, one of the greatest producers of big moments of any player who's ever played.
The only tangible difference between his regular-season play and the postseason, when he's facing only the best of the best among pitchers, is that he hits for more power in the postseason. In 158 career postseason games (which is a typical prime Jeter year), he has 111 runs, 200 hits and a .308 batting average, all about career norms. The 20 postseason home runs are above his usual total, and the .465 slugging percentage is a little better, too.
Jeter is the best at disproving the doubters, and he single-handedly kills the theory that there's no such thing as clutch.
As for the whole record, well, few saw this career coming outside of Hal Newhouser, the ex-Astros Michigan-area scout and former Tigers Cy Young winner who quit on the spot when Houston took Phil Nevin No. 1 overall back in '92 instead of Jeter, Yankees scout Dick Groch, Yankee scouting director Bill Livesey and a couple others who had working crystal balls. Jeter's more talented than just about anyone ever gave him  credit for, and you combine that with an unequaled focus on winning and what's important, plus an ability to drown out the noise like no one else, and you have an all-time great.
Others scouts who have seen the career, and put little stock in spring, are maintaining the faith. "He doesn't look washed up to me," one AL scout said. "His timing's just off. He just isn't locked in. It's not like he's going to hit .240. He's still going to have a solid year. Defensively, while he doesn't look great, it's not like he's on a cane out there.
"He's not a guy I'd be alarmed by," that scout continued. "He didn't play almost all last year. It's going to take a little bit of time."
Yankees people have to be careful here. Jeter has no use for negative noise, and there's no sense adding to the cacophony. But it's not just that. They also have seen this miraculous career up close, so it's very easy to see the best for 20 straight years, and assume something other than the worst.
They've seen some bad numbers in springs past, and they've never meant a thing before. So this spring, when he started 0-for-10, went 4-for-4, and has had twohits since for a total of 6-for-47 (.128), doesn't mean very much to them. "He's fine, he's OK. I'm not worried about the numbers," Yankees general manager Brian Cashman said. "He feels healthy, and that's what's important. He's just getting his work in so I don't worry about the results."
Jeter himself pointed out that he's barely played since two years ago. He's just working his way back. He's so unworried that for the first time he is taking the time to really relish the joys of spring training. As he says, he always has fun. But this time, he says he is stopping to appreciate everything. In the past, he'd count down the days until the games counted. Now he is doing it but not rushing it.
"I'm still looking forward to opening day," he said. "But I'm not looking forward to things being over as much."
Jeter never struck anyone as nostalgic. Amazingly, he didn't come close to crying at his press conference to formalize his retirement announcement (though at one point, he drew laughs when he asked me if I was trying to make him cry; I wasn't for the record), and I don't suspect he'll ever show much emotion.
"Why would I be emotional and sentimental?" Jeter wondered. "We haven't even started the year."
He's not going reflect on his career or his accomplishments until it's all over, though he did kindly stop to answer a couple questions about places, opponents and a teammate he might miss most, rare for him. He named Anaheim and Boston as two of his favorite places, Pedro Martinez, Roger Clemens and Curt Schilling as three of the pitchers he enjoyed the challenge of facing, and Jorge Posada as a favorite teammate (that one was so easy I actually fed it to him, but he readily agreed, saying the man he calls 'Sada is  "like a brother").
For the most part, Jeter doesn't waste too much time reflecting about the past, or wondering about the future. Part of what made him great was his steely focus on the present.
"When we came up we were thinking about keeping our jobs. My job was to keep my job. We didn't think ten or fifteen years into the future,'' he said. "If you recall, if we didn't do our job our owner would get rid of us."
That incredible focus on winning (and not personal stats) is "why the Boss kept us around," as he recalled it.
The Boss, it turns out, was good for him. The Boss fit him. Jeter always had laser focus about the job at hand to the exclusion of outside diversions, anyway. Assuming there are pregame tributes, they won't either. "What's that, ten minutes?" he pointed out.
 "I focus on this. This is my job," he said. "I can't focus on my job if my focus is on other things."
Jeter's spring stats and strength are something for others to focus on. In addition to his own focus, what's most remarkable about Jeter are his instincts and his resourcefulness. They should serve him well now. The scouts are only doing what they do and seeing what they see, but don't count out the possibility the scouts could be as wrong as doubters and detractors in the past.
The AL scout who expects good things said: "He's a guy I'd give the benefit of the doubt to."
The other scouts' stopwatches aren't necessarily inaccurate. But as they know, you never could measure what's best about Jeter with a tape measure or time piece. As one of the doubters said, if anyone can prove them wrong, it is him.
The Reds still have one of the best hitters in the game in Joey Votto and a rising star in...

Maxwell joins a growing movement across sports

The Yankees punched their ticket to the playoffs with a win over the Blue Jays on Saturday
Sabathia's stance seems to be an increasingly popular one among athletes

Plus the A's and Brewers have hope, Giancarlo goes deep again, and much more

Matt Chapman and Matt Olson give the A's hope