Scouts Corner: A look at the market for starting pitchers
Two starting pitchers have already been traded, and there will be more to come. Our Scouts Corner panel takes a look at who's left.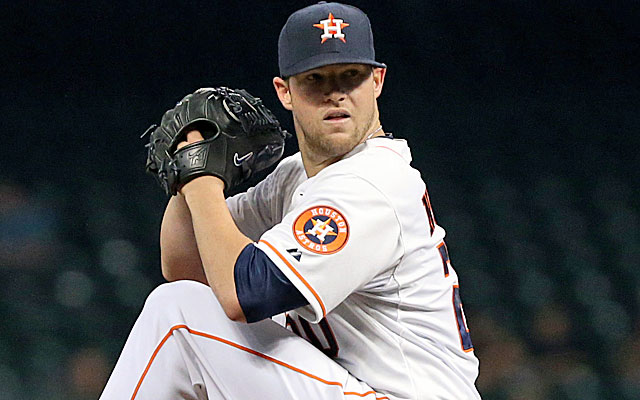 The two biggest trades so far have involved starting pitchers. One executive suggested Wednesday that Bud Norris could be the next to go.
The biggest stories about guys who could get traded but probably won't involve starting pitchers. We've been talking about Cliff Lee for weeks; I wrote about Ervin Santana today.
And if the San Francisco Giants keep losing, the speculation about Tim Lincecum can start soon.
The two moves made already won praise from many scouts, with Scott Feldman viewed as someone who can stabilize the Baltimore Orioles ' rotation (and has experience both in the American League and in the postseason) and Ricky Nolasco viewed as someone who will be a big help to the Los Angeles Dodgers .
Plenty of teams are still looking to add a starter, although that group can change almost daily. The Giants and San Diego Padres , two of the early shoppers, have lost so many games that they're now considered unlikely to buy.
The Colorado Rockies , Texas Rangers , Cleveland Indians , Arizona Diamondbacks , Washington Nationals , St. Louis Cardinals and Boston Red Sox all remain possible buyers for starting pitchers. The Atlanta Braves have also looked around, although they remain much more focused on finding bullpen help.
With that in mind, our panel for this week's Scout's Corner looks at some of the starters who still could be dealt:
Bud Norris

, rhp,

Houston Astros

: "He's got good stuff. It's about the consistency of command. I think most contending teams will see him as a fourth starter. The problem is they're going to ask a lot for him."
Yovani Gallardo

, rhp,

Milwaukee Brewers

: "For me, he's a back-end starter. Pitching in the WBC has hurt this guy. He's really regressed. . . . A lot of the American League scouts feel like he'd be a No. 4 starter in the AL. He really picks and nibbles, so his pitch count is always high. He may be a 3 in the National League, though."
Matt Garza

, rhp,

Chicago Cubs

: "He's the best pitcher on the marketplace. The stuff is good. But you hear various things about the makeup, and some people just aren't going to be convinced that he can stay healthy."
Ervin Santana

, rhp,

Kansas City Royals

: "He might even be better than Garza. His command is so much better [than last year], and the day I saw him he was throwing 95-96 [mph]. I know some people are still going to be worried about him staying healthy, and some will consider him too expensive [with a $13 million salary]."
Cliff Lee

, lhp,

Philadelphia Phillies

: "They probably won't trade him, and with what he makes and what it would take to get him, the Rangers might be the only team that would have a chance. But you've got to like him. He can spot his fastball. He competes. And he's a mercenary. You know he can go anywhere and lock it in right away, because he has done it."
Phil Hughes

, rhp,

New York Yankees

: "He has plus stuff, but with below-average command and no [guts]. He'll show plus stuff across the board, but a lot of times he throws it right over the white [part of the plate]. There are a lot of center-cut pitches, which is why he gives up so many home runs. And he tends to panic. If something goes wrong, he'll give up a big inning."