Scouts Corner: Bruins are champions, but no scout's dream
Scouts loved the 2011 UCLA team, but they didn't win it all. The 2013 UCLA team did, and our scout's panel takes a look at what they have.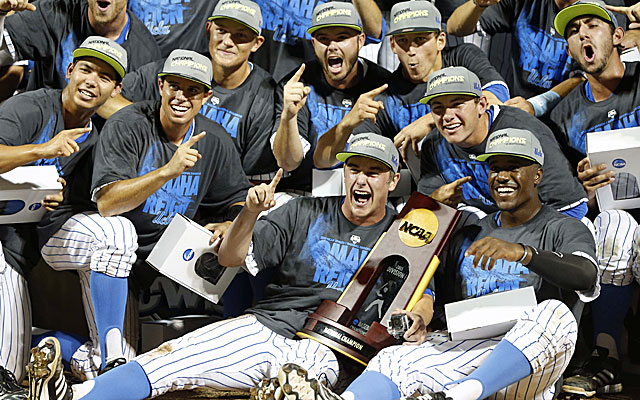 UCLA's 2011 team was a scout's dream.
Gerrit Cole (first) and Trevor Bauer (third) became just the second pair of college teammates to go in the first three picks in the June draft. In all, 19 players off that team were drafted once they were eligible. Cole and Bauer have already pitched in the major leagues.
UCLA's 2013 team was a coach's dream.
The Bruins had no player drafted higher than the sixth round, but they did nearly everything right. They pitched, they made the plays, they won.
The 2011 Bruins lost in the regionals. The 2013 Bruins won the school's first College World Series title by going undefeated through 10 postseason games, beating Mississippi State 8-0 on Tuesday night to win the crown.
"They were awful offensively," said one scout who watched the Bruins play.
That same scout, though, had huge praise for Bruins coach John Savage and for the way his team plays.
In this week's edition of Scout's Corner, our panel takes a look at Savage's NCAA champions:
Adam Plutko, starter (11th round, Indians): "He's an Ian Kennedy type, but with a little less velocity. He pitches up in the zone at 88-90, and it's a little hard to believe that it will work. But he knows what he's doing, knows how to pitch. And Ian Kennedy, back in the day, he had his detractors, too. . . . It's all about command. He can go back and forth, up and down. He can't add much [velocity], but he can subtract. He's probably a back-of-the-rotation guy, but sometimes those guys can get there fast."
Nick Vander Tuig, starter (6th round, Giants): "He has a little better arm than Plutko, but they're similar, same pitchability, and they both compete. He'll throw about 90-92 with a good breaking ball. . . . He's a lot like Plutko, but he has a better slider."
David Berg, closer (sophomore, not draft eligible): "He's a lot like Darren O'Day, although O'Day might throw harder. He gives you a different look, with some deception. He's not trying to strike you out, just trying to get you out. He's quite a competitor. He's probably going to have to move level to level in pro ball, but he could make it."
Zack Weiss, bullpen (6th round, Reds): "Big arm, with velocity up to 93-94, but his command is a little spotty. A big, strong guy with a durable body."
James Kaprilian, bullpen (freshman, not draft eligible): "It's power. Power curve, power fastball. An athlete, with a big strong body. I loved him in high school. I imagine they'll try to start him next year. He might have the highest ceiling of any of their guys."
Kevin Kramer, infield (sophomore, not draft eligible): "He can swing the bat a little. It's a question of where he's going to play, second base or third base. But he's a name for next year."
Shane Zeile, catcher (sophomore, not draft eligible): "That kid's an athlete. He worked well when they moved him behind the plate. But the bat's still got to come."
Pat Valaika, shortstop (9th round, Rockies): "He could end up being a good extra player at the big-league level."
It's a full slate of MLB night games, so keep it locked right here

The Rockies are clinging to the second NL wild card spot at the moment

Plus Matt Olson and Kevin Kiermaier heroics, a look at Zack Greinke's dominance and more
Plus the Indians are now 27-1 in their last 28 games. Here is everything you need to know from...

The soon-to-be 43-year-old Dickey said he wants to spend more time with his family

The two NL Central rivals opened a four-game series at Miller Park on Thursday night