Scouts Corner: Harvey's better than Strasburg (better than Wheeler, too)
Mets fans will be thrilled that our scouts panel picks Matt Harvey clearly over Stephen Strasburg. But what do they say about Zack Wheeler?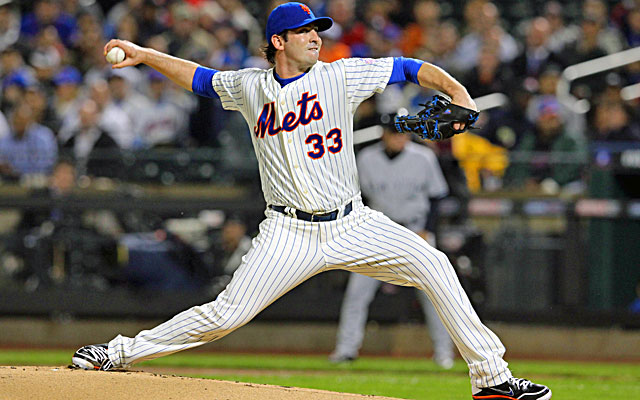 Back in the middle of April, it was just a fun chant from fans at Citi Field. Matt Harvey was outdueling Stephen Strasburg, and they loved it.
"Har-vey's bet-ter," they chanted then.
Harvey's better, scouts agree now.
"I don't know if you're doing a survey, but put me down for Harvey over Strasburg, and it's not even close," said one scout who watched the Mets right-hander's latest great performance, Tuesday in Atlanta.
"Not even close," another scout agreed. "He's tougher to pick up. His stuff is more dynamic. And his slider is unhittable."
Mets fans can say they were ahead of the curve on this one, but they won't like the next thing both scouts said.
Matt Harvey or Zack Wheeler?
Again, not even close.
Both scouts who watched Tuesday's day-night doubleheader in person listed Harvey as perhaps the most impressive pitcher they've seen this season. But neither came away raving about Wheeler, despite six shutout innings in his major-league debut.
One of the scouts suggested that Wheeler should still be in Triple-A, and in any case might still need a trip back to the minor leagues before he comes back for good.
The other scout was even less impressed.
"He's going to be a middle-of-the-rotation guy," the second scout said. "Edwin Jackson, maybe."
Obviously, scouts aren't always right in their projections. No one is. But the so-so reviews on Wheeler provide an interesting contrast to what other scouts have said about him ("That will go down as the best trade Sandy Alderson made in his life," one said this spring), and to the breathless reports in New York newspapers Wednesday morning.
"The Wheel Deal," screamed the back page of the Daily News.
"Future is Wow!" said the Post.
The scouts may end up being wrong. The fans may end up being right.
Remember, they were the first ones shouting "Har-vey's bet-ter!"
Eventually, the scouts caught on.
The debate will go on. Harvey and Strasburg are both just 24 years old (Strasburg is eight months older). Wheeler is 23 (14 months younger than Harvey). Harvey has made 25 big-league starts, with a 9-6 record, a 2.37 ERA and 185 strikeouts in 163 1/3 innings. Strasburg has made 58 starts, with a 24-16 record, a 2.83 ERA and 390 strikeouts in 330 2/3 innings.
A closer look at Harvey, Wheeler and Strasburg from our Scouts Corner panel:
Matt Harvey, Mets: "He's the real deal, no doubt. We all got excited about Strasburg, but you come to realize that the other guy's just better. Harvey seems possessed. You watch him and you can tell he wants to be the best, not just on his team, not just in the National League but in all of baseball. ... Even Strasburg at his best wasn't like the stuff Harvey showed [Tuesday]. High 90s and even 100 [mph], kept it into the late innings, a slider at 91-92 that's unhittable, and then a changeup at 85 where you just say, 'Good luck.' And it has late finish to it."
Zack Wheeler, Mets: "He's a good-looking kid with a good arm, but he looked to me like he should still be in Triple-A. It's not all about lighting up the gun. The boxscore line looks better than how he pitched. ... Even when he gets where he's going to be, he's not as good as Harvey. My guy feeling is that he's always going to have to throw a lot of pitches. And everything's hard. It's fastball-slider, and the curve is a hard curve. And the fastball is fairly straight. He's a nice, good piece of a rotation, but he's not Harvey."
Stephen Strasburg, Nationals: "We all rushed to judgment so early on him. We're always looking for the next big thing, but sometimes you have to wait. His stuff has regressed a little, but there's still nothing wrong with it. There's not a club in the game that wouldn't want him, but you could argue that there's 8-10 guys out there who throw better than he does. ... He has too many starts where he doesn't look comfortable, whereas Harvey always looks like he's trying to find a way to beat you, even when he's at the plate. I hope he outgrows it, because he's good for the game."