Season-ending back surgery is an option for Shane Victorino
Shane Victorino is seeking a second opinion on his back injury after a troublesome MRI.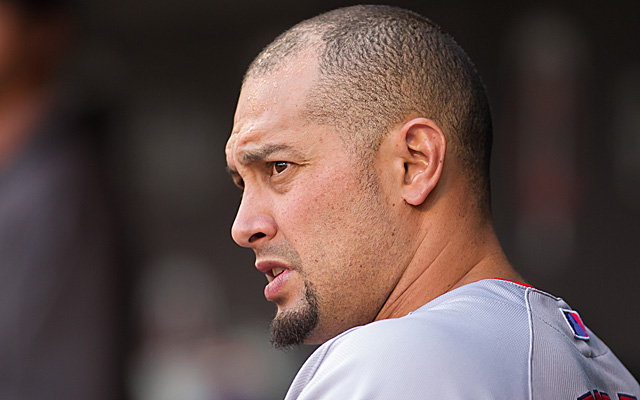 More MLB: Power Rankings | Expert Picks | Latest news & notes | Fantasy news
Red Sox right fielder Shane Victorino is seeking a second opinion on his back injury after a troublesome MRI. The results of the MRI or the ensuing prognosis weren't made public, but MLB.com's Red Sox beat writer, Ian Browne, is reporting that season-ending surgery is a possibility.
Victorino isn't offering up any denials, either, via MLB.com:
"I don't want to talk about what we discussed. I think that, as I said, it wasn't the news that we wanted. Some of the things that were shown were a little bit more than what we had hoped for, at least I had hoped for. But obviously being out there and not being able to go and having those things hamper me, I knew something was wrong. I don't mind playing through pain, I don't mind playing through an injury. But the continuation of it happening was the thing that was worrisome to me. the other night when I felt it, it was something that kind of woke me up a little bit. It was kind of sharp and sudden when it happened and we obviously found out why, with what the MRI revealed. To go get another opinion from Dr. Watkins and see what he has is important to me to get that view of things and we kind of have an idea of what's going to happen. as I said, I hope it's not going to be as serious. That's what I'm hoping."
Hamstring and back woes have hampered Victorino throughout the season, holding him to just 133 plate appearances in 30 games. He's hitting .268/.303/.382 (91 OPS+) with six doubles, two homers, 12 RBI and two steals after an excellent 2013 campaign that garnered him a few MVP votes.
The Red Sox have Allen Craig and Yoenis Cespedes as corner outfield options after the trade deadline action, but that's not too relevant, given that the Red Sox aren't contenders.
Victorino, 33, is signed for $13 million for the 2015 season before again hitting free agency.
I've only been in the BBWAA three years, but here's what my ballot would've looked like this...

In the last two votes, Clemens has gained nearly 17 percent in Hall of Fame voting

The results of the BBWAA Hall of Fame vote are revealed Wednesday, Jan. 24
Does the Jackson signing mean the Giants are out on Lorenzo Cain?

Acuna edged out Shohei Ohtani and Vladimir Guerrero Jr.

There's no reason to run over the cases for and against Bonds, so let's have fun instead