Selig gives A's permission to leave Oakland in order to keep them there
The A's got permission to move away from the city of Oakland Wednesday night from commissioner Bud Selig, but it was essentially to keep them in Oakland. Here's how.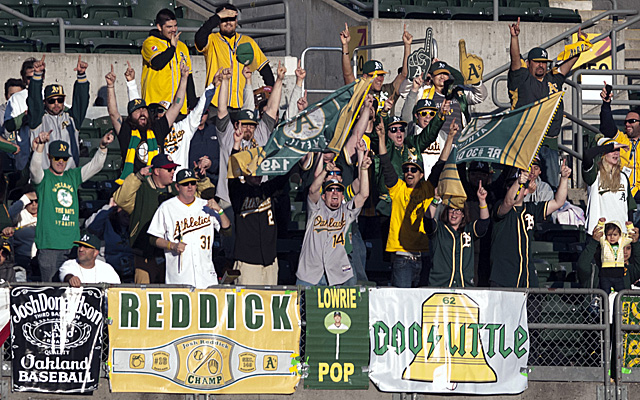 More MLB: Power Rankings | Expert Picks | Latest news & notes | Fantasy news
The Oakland Athletics were close to getting a new lease agreement with the city of Oakland to stay in O.co Coliseum for the next 10 years rejected, but now it appears the deal will be approved. All the club needed was a little leverage.
A's owner Lew Wolff got last-minute permission by MLB commissioner Bud Selig to move his team out of Oakland if a deal wasn't struck with the city Thursday. And, wouldn't you know it, things all of a sudden just happened to come together.
A's owner Lew Wolff sent an e-mail Wednesday at about 10 p.m. to Oakland officials saying he had authorization from Selig to immediately move the team outside Oakland if no deal was struck Thursday.

Oakland city councilman Noel Gallo, who was initially opposed to the proposed 10-year lease proposal, said city, county and baseball leaders were on the phone hammering out a deal overnight.

"I think this agreement will be fair," he said. "It might not be perfect, but I think it'll be good for Oakland and the region in the long run."
What a coincidence, huh?
It's much more complicated than this, but this feels tantamount to Selig only agreeing to let the team move just to make sure they stayed in Oakland. Otherwise why resist the club's requests to move for years? Why, at the last minute, now have a change of heart? Because the A's were facing not having a stadium in which to play. They needed the lease. They needed to leverage to get the lease approved.
And they got it, in the form of approval to move from Oakland.
It worked. See?
BREAKING: Oakland Coliseum Joint Powers Authority votes, 6-2, to approve a 10-yr lease for the @Athletics to stay at @OdotCoCOLISEUM. #JPA

— Steven Tavares (@eastbaycitizen) July 3, 2014
Now stay put in Oakland, A's. The commissioner has spoken.