Sen. Schumer speeds up visa process for Masahiro Tanaka, Yankees
The Yankees needed a little help with Masahiro Tanaka-related red tape, and New York's senior senator gave it to them.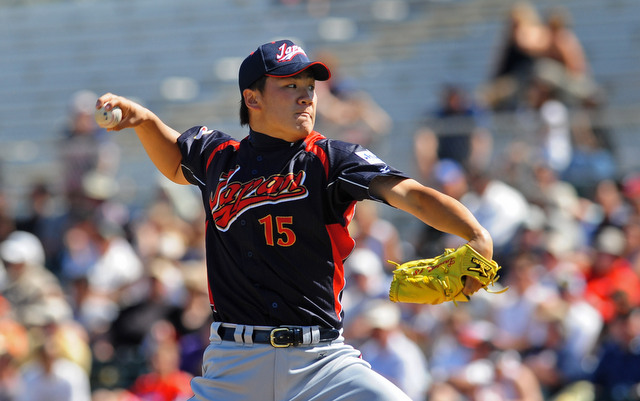 MORE: FA tracker: position players | FA tracker: pitchers
The Yankees of course not long ago inked coveted Japanese right-hander Masahiro Tanaka to a seven-year, $155-million pact. The next step has been clearing bureaucratic hurdles in time for spring training, and to that end the Yanks got a little help from Sen. Chuck Schumer of New York. Here's what Sen. Schumer told the New York Daily News regarding his muscle-flexing of note:
"My office works tirelessly to help constituents every single day, but it's not often you get a call from a constituent like the New York Yankees," Schumer said. "You see, the Yankees called me a couple of days ago to say they were worried about Masahiro Tanaka getting to spring training on time due to the length of time it can take for foreign players to get a visa.

"Foreign baseball players apply for something called a P-visa and the whole process can take up to a month; but with pitchers and catchers reporting on February 14th, it was very possible he wasn't going to make it. So I made sure we had someone go to the mailroom at USCIS (United States Citizenship and Immigration Services), pull his application and get it processed quickly - something I have done in the past for the Mets as well, when they had a similar issue with Jose Reyes."
Nice preemptive strike against primed-for-outage Mets fans, Mr. Senator. 
Given all this, might one refer to Sen. Schumer as "Baseball's Good Buddy"?
Regarding not-unrelated matters of governance, does anyone have any hot political opinions he or she would like to share?
Iowa and Missouri are two programs mixing technology and analytics

Sunday's MLB roundup features the D-Backs clinching a postseason spot and the Mariners going...

The 2017 season has been, by far, the worst season of Cabrera's career
The Mariners were eliminated from postseason contention with Sunday's loss

Maxwell became the first MLB player to kneel during the national anthem Saturday

The Blue Jays are not expected to bring Bautista back next season