Seoul beats Jackie Robinson West, wins Little League World Series
Seoul Little League has defeated Jackie Robinson West (Chicago, Ill.) to win the 2014 Little League World Series.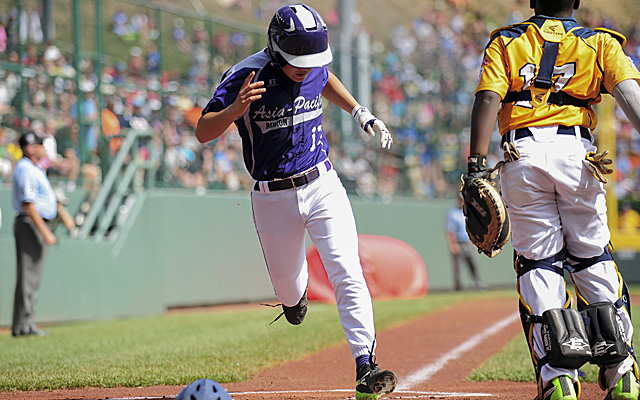 Seoul Little League defeated Jackie Robinson West (Chicago) Little League to win the 2014 Little League World Series. Seoul won Sunday's finale 8-4.
Seoul, the representative for the Asia-Pacific group, went 5-0 in the LLWS, often flashing a powerful offense, averaging more than 8 runs per game.
This marks the third championship for a team from South Korea, but the first since 1985.
The game was close for a bit, as Jackie Robinson West cut the Seoul lead to 2-1 in the bottom of the third inning. Seoul would tack on one run in each the fourth and the fifth, making it 4-1 heading into the sixth and final frame. That's when Seoul broke the game wide open with a four-run inning, collecting five hits in the first six at-bats of the inning.
The offensive star Sunday was Dong Wan Sin, as he went 2 for 3 with a home run. Gyu Heon Kwon added two hits while Jae Yeong Hwang collected two RBI and a double.
Jackie Robinson West, representing the Great Lakes region, was aiming to become the first Little League World Series winner from Illinois. They were held to just two hits -- one each by D.J. Butler and Ed Howard -- by Seoul pitchers Jae Yeong Hwang and Hae Chan Cho through the first five innings. 
Despite a seven-run deficit heading into the bottom of the sixth, Jackie Robinson West made a run at a comeback.
Pierce Jones and Trey Hondras collected singles before being driven home on Darion Radcliff's two-run single. Joshua Houston followed with a single and Radcliff scored on a passed ball. The rally fell short after that, though, and Seoul prevailed.
The United States last had a champion in this event in 2011, when Huntington Beach, Calif., took home the title. Each of the previous two seasons champions hailed from Tokyo.