September has begun, but this Red Sox team won't collapse
Four games into September, it's already a given that this Red Sox team won't follow the ugly path set by their 2011 predecessors.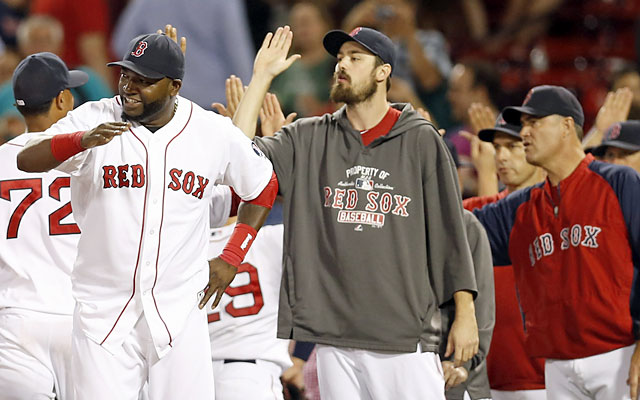 BOSTON -- Through 140 games in 2011, the Red Sox were 84-56 and held a seven-game lead over the Rays for the final playoff spot. We didn't know it then, but the collapse had already begun.
Through 140 games this year: 83-57, with a 5½-game lead in the American League East and what amounts to an eight-game lead in the race for a postseason spot. It feels safe to say there will be no repeat collapse. Two years ago, there were already signs of trouble. We just overlooked them.
Now, September has begun and the Red Sox are getting stronger rather than weaker. Their rotation is full rather than falling apart. They just won a series from the Dodgers, who might be the best team in the National League, and this week impressively won a series from the Tigers, who might be the (other) best team in the American League.
"We've learned from all the bad things we've been through," said David Ortiz after Wednesday's eight-homer, 20-4 Red Sox victory.
The team has a different look. The clubhouse has a different feel.
And as the Red Sox begin an 11-day stretch against the wild-card contending Yankees and Rays, the big question isn't whether the Sox will be in the playoffs, but rather who they'll bring with them.
With seven games over the next week and a half against the Yankees, they could please their fans by burying the Yankees' flickering playoff hopes. With three games in between against the Rays, who have a tenuous hold on the final postseason spot, the Red Sox could give hope to anyone on the outside looking in.
Like, perhaps, Terry Francona's Indians.
Would there be any better way of pushing September 2011 into the past than by the Red Sox pushing through to win the AL East, and in the process helping carry their former manager to the postseason with them?
It could happen.
Francona's Indians won again Wednesday night, too, remaining only one game behind the Yankees and 3½ games behind the Rays.
But here's the thing: Have you seen the Indians' schedule the rest of the way?
Mets, Royals, White Sox, Royals, Astros, White Sox, Twins.
Meanwhile, the Rays have series against the Red Sox, Rangers, Orioles and Yankees. The Yankees have those seven against the Red Sox, and play the Orioles and Rays, as well.
The Red Sox say they don't care who else makes it, as long as they do.
"No," Jonny Gomes said. "That's irrelevant."
Perhaps, but the Red Sox are 6-1 this year against the Indians. They're above .500 against the Rays and Yankees, too, but not by nearly as big a margin.
Besides, do they really want to risk a playoff series in which they might see David Price or Matt Moore twice, with Chris Archer and Alex Cobb, too? Do they really want to risk facing a revived Yankees team in October?
The Red Sox, at this point, have no reason to fear anyone. And there's no guarantee they would actually see any of these teams, since whoever wins that wild-card spot would first face a one-game playoff, likely against either the A's or Rangers.
"We just want the home-field advantage," Gomes said. "We've played good at home. We've played good against everyone at home."
They were record-tying good against the Tigers on Wednesday, hitting eight home runs in a game for just the second time in their history (and becoming the first team ever to do it against the 113-year-old Tigers franchise). Ortiz hit two of the home runs and added a double for his 2,000th career hit.
It left the Red Sox with a good feeling they rarely if ever had two Septembers ago, even early in the month when their record was still good and their lead over the Rays was still big.
This is a different team, and has been for quite a while.
"This is a very focused and driven team," manager John Farrell said. "It's a very committed group. And I thought from the first day of spring training on that they felt they had a chance to do something special.
"And that might be in the process."
The Red Sox are about to begin a stretch of games that could define this season -- but not for them. Their season won't be defined by September this time around.
Four games into the month, that much is already a given.
L.A. manager Dave Roberts indicated that Puig's benching was related to more than one inci...

Manager Torey Lovullo said so on Monday

Let's see how SportsLine forecasts the race for MLB's 10 playoff spots
Monday kicks off the final week of MLB action. Let's take a look at everything that went d...

No other rookie in baseball history has hit more home runs than Judge has this year

Jays have said goodbye to Encarnacion and will to Bautista. Should they move on from Donaldson,...