September Viewer's Guide: Mile markers for the stretch run
The calendar flips, and one of the best sports times of the year arrives: Baseball's stretch run, along with that oblong leather thing that guys in helmets kick around. Looking ahead to a month that isn't exactly shaping up as the most dramatic pennant race in history, here's what to look for. ...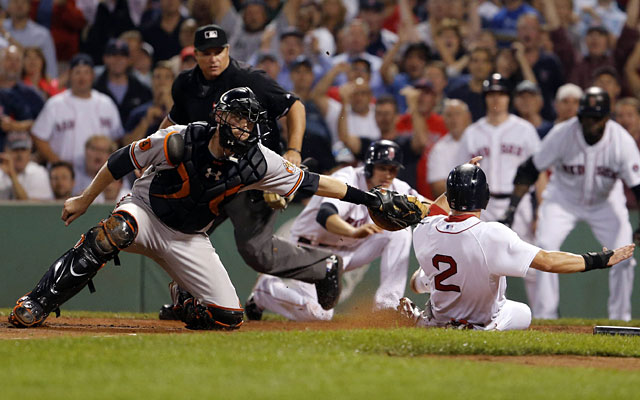 Ah, September. College football. Autumn colors. Earth, Wind & Fire. Stretch runs.
Do you remember September (and stretch runs)?
Biggest hope this year is we don't have to call on memory for September excitement. Because right now, you can almost name every one of the 10 postseason teams a month in advance.
What's just up ahead? Here's a  viewer's guide to this year's possibilities, complete with the seeding in each league according to ... me.
AMERICAN LEAGUE
Why they'll win: Can anybody beat the Max Scherzer-Miguel Cabrera combo? The Tigers' lineup leads the majors in run differential (plus-159), and they have a killer rotation filled with power pitching that will play both down the stretch and in a short playoff series. Power pitching wins in October.
Why they won't: Good pitching beats good hitting, and if Cabrera and Prince Fielder get silenced as they did last October, look out.
Key statistic: Tigers starters lead the American League with a 3.50 ERA and 780 strikeouts and, according to STATS LLC through Sunday, they had the second-highest strikeouts-to-walks ratio of any team in AL history at 3.27. Three Tigers starters rank among the AL's top 10 qualifiers among strikeouts per nine innings: Scherzer (9.87, second), Anibal Snachez (9.83, third) and Justin Verlander (8.51, eighth).
Key player: Jose Iglesias. Defense could be the Tigers' Achilles heel, but Iglesias is an upgrade at shortstop over suspended Jhonny Peralta.
Key series: at Boston, Sept. 2-4. Nice preview of October. And afterward, 16 of the Tigers' final 22 games -- against everybody but the Royals -- are against clubs currently with sub-.500 records.
Why they'll win: The Red Sox lead the AL in runs scored and rank second to the Tigers in the AL in run differential (plus-134). Versatile lineup featuring Jacoby Ellsbury (leads the majors with 49 steals and a 92.5 percent success rate) and David Ortiz (24 homers, 79 RBI), plus, you can never go wrong with Dustin Pedroia. Also, terrific outfield defense -- particularly Ellsbury in center and Shane Victorino in right -- is a huge help to Sox pitchers.
Why they won't: Behind Koji Uehara, the Red Sox bullpen has been inconsistent and currently ranks seventh in the AL with a 3.68 ERA. No team wins in October without great relief work.
Key statistic: The Sox's .646 win percentage (42-23) at home is the best in the AL and third best in the majors.
Key player: Clay Buchholz. Will he be able to return and pitch effectively this year? If he's anywhere near his April-May-early June self (9-0, 1.71 ERA, 1.020 WHIP), the Red Sox's chances of winning the division and playing deep into October automatically increase. Right now, the goal is a Sept. 10 return, which dovetails nicely into. ...
Key series: at Tampa Bay, Sept. 10-12. The Red Sox are 10-6 against the Rays this season. That trend continues in their final meeting, Boston wins the AL East.
Why they'll win: Because manager Joe Maddon and general manager Andrew Friedman always get the most out of their club, and in David Price, Chris Archer and Co., the pitching, as usual, is there to win. So is the defense. Maddon said this spring this was his best defensive club yet, and the Rays' 48 errors through 131 games are the second fewest in major-league history behind this year's Orioles (39).
Why they won't: The Rays still don't score as much as other contenders, so they must outpitch everyone else. Of the eight teams on this list, only the Yankees haven't outscored the Rays. And that's because New York has played much of the year with key offensive players hurt. Also, closer Fernando Rodney has fallen into a deep slump, blowing three of seven save opportunities in the month of August.
Key statistic: Since returning from that frightening line drive to the head, Alex Cobb has surrendered only two earned runs and six hits in 11 innings pitched.
Key player: Matt Moore. The 24-year-old All-Star is projected to return from the disabled list (sore elbow) in Anaheim on Tuesday night. His effectiveness will go a long way in determining the Rays' hopes. He's 14-3 with a 3.41 ERA over 121 1/3 innings pitched this year. If that's the Moore the Rays get down the stretch, they should be playing in October.
Key series: vs. Boston, Sept. 10-12. They continue to chase the Red Sox, so this likely will be a must-win series if Tampa Bay wants to avoid the one-game wild-card round.
Why they'll win: The Rangers are hot at the right time, winning 22 of 28, best in the majors since July 29. A lockdown bullpen, led by closer Joe Nathan and Neal Cotts, owns the second-best ERA in the AL (3.00), and it has been especially good lately with a 2.16 ERA over its past 43 games. Starters Yu Darvish, Derek Holland and Matt Garza match up well with almost anybody.
Why they won't: Toughest stretch-run schedule of anyone -- six games with the Athletics, three with the Pirates and four against the Rays. Also, losing Nelson Cruz to a Biogenesis suspension was a big blow to an offense that hasn't been as potent as those in the past in Texas. Cruz's 27 home runs led the team at the time of his suspension. Alex Rios, let's see what you've got.
Key statistic: The Rangers have won 13 of their past 15 road games and, at 40-28 (.588), now owns the majors' best road record (ahead of the Dodgers' 38-27, .585).
Key player: Adrian Beltre. Few people understand -- REALLY understand -- not only how good this guy is in every facet of the game, but what a terrific leader he is as well. Tied for the AL lead with the Angels' Mike Trout at 51 multihit games, Beltre now must carry much of the production load as well without Cruz.
Key series: at Tampa Bay, Sept. 16-19. The Rangers also have two key series remaining against the Athletics -- Sept. 2-4 in Oakland and Sept. 13-15 in Texas. But these four with the Rays are the Rangers' final games against a contender, and with just 10 games remaining after this series, how Ron Washington's crew fares in Tampa likely will make or break things.
Why they'll win: Pitching. The A's are fourth in the league in ERA and it's more of the same from Billy Beane's outfit: Amass a group of great young arms and take your chances. Led by Jarrod Parker and A.J. Griffin, A's starters lead the AL with four complete-game shutouts and rank fourth with a 3.90 ERA. And over their past 90 games, A's starters are 40-21 with a 3.38 ERA.
Why they won't: An offense overly dependent on Yoenis Cespedes ranks eighth in the AL in runs scored. The lack of pop lately has been especially noticeable in the outfield, where the A's have combined for a major-league low .223 batting average through midweek. The lowest mark ever for Athletics outfielders since 1916 is .228. Furthermore, Oakland DH's are hitting .217, currently the second-lowest ever to the .203 mark A's DH's checked in at in 1987. Coco Crisp has been better lately.
Key statistic: The only major-league team to draw more walks than the A's 477 this season is Boston (480). The A's are seventh in the AL in on-base percentage. Only thing lacking is some key hits here and there.
Key player: Yoenis Cespedes. Last thing the A's need is one of those extended outages the All-Star Game's Home Run Derby can produce. Through midweek, he was just 5 for his past 34 with 12 strikeouts over seven games.
Key series: at Texas, Sept. 13-15. The A's trail the Rangers in the AL West, and this is their last crack at them (following three games against the Rangers in Oakland Sept. 2-4).
Why they'll win: They're the Yankees. How many times have folks predicted their demise, and how many times have the Yankees come back squashed those predictions? They're stronger now than they've been all season with Curtis Granderson and Alex Rodriguez healthy. And Derek Jeter surely has another miracle or two in his pinstriped pocket, doesn't he?
Why they won't: Just when they get healthy, Robinson Cano gets drilled with a pitch in the hand on Tuesday night. We've seen this time and time again this year. Granderson is out, comes back, gets hurt again. Jeter yo-yos on and off of the disabled list. They're too old and too brittle. Their offense isn't nearly what it has been in the past. But, it is better with Alfonso Soriano.
Key statistic: The Yankees rank 11th in the AL in runs scored. Key from here on out will be, with a better lineup actually bordering on, ahem, healthy, can they score enough to overcome mediocre pitching?
Key player: Hiroki Kuroda. Overlooked by many with CC Sabathia and Andy Pettitte around, it was Kuroda who owned a 2.26 ERA over nine starts since the beginning of July -- until the Blue Jays hit him for five earned runs in five innings Wednesday.
Key series: at Baltimore, Sept. 9-12. Still trailing the Orioles in the AL East, these four games may wind up eliminating one of these two clubs from wild-card consideration.
Why they'll win: Chris Davis has 47 home runs. Manny Machado has 44 doubles. Adam Jones is a stud. One scout told me earlier this season that he thinks the Orioles lineup is even better than Boston's. Big statement, given that the Sox lead the AL in runs scored. But the Orioles rank third. They have the sticks to make a late charge. Midweek, they led the majors with 175 homers -- 18 more than any other club.
Why they won't: The Birds just don't pitch well enough. Their rotation ranks 13th in the AL with a 4.63 ERA. Their bullpen ranks 10th at 3.76.
Key statistic: The Orioles have been charged with only 39 errors through their first 131 games, which puts them on pace for only 48 errors all season. The major-league record for fewest errors over a 162-game season is 65 by the 2003 Mariners.
Key player: Chris Tillman. He has been great all season, and with not a lot behind him, Tillman (15-4, 3.61) can't slow down.
Key series: vs. Yankees, Sept. 9-12. If the O's are to survive this month and advance to October, they have to put away the Yankees in this four-game showdown.
Why they'll win: Terry Francona wins, and if there was any doubt, he has proven it again in this year's Cleveland turnaround. The Indians have a ways to go still to get to October, and the Tigers are standing in their way. But when you pitch, you have a chance. Since June 11, only Tampa Bay (3.40) has an ERA better than Cleveland's 3.44 ERA in the AL. That ERA is 2.92 since July 8 but Cleveland is only 25-19 since then because of spotty offense.
Why they won't: Even with Michael Bourn and Nick Swisher, Cleveland's offense this year has not reached the level of that of the Tigers ... or Red Sox ... or the Rangers ... or the Orioles. The Indians are fifth in the AL in runs scored but have been running on fumes lately.
Key statistic: The Indians on Aug. 21 surpassed their win total from all of 2012 (68-94). Not a lot more is reasonable to expect, but the Indians are clearly headed in the right direction.
Key player: Ryan Raburn. The guy has been sensational off the bench, but now he's out with a strained Achilles. It will be all hands on deck in September.
Key series: vs. Baltimore, Sept. 2-4. After the Indians finish for the season with Detroit Aug. 30-Sept. 1, the O's present the only head-to-head matchup for Cleveland with anybody involved in the division or wild-card race.
NATIONAL LEAGUE
Why they'll win: A year after their mega-deal with the Red Sox, the pieces finally are all fitting together spectacularly. Adrian Gonzalez, Hanley Ramirez, Andre Ethier, Clayton Kershaw, Zack Greinke, Carl Crawford ... the Dodgers have been the best team in baseball since June 22 (48-13) and hotter than anybody in August (21-6). Facing Kershaw, Greinke, Hyun-Jin Ryu and Ricky Nolasco in a short series is nobody's idea of fun.
Why they won't: You have to look far and wide to come up with why not, because the Dodgers are a complete team with no apparent weaknesses. Health is the big one here. If something happens to Ramirez or Crawford -- and both have been hurt this year already -- that changes the Dodgers' dynamic. As it is, Matt Kemp hasn't played since July 21 and has missed 70 games during three DL stints this season.
Key statistic: Closer Kenley Jansen leads NL relievers in opponents' batting average (.101) and WHIP (0.55, tied for first place) since July 1 and is tied for second in the NL in saves (15). His replacing Brandon League as closer is one more important piece of the Dodgers' turnaround.
Key player: Yasiel Puig. His talent can carry the Dodgers to their first World Series title since 1988. But you worry that his temperament can be self-destructive -- manager Don Mattingly pulled him after four innings Wednesday because he didn't slide to break up a double play and wasn't prepared defensively.
Key series: vs. Colorado, Sept. 27-29. Easily running away with the division, the final series of the season will be a playoff tuneup for the Dodgers as Mattingly puts the finishing touches on his playoff rotation and rests key players.
Why they'll win: Thunder in the lineup and terrific pitching. Behind Justin Upton (24 home runs), Dan Uggla (21), Brian McCann (18), Freddie Freeman (16), Evan Gattis (15), Jason Heyward (13) and Andrelton Simmons (12), the Braves lead the NL in homers and are dangerous top to bottom in their lineup. They also lead the NL in ERA (3.18) thanks in no small part to a lockdown bullpen that is the NL's best (2.41).
Why they won't: Eventually, the staggering number of injuries (Heyward, Tim Hudson, Brandon Beachy, Jonny Venters, etc). will catch up to them. And, these guys can strike out with the best of them. The Braves' 1,127 whiffs were tied with the Twins for most in the majors as of Thursday. October opponents offer few weak spots on the mound, which is why holes in swings often become radically exposed during the playoffs.
Key statistic: Nobody is tougher at home than Fredi Gonzalez's crew, which owns a 46-18 record at Turner Field (must be the new in-park Waffle House!). And, closer Craig Kimbrel has converted a club-record 32 consecutive save opportunities (and he has 42 total saves this season).
Key player: Jason Heyward. Out 4-6 weeks with a broken jaw, he won't be back until close to October. By then, the minor-league seasons will long since have ended, and he will not have a chance to shake the rust off of his swing in an injury-rehabilitation assignment. How quickly Heyward returns -- and if he can get his game up to speed -- will be crucial for Atlanta in October.
Key series: at Nationals, Sept. 16-18. Of 27 games in September for the Braves, only these three are against a club with a record currently above .500. This will be as good an opportunity as any to work on staying sharp.
Why they'll win: They were good enough to own the best record in the majors for a time earlier this year and Andrew McCutchen is playing well enough to win an MVP award. Pedro Alvarez has a hammer, Francisco Liriano is pitching like an ace and Liriano and A.J. Burnett are a seriously good 1-2 punch. These Buccos are seasoned and resilient.
Why they won't: The offense can be erratic and the Bucs' run differential of plus-55 on Thursday was third-best in their own division, behind the Cardinals (plus-146) and the Reds (plus-92). They rank only eighth in the NL in runs scored. Meantime, after Liriano and Burnett, the rotation is looking worn: Jeff Locke has regressed in the second half, Gerrit Cole is fast approaching his innings limit and likely will move to the bullpen soon and Wandy Rodriguez likely is out for the year.
Key statistic: No NL bullpen has worked as many innings as the Pirates' (451 through Thursday). Will the workload catch up to them?
Key player: Marlon Byrd. Pittsburgh has needed another bat in the lineup all season, and Byrd, the Pirates' August acquisition, belted a three-run homer -- his 22nd of the season -- in his Pittsburgh debut Wednesday. More of that would be just what the doctor ordered.
Key series: at Reds, Sept. 27-29. This season-ending series could be for the NL Central title or for wild-card seeding purposes.
Why they'll win: They usually find a way, don't they? Their plus-146 run differential is the best in the NL and this is an organization that knows its way around September and October. Yadier Molina is on the short list of MVP candidates and behind Carlos Beltran, Matt Holliday and Allen Craig, the Cards lineup is versatile and productive.
Why they won't: Even with Adam Wainwright and some very good rookie starters, you still can't camouflage the preseason loss of Chris Carpenter. Jake Westbrook has been on the DL twice this season, putting even more pressure on the young starters. Joe Kelly went 5-0 in August, but increasingly, the Cardinals are asking more and more of their bullpen. Friday's pickup of John Axford from the Brewers at least adds depth.
Key statistic: Lefty reliever Kevin Siegrist is unscored upon in 13 August appearances. He has fanned 20 during those outings and 40 hitters in 28 innings (30 games) overall. A bright spot in a not-always-dependable bullpen.
Key player: Yadier Molina. His right knee is worth watching every night because it sent him to the disabled list earlier this year, it has been sore and if it begins acting up, the Cards are sunk.
Key series: vs. Pirates, Sept. 6-8. That ends a run of 17 consecutive games against playoff contenders for the Cardinals, including 13 in a row against NL Central rivals Pittsburgh and Cincinnati. If the Cards finish the Sept. 8 game with Pittsburgh in good shape, they finish the season with 16 of 19 games against sub-.500 teams.
Why they'll win: Joey Votto and Shin-Soo Choo rank 1-2 in the NL in on-base percentage, combining to reach base in 237 of their 260 games. The last pair of teammates to finish 1-2 in OPB was the Yankees' Jason Giambi and Alex Rodriguez in 2005. Last NL teammates to go 1-2 in OPB? Pedro Guerrero and Mike Scioscia in 1985. With Jay Bruce and Brandon Phillips mixed in, this lineup will score.
Why they won't: You can't win without a tough bullpen, and the Reds' ranks ninth in the NL with a 3.57 ERA, the lowest of the NL's projected playoff teams.
Key statistic: Barring injury, Homer Bailey and Mat Latos are on pace to become the first Reds teammates to each strike out more than 200 batters. Bailey (173) and Latos (170) will join a list of only nine Reds in history, since 1882, to post 200-strikeout seasons.
Key player: Johnny Cueto. Three trips to the DL and only nine starts this year for Cueto, and none since June 28. The Reds don't know whether he'll even be able to return in 2013, though Cueto says he is confident that he can. Even if it's just for the final few days of the season and October, it will make a difference. The Reds are better with Cueto.
Key series: vs. Pirates, Sept. 27-29. Ditto this section from the Pirates' thumbnail: This season-ending series could be for the NL Central title or for wild-card seeding purposes
The former Braves star served as a race official for the Daytona 500

He'd be a good fit in the Bronx, but can they make it work and still stay under the luxury...

The slugger had shoulder surgery in November
Tebow reported to spring training with Mets position players on Sunday

Santa Clara senior Jake Brodt did the honors Saturday

Eric Hosmer's eight-year contract with San Diego has wide-ranging ramifications