Seven teams that could (and probably should) make another move
There's been a lot of attention paid to the fine free agents still available. But about a half dozen teams still need a boost (or two).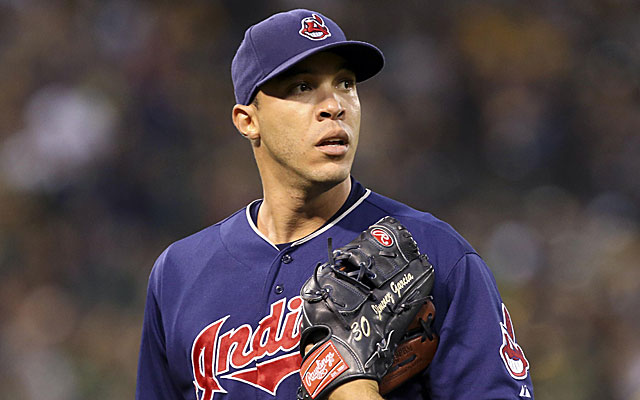 A lot has been made about the five big free agents who are still free. And it's true. Never have we seen five such accomplished, in-their-prime free agents still looking for work as spring training hits.
Ervin Santana, Ubaldo Jimenez, Nelson Cruz, Stephen Drew and Kendrys Morales make quite a quintet of stars still available.
But as luck would have it, at least that many teams have plenty of unfinished business. Five or more teams have holes ranging from obvious to gaping, and a few of those teams actually have multiple holes. So eventually, there should be some matches made.
Here are five of the prime teams in need  (and a team or two that still may make an extra move even if its need isn't so great) …
Toronto was seen at the start of the winter as the team most needing starting pitching after the Minnesota Twins, and while the Twins have signed most of a new rotation the Blue Jays have yet to make a single starting-pitching move. Until proof to the contrary, the assumption is that the Jays have been waiting out the market in hopes of making a great deal.
The strategy to wait may prove to be a wise one. But they'll still need to act before Jimenez and Santana sign elsewhere.
One person familiar with their thinking suggested there was at least some talk at the beginning of the winter about looking to spend $8 million to $9 million a year on a 2- or 3-year deal on one or more of the available starters. Even taking the higher numbers, say $9 million per annum for three years, that would seem to be a stretch to the low side to lure someone such as Santana or Jimenez, who certainly would seem to deserve a better deal than, say, Ricky Nolasco ($49 million, four years).
The attachment of a draft pick complicates things, but the Jays are fortunate enough to have not one but two protected first-round picks, so in their case they have little to lose. There's been little buzz about Jimenez, but much of what's been out there connects him to the Jays. Patience is a virtue, but the Jays probably need to sign at least one these two very viable starters.
Their winter has been quite a soap opera, with the apparently failed medical test for the seemingly healthy reliever Grant Balfour to the back issue that derailed a major-league deal for outfielder Tyler Colvin to Korean free-agent pitch Suk-min Yoon recently tweeting a selfie in an Orioles hat without confirmation there was a done deal.
Well, good news, Yoon and the Orioles do have agreement, first reported by CBSSports.com (it's for $5.75 million over three years, Britt Ghiroli of MLB.com tweeted). Presuming Yoon can accomplish what Balfour and Colvin failed to do and pass the apparently rigorous physical, they have a versatile pitcher who was in 2011 the MVP of the Korean Baseball Organization. In any case, the Orioles still are searching for a starter as they haven't committed to whether Yoon will start or relieve. While the draft choice is definitely being weighed into the equation, Santana has been on their radar and would appear to be a nice fit.
In a recent interview GM Dan Duquette, who had a big part in rebuilding the franchise to its new heights but whose worthwhile Balfour deal was nixed, expressed extreme confidence the Orioles will be excellent this year (he sounded almost defiant when he said it). With a nucleus that includes 20-something stars Chris Davis, Adam, Jones, Manny Machado and Matt Wieters, it would be hard for them not to succeed on some level. They also have faith in some young pitching talents, most notably Kevin Gausman and the still-recovering Dylan Bundy, plus top prospect Mike Wright and even minor-league free agent Nick Additon, who came from the Cardinals organization.
They have depth among big-league starting candidates, too, but Duquette admits they still seek pitching, which surely means a starter after losing out on a game try for reliable veteran Bronson Arroyo, who went to Arizona. Santana would seem the most logical possibility -- though the Orioles are believed to put steep value on the draft choice they'd lose (the choice that's attached is the main reason these five fine players are all still available in a rule that's nonsensical and needs to go). Baltimore could also use a hitter and has at least thought about Morales, as well.
They've already been one of the biggest players already this winter, what with the $240 million signing of Robinson Cano plus deals to import hitters Corey Hart and Logan Morrison and closer Fernando Rodney. However, with four straight seasons of losing and a new team president (Kevin Mather), there's ample reason to do whatever they can to try to keep up in a tough and improved division.
They've been linked practically all offseason to Cruz, though for whatever reason, a deal hasn't come together. There was early word that Seattle may not have been Cruz's first choice, which wouldn't be a shock considering the hitting challenges at Safeco Field) and there is said to be doubt among some Mariners decision-makers that he is the right man for the park following several productive years at the hitting friendly environment in Arlington, Texas (Cruz is .238 lifetime at Safeco). Those folks may actually prefer Morales, who had a respectable 23 home runs and 80 RBI in his lone year at Safeco.
The agents for Santana and Jimenez are also sure to check in following the story of Hisashi Iwakuma's middle finger injury that's initially said to keep him out "four to six weeks," and though the Mariners were believed interested in a No. 3 starter at the start of the winter, it isn't known whether Seattle could shift attention back to the rotation.
They made a game attempt to bring back A.J. Burnett with a $12-million offer, as CBSSports.com first reported, but came up very short to the generous Phillies, who guaranteed $16 million for 2014. And while that's a reasonable effort, there's no reason to suspect even such a nice effort will cause Sports Illustrated to change its winter grade for the Pirates from an F.
The Pirates actually would seem to have enough pitching left over from their superb 2013 season but could still use a first baseman. Morales would make sense, but the Pirates are yet another team that very closely guards their draft choices so it isn't known how hard they will pursue him.
They've done a few nice things (Curtis Granderson, Bartolo Colon, Chris Young) but still don't look like a contender in their sixth year in beautiful Citi Field. The Mets could probably use a shortstop and some more relief for their pen.
They've been in discussions with Drew, though none of their suggestions thus far seems to have moved Drew, who remains in touch with the incumbent Red Sox while the Yankees are a third intriguing possibility. Jose Valverde gives the Mets another closing option should Bobby Parnell not bounce back quickly from neck surgery, but they still seem noticeably thin in the pen.
But shortstop has to be the main area of concern; the Mets quite obviously soured on Ruben Tejada following a solid rookie season, with questions of conditioning coming up. But if they got Drew, Tejada could work as a fine utility player who could spell Daniel Murphy at second base at times to shore up the defense.
6. Yankees
Obviously, they've done more than anyone to this point, with hundreds of millions spent. But even GM Brian Cashman has admitted their infield situation is a bit iffy even after free-agent deals for Brian Roberts, Kelly Johnson and Brendan Ryan. Those were before Derek Jeter's whopper of an announcement that 2014 would be it for him. Drew is a versatile performer who could help now and later as shortstop is a tough spot to fill, with a thin free-agent class again next year at that spot, especially if J.J. Hardy re-signs in Baltimore, as many suspect.
Their starting-pitching depth actually doesn't look too bad for a second straight season, but they are known for their late deals, and let's not forget that Jimenez thrived in Cleveland. Pitching coach Mickey Callaway rightly was given a lot of credit for Jimenez's resurgence (he was 4-0 with a 1.09 ERA in September alone), and Indians people have suggested they'd be interested in taking back Jimenez. At the right price, of course.
The Twins have already fortified the bullpen with Addison Reed, and now they want to address...

The Orioles likely want pitching, and the Indians have plenty of it

Halladay died in a November plane crash off the coast of Florida
The power-hitting outfielder is headed to Toronto

Martinez could add some power to a Boston lineup void of it

It's almost that time of the year again, time for the Tebow madness to return