Several teams' pitchers outhitting Orioles' DHs thus far
Orioles' designated hitters have gotten out to a collective .064/.170/.128 start. And they're being outhit by the pitching staffs of several teams.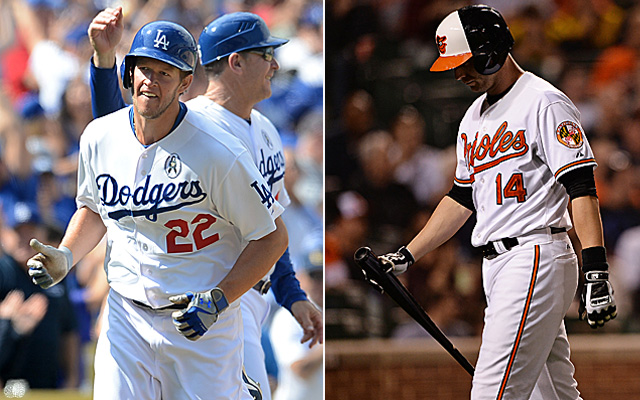 More MLB: Scoreboard | Standings | Probable Pitchers | Sortable Stats | Odds
Obligatory preface: It's early.
OK, that's out of the way. But thus far in the season, the Baltimore Orioles are badly struggling to get any sort of production out of their designated hitter spot (hat-tip to School of Roch).
Through 14 games and 53 plate appearances, the Orioles have gotten three hits, six walks and one extra-base hit from the DH spot.
Of the 20 teams that have had pitchers bat so far this season, 16 have gotten a higher batting average from their pitchers than the Orioles have from the DHs. Eleven teams' pitchers have a higher on-base percentage, and 12 have a higher slugging percentage.
In fact, if we weed out minuscule samples (because all samples are still "small") and use only teams with at least 30 pitcher plate appearances, we still get seven teams better in all three rate stats. Check it out:
Baltimore DH vs. NL pitchers
Team
PA
avg
obp
slg
Brewers
31
.233
.258
.267
Giants
36
.227
.320
.227
Dodgers
35
.222
.300
.370
Reds
38
.200
.222
.286
Phillies
32
.172
.200
.241
Braves
34
.161
.188
.161
Cardinals
37
.138
.194
.138
Baltimore DH
53
.064
.170
.128
Related: Mark Reynolds is hitting .250/.306/.659 with five homers and 13 RBI in 12 games for Cleveland. Just sayin'.
Our Latest Stories
This is a two-man race coming down the stretch. Who should win?

Clayton Kershaw's injury appears to have made this a one-horse race

Maxwell had not played the last few games due to concussion symptoms
L.A. manager Dave Roberts indicated that Puig's benching was related to more than one inci...

Manager Torey Lovullo said so on Monday