Should the Red Sox go with Mike Aviles or Jose Iglesias at shortstop?
Apparently there's a split between Red Sox general manager Ben Cherington and manager Bobby Valentine over several position battles, but none is more important than the choice at shortstop: Mike Aviles or Jose Iglesias.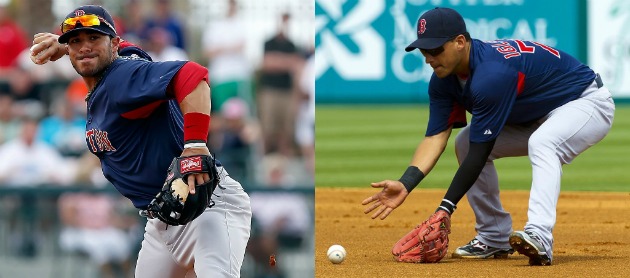 The Red Sox are facing the age-old question at this point of spring -- the safe, low-upside veteran or the young, unproven phenom? It seems even the team's higher powers can't agree on the decision between
Mike Aviles
or
Jose Iglesias
-- in addition to other roster spots.
CBSSports.com Insider Danny Knobler writes
manager Bobby Valentine and general manager Ben Cherington are split on whether
Daniel Bard
should be a starter or reliever or who should be the team's backup catcher. But the most interesting dispute is at shortstop.
Aviles, 31, was traded to Boston last season at the deadline from Kansas City. A career .288/.318/.419 hitter, Aviles has played five different positions in his career -- and all five (shortstop, third base, second base, right field and left field) in his 38 games in Boston last season, but starting just two games at short. Of Aviles' 302 career big-league starts, 141 have come at shortstop. But he's never really been an everyday shortstop and there are questions whether he can handle spot defensively. Once Aviles came over from Kansas City, he saw his numbers at the plate rise dramatically. In 53 games with the Royals, he hit .222/.261/.395 and then .317/.340/.436 in 107 plate appearances with the Red Sox. This spring, heading into Saturday's split-squad start, he was hitting .263/.263/.421.
Iglesias, 22, has the glove to be one of the best defensive shortstops in baseball right now. However, scouts feel his bat is nowhere near ready for the big leagues. Last season at Triple-A, he hit .235/.285/.269. Before Saturday's split-squad start, he was hitting .200/.273/.300 with four hits in 20 at-bats this spring.
"He's still learning how to approach every at-bat, his game plan," Red Sox bench coach Tim Bogar
told Scott Lauber of the Boston Herald
. "Mechanically, he looks a lot better this spring. He's hit the ball with more force all spring compared to last year and the year before. He's maturing. he's getting older. You can start seeing things happening. It's only going to go forward, in my opinion."
Still, it'd be hard to see it going backward -- any further back and he's the second coming of Rey Ordonez, the all-glove, no-hit wonder of the Mets of the late-90s. Ordonez was a career .246/.289/.310 hitter from 1996-2004 with the Mets, Devil Rays and Cubs. He may have been one of the best defensive players of all time, but his bat was a liability. Of course, Ordonez spent all but 34 of his career games in the National League, without the benefit of the designated hitter.
According to Knobler, Valentine prefers Iglesias to Aviles. Knobler also polled scouts on the matter and found those opinions were split as well.
The bigger question, posed by both Knobler
and the Boston Glove's Christopher L. Gasper
, is about the apparent split between Valentine and Cherington, noting, of course, that Valentine was not the GM's choice to replace Terry Francona. While Cherington wanted Dale Sveum, who eventually went to the Cubs, Cherington's bosses overruled him and picked the outspoken Valentine.
On Sunday, Cherington told reporters that a difference of opinion was "healthy."
"These are difficult decisions and they deserve to be debated, and people have the right to express their opinion and express it strongly and disagree," Cherington said (
via the Boston Herald
). "That needs to happen and continue to happen. It's healthy, generally, as long as it's handled the right way. To me, this is not about one person's opinion ruling. It's about a group people trying to make decisions that are in the best interest of the team."
Despite that, there will be people watching where Iglecias starts the season -- in Boston or Pawtucket -- and view it as a sign of who holds the power in Boston.
RELATED:
Projected lineups, rotations and closers for all 30 teams
.

Gallardo spent the first eight years of his career in Milwaukee

MLB revenues are at a record high right now, but teams aren't spending it on players

Chicago added Tyler Chatwood earlier this offseason but might not be done adding to the ro...
The Dodgers and Braves pulled off a whopper on Saturday

Sabathia will reportedly spend a 10th season in the Bronx

Fowler suffered a knee injury at Chicago's Guaranteed Rate Field