Six starters may not be enough for Yankees; Lohse would be good No. 7
The Yankees have six starters for five spots, but that shouldn't stop them from looking into signing Kyle Lohse.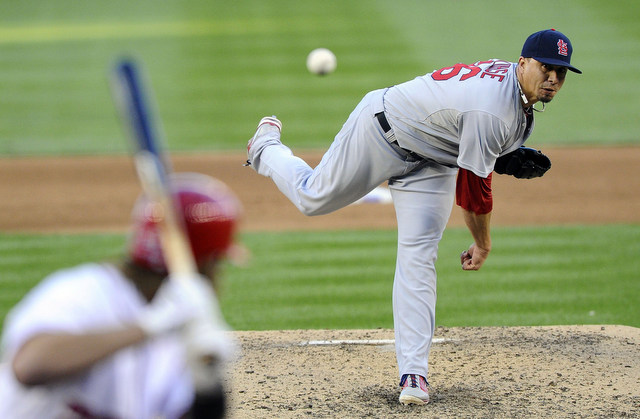 Kyle Lohse remains unsigned and is right there for the taking. (USATSI)
On paper, the Yankees have six starters for five rotation spots. Veterans CC Sabathia, Hiroki Kuroda and Andy Pettitte lead the staff while Phil Hughes serves as the number four. Youngsters Ivan Nova and David Phelps will compete for the fifth spot in spring training, with the loser presumably moving into a swingman role. It's a strong starting staff, no question about it.
RELATED -- NYY team preview | Camp report | Likes, dislikes | Prospect watch | Podcast
Six starters for five spots sounds like a great problem to have, but pitching depth has a way of disappearing quickly. Hughes suffered a bulging disk in his back during a routine fielding drill a few days ago and will be shut down for about two weeks. Sabathia is coming off offseason surgery to remove a bone spur from his elbow, and Pettitte and Kuroda are the oldest and fourth oldest projected starters in baseball. Pettitte, thanks to injuries and his one-year retirement, hasn't thrown more than 130 innings since 2009. Nova (83 ERA+ in 2012) and Phelps (only 11 career starts) are wildcards.
It's only February and the Yankees have yet to play their first Grapefruit League game, so they have plenty of time to sort out their rotation and see how Hughes responds to treatment. There's no rush to do anything, but at the same time they also have a pretty great opportunity staring them in the face. Right-hander Kyle Lohse, who went 16-3 with a 134 ERA+ for the Cardinals in 2012, remains a free agent and could be had for nothing but money. Well, nothing but money and a draft pick.
Because Lohse turned down a qualifying offer from St. Louis, the team that signs him will have to forfeit its first-round draft pick. That has undoubtedly scared some clubs away since young players are so important -- and arguably overvalued -- these days. Forfeiting a first-round draft pick might not be such a big deal for the Yankees though, mainly because they have three of them. In addition to their regular first-rounder (27th overall), they also own the 32nd and 33rd overall picks as compensation for losing free agents Rafael Soriano and Nick Swisher. Three first round picks is nice, but is it better than two first-round picks and Lohse? Very unlikely.
Lohse, 34, is no ace despite his record and ERA from a year ago. He is more of a mid-rotation workhorse (399 1/3 innings from 2011-12) because outside of limiting walks (1.8 BB/9), he doesn't do anything exceptionally well. His middling strikeout (5.7 K/9) and ground ball (40.9%) rates over the last two seasons are average at best and a dangerous combination at worst. On the bright side, all those fly balls result in fewer hits allowed (.265 BABIP from 2011-12) because they are relatively easy to convert into outs. The outfield trio of Brett Gardner, Curtis Granderson and Ichiro Suzuki is one of baseball's strongest defensive units, especially if the Yankees follow through on their plan to put Gardner in center and Granderson in left.
So if the Yankees already have six starters for five spots, what would be the point of signing Lohse? Adding quality depth, mostly. Lohse, whose performance would inevitably suffer with the move to the tougher league and hitter-friendly Yankee Stadium, would give them some protection against Hughes' back, Sabathia's elbow, Pettitte's and Kuroda's age, and Nova's and Phelps' unpredictability. Since New York's offense took a step back this past offseason with the free agent defections of Swisher, Russell Martin, Eric Chavez and Raul Ibanez, having as many quality arms as possible sure seems like a wise idea.
GM Brian Cashman told Joel Sherman of the New York Post that the Yankees do not have interest in Lohse despite Hughes' injury, which isn't a big surprise. The right-hander is a Scott Boras client and even though he's running out of time before the season begins, it's unlikely he'll take a below-market contract. The Yankees are furiously trying to get under the $189 million luxury tax threshold by 2014, and a multi-year contract for a starting pitcher might not be part of the plan. Adding Lohse and pushing Nova or Phelps to Triple-A for depth -- or even freeing them up for a trade -- sounds great in theory but might not be very practical. Lohse is still sitting out there and waiting for an acceptable offer, though, so it is something the club should at least explore. It doesn't hurt to ask or have too many good pitchers.
For more baseball news, rumors and analysis, follow @EyeOnBaseball on Twitter, subscribe to the RSS feed and "like" us on Facebook. Also, individually interact with us on Twitter: @MattSnyder27, @daynperry and @mikeaxisa.

Adell shows part of the reason why Los Angeles drafted him 10th overall in 2017

And, well, they're probably right

Supposedly, MLB execs have discussed letting teams hit any three hitters they want in the...
Keep tabs on the top 50 free agents on the market right here

After the departures of Steven Souza and Corey Dickerson, the Rays add a right-handed bat

Rasmus essentially walked away from baseball during last season