Six teams seen as serious players for Castillo with deal coming soon
Rusney Castillo generated extra interest by showing surprising power in workouts.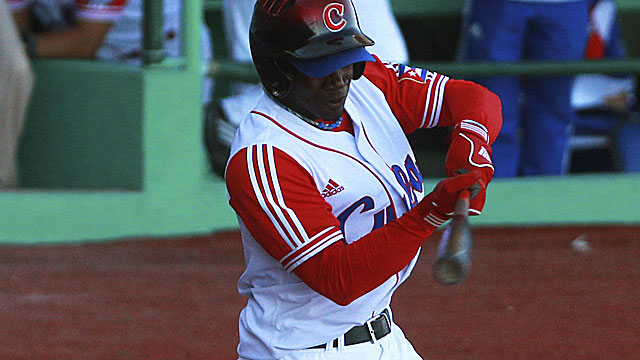 More MLB: Top 10s | Heyman blogs | Latest news & notes | Fantasy news
Cuban star Rusney Castillo is sifting through offers from multiple teams, and officials with interested teams say they expect a decision soon, perhaps by the end of the week.
One of a half-dozen teams -- the Red Sox, Tigers, Phillies, Cubs, Yankees and Mariners -- who all worked out Castillo privately -- is expected to win the services of the compact and powerful Castillo who is generally viewed as an outfielder by most but is apparently being considered as a possible second baseman by the Yankees.
Considering his workouts, which are said to have been impressive, plus the stark successes of Cuban stars Jose Abreu, Yasiel Puig and Yoenis Cespedes, bidding is expected to be spirited for the 27-year-old Castillo.
He was seen in some circles as mostly a speed player entering his open workout, but he popped several very long home runs in the initial exhibition at the University of Miami that he is viewed as having very good powerful potential. "He isn't Abreu or Cespedes in terms of power, but he has above average major-league power," one official with an interested team said. (Keep in mind, too, that not being Abreu or Cespedes for power isn't necessarily a put-down, as Abreu is third in MLB with 31 homers homers and Cespedes is the two-time Home Run Derby winner.)
Castillo's other tools received similar praise, and while most teams view him as an outfielder ("he can play center, no doubt," one scout said), the Yankees are said to be considering him for second base. "He has the actions of an infielder," one scout said.
It's anybody's guess who'll win the Castillo derby, and many are indeed making guesses. One interested executive guessed that the Red Sox or Tigers, who both have outfield needs, could be in the lead. Another said he believed the Phillies, another team with outfield questions, are being "coy" and may ultimately land Castillo -- though Philly hasn't unloaded much salary in trade this summer and has been close to the luxury-tax threshhold, without going over it, for years.
The Mariners, which forged a $240-million deal with Robinson Cano, who like Castillo is represented by the Roc Nation/CAA partnership, could be a player in the eyes of some due to that relationship plus Seattle's possible need for an outfielder -- though others wonder whether their extra look might be a courtesy call considering the Mariners had seemingly little money to spend at the deadline. The reason he doesn't fit the Yankees as an outfielder is that he is seen as too much like Jacoby Ellsbury and Brett Gardner, though Castillo showed more power than those two established stars in his workouts.
Estimates have ranged from $35 million to $55 million for Castillo, though early estimates have tended to be low on some of the Cuban stars. There is a possibility Castillo could possibly be ready to help a contender this year if he signs soon, which is another reason a deal could happen in the coming days.
If the MLBPA wants to fix MLB's economic system, it should push for more money for young p...

Fans aren't happy Gerrit Cole and Andrew McCutchen have been traded away

Acuna is arguably the best prospect in baseball
Kent had a good career, particularly with the bat

This would undoubtedly be the worst trade in Miami Marlins history

The Pirates recently shipped Gerrit Cole and Andrew McCutchen to Houston and San Francisco,...