Skipper intrigue: Sveum, Ausmus, Williams, Scioscia, Girardi and Gardy
There's lots of suspense regarding some of the biggest managerial jobs in baseball.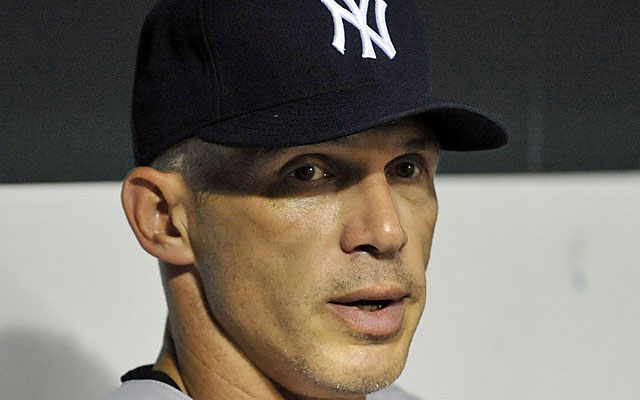 Baseball season is coming to a close, which means it's about to be managerial season, and there's no shortage of intrigue in at least a half-dozen places -- from the storied Yankees to the listing Mariners to the beloved Cubbies, whose second-year manager Dale Sveum is expected to hear fairly soon whether he gets a third year on the North Side.
One factor that may determine Sveum's fate, as was reported here several days ago according to someone familiar with the situation, is the quality of potential replacements. So it'll be interesting to see which managers on expiring contracts, including ex-Cub Joe Girardi, could become free -- though, the likelihood remains that Girardi returns to manage the Yankees despite all the natural Cubs speculation and yet another rumor going around that he may even take a TV job.
Brad Ausmus is another name that's come up publicly as a Cubs possibility, courtesy of Peter Gammons, and he'd likely be an easier get than Girardi. Friends say Ausmus, very impressive in his interview with the Red Sox last winter before Ben Cherington acquired top managerial target John Farrell, is believed interested in the right managerial job (he gave up the possibility of a chance to manage Houston last winter). The Cubs would make sense; GM Jed Hoyer hired him in San Diego, and he fits the Theo Epstein/Hoyer profile.
Here's a rundown of eight spots that range from slightly unsettled to completely unfilled …
1. Cubs -- While Sveum originally had been thought to be safe until the Cubs have a realistic chance to contend, there's been enough disappointment in the "stalled" progress of talented kids Starlin Castro, Anthony Rizzo and possibly others. Should Sveum stay, he'd be looked upon as a short-timer now, which could be another possible reason to make the switch. His bosses don't blame him for the record and like him very much personally. But is that enough to stay on the Sveum course?
2. Yankees -- The Yankees will meet soon with Girardi with the team's hope and expectation they can work it out. Girardi will negotiate hard as usual, as is his right, and the Yankees look like they have an uphill battle to contend in 2014, but it's still hard to see him leaving his "dream job" (as he called it upon taking over) to return to the TV booth. He's very close to his bosses, including managing martner Hal Steinbrenner. While Girardi couldn't lift the aging, injury-riddled $230-million team into the playoffs, he still won almost universal praise for his work, including the touching tribute to Mariano in the home finale. So he's in an enviable position.
3. Nationals -- Matt Williams is a big candidate to replace outgoing Davey Johnson, as was reported here first. Williams has ties to GM Mike Rizzo, and he declined to discuss the situation when asked recently by Arizona media, another sign there could be something afoot. Tim Wallach's name is another from the outside that's been heard. Randy Knorr, well-liked within the Nats' organization, is the top in-house candidate.
4. Angels -- The whispers from a few weeks ago that either manager Mike Scioscia or GM Jerry Dipoto will go have been muffled a bit by the team's strong final month, but there are no certainties in a situation where Scioscia has had an uneasy relationship with several front-office folks, not just Dipoto, but especially top lieutenant Scott Servais and others. Observers say Scioscia seems relaxed and congenial lately (he isn't always that way), and they wonder whether that means he's been told he's safe. Regardless, Arte Moreno is an unpredictable (see Albert Pujols, Josh Hamilton) and tough owner. Like most, though, he wouldn't relish eating the $25 million remaining over five more years on Scoscia's deal.
5. Twins -- The Twins love continuity, and they also love quiet, which may explain there are almost no rumors coming out of here.  GM Terry Ryan is believed to want a return for long-time manager Ron Gardenhire, and some are suggesting one possible scenario could be a short-term offer after three rough seasons. If Gardenhire does come back after three straight 90-plus seasons, he wouldn't be the first Twins manager to do so. Two-time World Series winner Tom Kelly came back for a final year after four straight 90-loss seasons. Gene Glynn, their Triple-A manager, is one name heard in the event of a change.
6. Mariners -- They have a tough job to fill considering GM Jack Zduriencik, the man making the hire, will return as a lame duck. Eric Wedge, who bizarrely quit one day after saying he wanted to stay, didn't exactly provide a positive recommendation. One possibility would be to give former interim Robby Thompson a crack at it, but sources are suggesting they will give a big first look outside the organization. Gardenhire's name was linked in one report.
7. Rangers -- Both Nolan Ryan and Jon Daniels have in recent weeks both publicly suggested they expect Ron Washington to be back, so that seems quite likely. Depending on how this ends, there may not be much overall satisfaction there though, following an up-and-down ending.
8. Royals -- GM Dayton Moore told the Kansas City Star he'd like Ned Yost to return so this one seems more settled than the others.
They still would much rather grab the AL East, however

Sale becomes the first AL pitcher to reach 300 strikeouts since 1999

Steve Balboni's long-standing record of 36 has finally fallen
Several players called for the netting to be extended down the base lines following Wednesday's...

Maria made landfall as a Category 4 on Wednesday

The players are trying to do their job and don't want to see anyone hurt