Snubs no more, A's have gone from hunter to hunted
After having just three All-Stars combined the past two seasons, the A's have six members of the AL All-Star team. They are clearly the hunted now, no longer the hunter.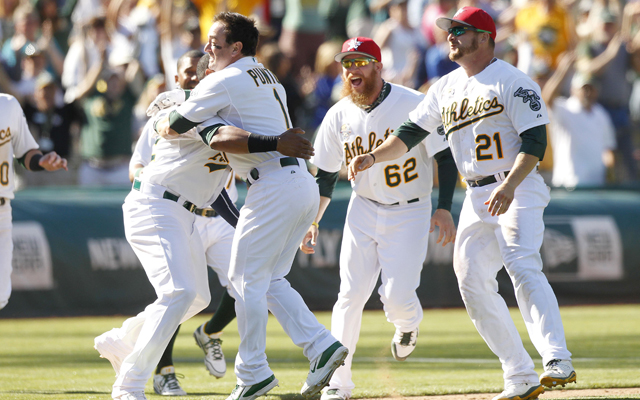 All-Star Game: Starting lineups | AL, NL rosters | Cespedes wins HR Derby
MINNEAPOLIS - The 2012 Oakland Athletics only had one All-Star representative, relief pitcher Ryan Cook. The 2013 Oakland Athletics had just two: Bartolo Colon and Grant Balfour while Josh Donaldson was pretty noticably snubbed.
The two A's teams would go on to win the AL West, despite being underdogs for most of the season -- especially the case in 2012, when they seemingly came from out of nowhere to take down the defending AL champion Rangers and also topped the huge-market Angels.
This season, though, has a different feel. Not only have the A's have had the best record in baseball for much of the season, but they had half of a room filled during the media day interviews for the All-Stars, because there are six A's here: Donaldson (who won the fan vote this time around), Scott Kazmir, Sean Doolittle, Derek Norris, Brandon Moss and Yoenis Cespedes. We could even throw in Jeff Samardzija, giving the A's seven players to have made an All-Star team this season.
"It's definitely an honor for all of us to be here," said Donaldson. "I feel like this is kinda of the reward for the last few years."
That's possible, but it also signals a big shift. No longer are the A's of the "underdog" ilk. They've gone from the hunters to the hunted, to the point that they have the most All-Stars of any team in baseball. Not that having a target on their back changes their approach.
"We definitely feel like we're one of the teams to beat," Donaldson said. "Our eyes are focused on the end."
And that's ultimately how the team will be judged, historically. The A's have been to the playoffs seven times in the Billy Beane era, but they've never even made the World Series.
For now, though, it must feel pretty satisfying to own such a significant portion of the American League All-Star locker room.
Does the Jackson signing mean the Giants are out on Lorenzo Cain?

Acuna edged out Shohei Ohtani and Vladimir Guerrero Jr.

There's no reason to run over the cases for and against Bonds, so let's have fun instead
The coveted right-hander would certainly be a fit in Milwaukee

We rate the best mustaches from random baseball cards because, why not?

Colon wants to break a Dennis Martinez record