So far, Rangers weathering the loss of Nelson Cruz very well
Predictions of doom during Nelson Cruz's 50-game suspension turned out to be way premature. The Rangers were 18-9 without him heading into this weekend's series in Anaheim and appeared not to have missed a beat. Though manager Ron Washington says they maybe could have gone 27-0 if Cruz were still here. ...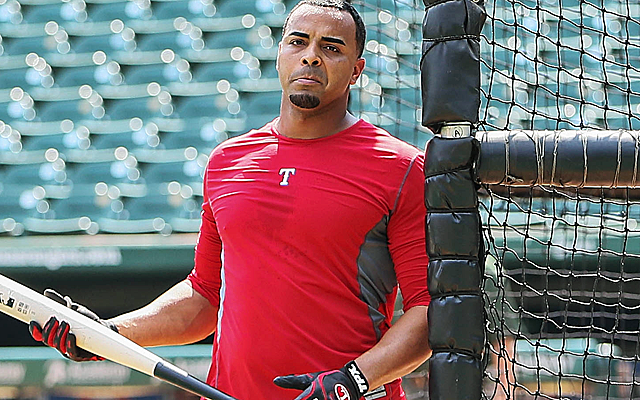 ANAHEIM, Calif. – Maybe what nobody realized is that it was Nelson Cruz who was holding back the Rangers.
Kidding … sort of.
Since his suspension, the Rangers were 18-9 heading into this weekend's series against the AL West disaster area that is the Angels.
Remove Cruz, and watch them go.
"Noooo," Rangers manager Ron Washington said. "If he was here, we might have been 27-0."
Washington laughed heartily at that, and you can't disprove a negative, right? Or something like that. Maybe Texas really would have gone 27-0 since Aug. 5 had Cruz not been busted as one of the Biogenesis Boys.
As it is, though, what is beyond dispute is this: Visions of the Rangers unraveling upon losing Cruz were greatly exaggerated. Into Friday, the Rangers were 24-10 since July 29, best in the American League and third-best in the majors behind the Dodgers (27-8) and Braves (25-9).
His absence has done little to slow the momentum, though Texas' 1-3 start in September suggests that tide might be turning. Along with Adrian Beltre, Cruz was the only player in the lineup regularly capable of instantly turning games around with a big bop. Without him, the odds of that three-run homer diminish, and rallies are harder to come by.
Still, the Rangers have gained 6 ½ games in the AL West standings over the past 38 days, and Cruz has been suspended for 32 of those days.
"I just think we started clicking at the right time, and that really doesn't involve Nelson being in or out of the lineup," outfielder David Murphy says. "We started playing well at the right time.
"He's such a good player, having him in our lineup would have helped even more."
Says general manager Jon Daniels: "It's created a lot of opportunities for guys on the team. Not talking about replacing Nelson, but we're going to hit our share of home runs, we run, we play good defense. We've been aggressive."
Alex Rios, acquired from the White Sox to help plug the hole, blasted a home run against former Ranger C.J. Wilson in the second inning Friday night and now has three as a Ranger. Into Friday night's game, Rios was batting .283 (26 for 92) with five doubles, a triple, two homers, eight RBI and 13 runs scored in 23 games for Texas.
"I think sometimes when stuff happens, it can bring guys together," Daniels says.
No question, these Rangers are a together bunch under Washington, with or without old clubhouse leader Michael Young.
The Rangers have been alone in first place for 25 of the past 27 days and have held at least a share of the AL West lead for 30 consecutive days, beginning Aug. 7.
Not too shabby for a post-Cruz world. Why, you'd almost say the Rangers have not missed a beat without him. …
"We miss a beat," Washington says. "We miss his production. But you've got to go play baseball. You can't make excuses.
"We replaced him with a quality guy. What's happened is, we've put our game together and it's been going up and down the lineup. Everyone has been contributing. That's been the difference.
"We miss Nelson's bat. Every time he stepped to the plate, there was a possibility that he was going to deposit something."
The Rangers clung to a half-game lead over Oakland heading into the weekend but have a far more difficult schedule than the Athletics the rest of the way. The Rangers have a monster homestand against the Pirates and Athletics next week, then depart for a tough seven-game trip to Tampa Bay (four games) and Kansas City (three) before finishing the season against non-contenders Houston and the Angels.
The Athletics, aside from that series in Texas, play only also-rans the rest of the way after this weekend: The Twins (seven games), Angels (six) and Mariners (three).
Maybe Cruz's absence eventually will do the Rangers in.
Or … maybe not.
"Another example of how baseball is such a weird sport," Murphy says. "You can run out whatever lineup on paper, but when you get on a good streak, sometimes it doesn't matter if you run nine studs out there or nine average Joes.
"All that matters is whether you get the job done."
The Astros will need Dallas Keuchel and Justin Verlander to take the pressure off in Games...

Judge and Sanchez played huge roles in the Game 4 comeback
The Yankees trailed by four going to the bottom of the seventh and still won

The Yankees rookie was caught stealing vs. the Astros in Game 4 of the ALCS, but he took the...

The Cubs are facing a right-handed starter for the first time in the NLCS