So far, the Grady Sizemore revival is something to behold
Grady Sizemore looks great in Red Sox camp. But they are being cautious so far.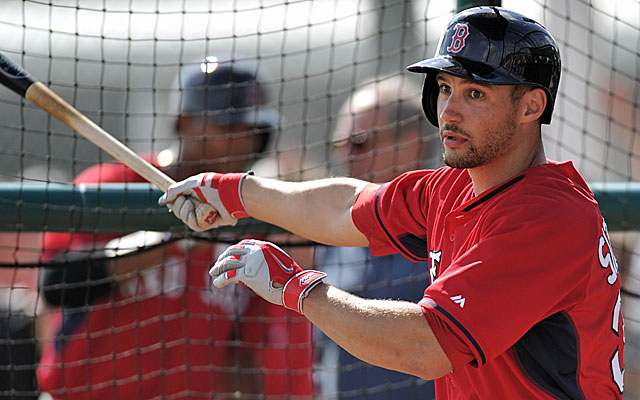 MORE: Spring Training | Scoreboard | Team previews
FORT MYERS, Fla. -- It's hard to see the multitalented Grady Sizemore now and not flash back to when he was great. It may seem like ages ago to him, but it's really not so long. He is still 31, and it's easy to imagine him as star again.
Sizemore still runs well, still hits and still plays center field like a demon, and he's been doing all three things all spring. The trick, of course, will be for Sizemore to stay healthy, and folks around here -- including him -- know that. The trick for now is not to get too excited. It's hard not to, of course.
Everyone around the team is trying to take it slow with Sizemore, who looks more and more like it's 2008 all over again. He posted three more hits Monday, and made a spectacular catch while crashing into the center-field wall.
Even better, he rose in one piece.
Every day Sizemore is getting better, and feeling better. Every day, the doubts are starting to dissipate.
He is hitting .381 after his big day Monday. That isn't bad for anyone but it's especially impressive for a guy who says he feels "rusty" and whose initial spring goal was to make it through March intact and on the field. For him it's more about the rehab than the revival. It's not about health more than hitting. For him that's it.
"It's been encouraging. Every week it's better and better," Sizemore said. "Just the fact I can get out there and move around, it's a lot better than it's been."
It's understandable that Sizemore isn't setting his goals too high, as he's been disappointed before. Year after year, he's faced overwhelming physical obstacles, and they've overcome him. It's been since 2011 since he played at the big-league level, and since '08 that he was completely healthy.
He once played 382 straight games in the majors, then he hit a wall. Once he got hurt, he never stopped getting hurt. Once he started to feel pain, he was feeling it all over. He's had injuries just about everywhere, but the two big ones were the knees; he's a rare player to have endured micro-fracture surgery on not one but both knees.
So it was a surprise that the Red Sox were even willing to give him a major-league contract, to guarantee money when Sizemore came with no guarantees. Of course, the pay of $750,000 plus incentives that can take him past $6 million is really beside the point. That a championship team gave him a shot after his recent resume -- he didn't even give it a try in 2013, as he didn't want to disappoint anyone as he did his old Indians team in a failed comeback the year before -- was all he needed to know.
If not the Indians themselves, it's the Red Sox who are going to understand Sizemore's potential. Red Sox manager John Farrell was the Indians' farm director when Sizemore came up and flashed his greatness. "A top five player," Farrell recalled the other day about Sizemore's start to his career.
Indeed, Sizemore posted 92 extra-base hits in 2006, had a 30-30 season (actually 33 homers, 38 steals) in 2008, was a Gold Glove winner and a Silver Slugger winner, not to mention an All-Star and MVP vote getter three straight seasons. One prominent GM told me back then that if he were to start a team, he'd do it with Sizemore.
It might be a bit easier to recall that today, as Sizemore looks at times like the guy he was before. The Red Sox got him in 4.2 going down the line the other day, only slightly slower than the 4.14 Farrell recalled from the heyday. The swing looks the same, so does the gait. The hope is rising.
"He doesn't look like a player who hasn't performed since 2011," one Red Sox person said.
While Boston people are guarding against getting carried away, it's hard not to notice he has a chance to replicate what the World Series-winning team lost in Jacoby Ellsbury, who ran off to the Yankees for $153 million. Little by little, the team is increasing the workload, and their expectations. It's impossible not to. They started by playing him once every three days. Now on occasion, he'll play back-to-back days.
 Promising young Jackie Bradley Jr. was the presumptive Red Sox center fielder, the obvious heir apparent to Ellsbury. But now, one month into camp, it's hard not to imagine Sizemore as the guy.
Boston's view of the situation has changed, and Sizemore changed it.
"I think everyone is aware there's a competition," Farrell finally said on Friday.
So far, that competition is a rout. The young Bradley, a terrific defender who had a big camp last year before struggling offensively in the big leagues, is hitting 200 points lower, at .182. Meanwhile, Sizemore is winning converts weekly.
That last convert may be him. After all, he is the one who's lived this. He's the one who's endured many knee injuries, back injuries, an elbow injury, a hernia and more. He's the one who remembers all the pain, and all the work.
"It's hard to say you don't have doubts when you go through what I went through," Sizemore said. "It's one of those situations where I wasn't sure my body was going to let me push hard, or I'd have to take it easy. I kept getting hurt."
Thus, the goal was only to stay on the field at first. The main hope had to be to stay healthy, something he's been unable to do since 2008. That may not seem like such a long time ago. But for a ballplayer, it can seem like an eternity. In his case, it was a superstar's prime years.
That's OK, Sizemore isn't looking back, not after what he's been through. It's been five straight years of disappointments and pain, so forgive him if it feels foreign at times. He's still "waking the body up" as he put it. There is work to do
"It all feels rusty," he said. "At times, it feels off."
You wouldn't know it to watch him now.
Sizemore, in fact, said the Red Sox couldn't have seen much when the came to Arizona to scout him, as he was just getting started again. But they must have liked what little they saw. Or they had good imaginations.
And now that he is in camp they love the way he's moving. They are glimpsing the decade before.
"He looks the same as he always has," general manager Ben Cherington said.
Cherington isn't just anyone providing that opinion. His record in free agency speaks for itself.  He signed no less than seven free agents the winter before, and six of them contributed heavily, helping them win the World Series with a last-to-first flourish. (Making it a clean sweep, the seventh, Ryan Dempster, gave his salary back by stepping away from the game.)
This time Cherington just filled in a couple pieces. Edward Mujica, a reliever from the World Series runnerup Cardinals, was the biggest free-agent signing, at least by price. Now Sizemore is the most interesting.
Sizemore may not have been keeping such close score but he had faith in the Red Sox, he said, by the way they've handled things. He knew Farrell from before, and he's liked the way they've taken charge since. He appreciates the work they are willing to endure. He didn't want to recount the daily treatments he goes through, either not to bore him or me. But he thanks his new team for being willing to put in the work with him.
Most important, he appreciates their faith in him.
"They were willing to take a chance," Sizemore said.
The gamble on Grady looks like it has a chance to pay off big.
This would undoubtedly be the worst trade in Miami Marlins history

The Pirates recently shipped Gerrit Cole and Andrew McCutchen to Houston and San Francisco,...

Surely, Martinez and his agent are holding out for more
The reliever had a very good 2017 season with the NL Central champs

We don't need to discuss Chipper's Hall of Fame case, so let's have fun instead

Dioner Navarro still hopes to return someday