So what's the matter with the (last-place) Rays?
The Tampa Bay Rays are reliable contenders of late, but they're struggling badly thus far in 2014. What gives?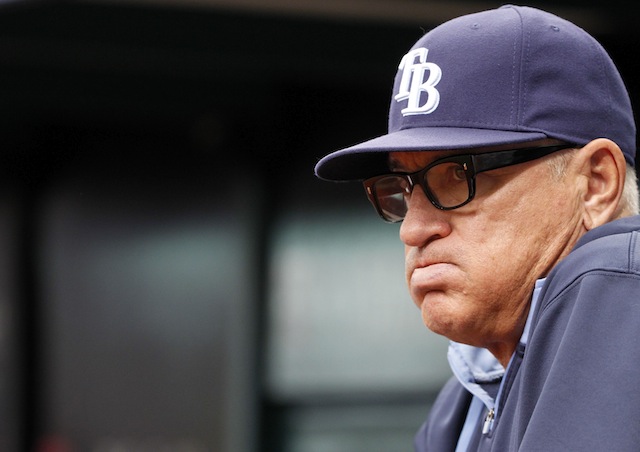 More MLB: Power Rankings | Expert Picks | Latest news & notes | Fantasy news
At this writing, the Rays are in last place and are eight or more games below the .500 mark for the first time since the end of the 2007 season. Joe Maddon's club has notched a playoff berth in five of the last seven campaigns and hasn't endured a losing season since it had "Devil" in front of its name. In other words, this is an abrupt change of fortunes for a team that, despite below-grade payrolls, has become a perennial contender. The question is thus raised: What's wrong with the Rays in 2014?
In a word, it's pitching, at least relative to how the team's accustomed to getting it done. The Tampa Bay offense checks in at ninth in runs scored in the AL, and while that's not ideal, it's in keeping with how they've fared in recent history (ninth in 2013, 11th in 2012). On the pitching front, the Rays' pitching staff presently ranks ninth in ERA and 13th in WAR. That's very much not in keeping with recent history.
One problem is that Tampa starters have been unable to go deep into games. At present, the Rays' rotation ranks last in the AL in quality-start percentage (31.1) and last in average innings per start (5.5). The immediate upshot? The Rays' bullpen, which hasn't been good to date (12th in ERA, last in the AL in WAR), has been worked hard (second in the AL in bullpen innings). Bullpens that get worked hard early tend not to get better as the season wears on and the temps get hotter. 
To be sure, injuries have much to do with these struggles. The Rays are of course without Matt Moore for the remainder of the season, and Jeremy Hellickson and Alex Cobb, who are on the DL, have combined to make just three starts (all by Cobb). It's late May, and the Rays have gotten exactly 29 innings from that trio. Needless to say, that's exacted a price. More broadly, the Rays' rotation has been somewhat inefficient this season, largely because they rank 14th in the AL in strike percentage. Again, that's in part a reflection of not having all the frontline guys on the mound. 
The good news is that Cobb is slated to return soon, and Hellickson, barring setback, is about a month away. The other bit of good news is that no one seems poised to run away with the suddenly middling AL East in the interim. There's also plenty of time for a couple of those bullpen performances to stabilize (Grant Balfour and Joel Peralta should be in for better days). The relief corps probably isn't a strength, though, especially if that workload keeps up. However, getting starters to work into the late innings more regularly should be the tide that at least somewhat lifts all staff boats. 
The problem, though, is depth. Jake Odorizzi is already in the rotation, and top prospect Enny Romero is scuffling a bit at Triple-A Durham. If Cobb or Hellickson gets hurt again or struggles, will ownership permit a high-salary addition leading up to the non-waiver trade deadline? That would be fairly out of character. 
Simply put, the Rays need more reliable starting pitching and less emphasis on a flawed bullpen. There's hope in getting Cobb and Hellickson back, but there's not certainty. For a team surprisingly on pace for 95 losses, that may not be enough. 
The Astros scored seven runs in Game 6 after scoring nine runs total in Games 1-5

The Astros are still alive, and Justin Verlander is the reason why

With a six-run lead in the ninth, the Astros used closer Ken Giles for 23 pitches
On Saturday night in Houston, it'll be CC Sabathia against Morton

The ALCS will go the distance after all with the Astros offense coming back to life in Game...

Verlander's stuff was insane during Game 6 of the ALCS