Some contenders still have holes to address
Which contending teams still have notable weaknesses even after an active non-waiver trade deadline? Let's have a look at a few.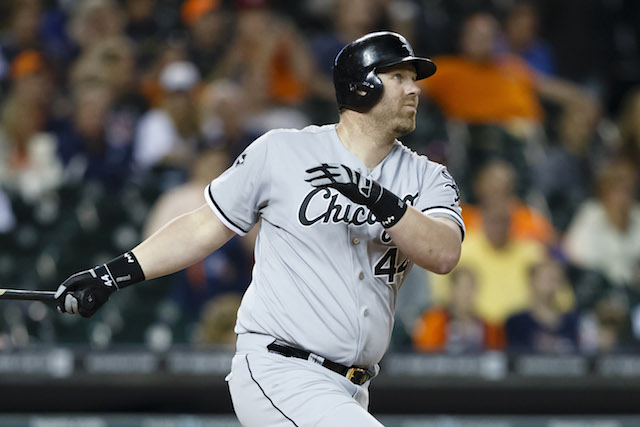 Related: Heyman's August trade candidates
An almost impossibly active July 31 non-waiver trade deadline has passed, and we're now into the August waiver period. At this late hour, though, a number of certifiable contenders still have glaring roster weaknesses -- weaknesses that may need to be addressed before the second and final trade deadline of Aug. 31 (players acquired after August aren't eligible for postseason rosters). 
Before we take a closer look, some considerations ... When it comes to soft underbellies and evaluating whether they need to be improved, what matters most is how the player or players in question project going forward. What's happened during the current season to date can be the residue of luck -- good or bad -- and decisions about whether to seek out an upgrade should be informed by near-term outlook, not the recent past. That is, likely regression -- in the positive or negative direction -- must be taken into account. 
Also, there's no such thing as a perfect team (the utterly dominant 1939 Yankees had a hole at first base, to cite one of countless examples). Highlighting the weakness of a contender is not tantamount to saying that said contender will be unceremoniously bounced from the playoffs if it doesn't shore up the weakness of interest. Pick a World Series winner from the past, and they'll have a shortcoming or three somewhere. Stated another way, these are flaws but not necessarily fatal ones. 
Finally, for these purposes we're calling contenders those teams that, per the latest FanGraphs numbers, have at least a 20 percent chance of making the postseason. This "county line" eliminates, among others, the Indians (barely), Yankees (also barely), Reds and Marlins. It's of course possible that one or more of these teams will wind up part of the playoff fray, but they're not going to be a part of this demonstrably less important fray. 
To break down a few of these ... 
Milwaukee Brewers , first base
More specifically, the Brewers need a primary-half platoon partner for Mark Reynolds . Reynolds is actually running reverse platoon splits this season, but that's somewhat out of step with his established tendencies. Reynolds has actually been pretty balanced against lefties and righties in his career, but he's more of a weapon against the opposite side, as you'd expect. Playing Reynolds every day isn't going to project well, and platooning him with Lyle Overbay is similarly sub-optimal. So a productive lefty bat to pair with Reynolds is needed. 
Possible trade solution: Adam Dunn
San Francisco Giants , second base
The Giants were recently reduced to turning to Dan Uggla to fill their hole at second base. In 2014, that's a sure sign of desperation. In a very much related matter, San Fran second basemen this season have batted an unthinkably dismal .173/.255/.269. That's ... rather terrible.
Moving forward, the Giants are going to be substantial underdogs in the NL West and, in all likelihood, will wind up in a very crowded and compressed NL wild card scrum. By extension, even the slightest upgrade could be a difference-maker for them. Since, per FanGraphs, the Giants project to get just 0.4 WAR out of their second basemen over the remainder of the season (and that strikes me as a tad optimistic), they have an obvious opportunity to make gains. 
Possible trade solution: Ben Zobrist , Aaron Hill
Baltimore Orioles , catcher
Baltimore backstops this season have teamed up to hit .243/.297/.393. That normally wouldn't be a glaring problem, but baked into those numbers is Matt Wieters 's line of .308/.339/.500. Wieters, of course, is out for the rest of 2014 after undergoing Tommy John surgery, which leaves the O's with Caleb Joseph and Nick Hundley as their frontline catchers. Less than ideal!
Possible trade solution: Carlos Ruiz , Jason Castro , David Ross (provided he comes the DL in time)
Pittsburgh Pirates , starting pitcher
The Buccos were angling for a starter before the non-waiver deadline, and that's with good reason. The Pittsburgh rotation currently ranks 10th in the NL in starters' ERA and last in the NL in starters' WAR. According to FanGraphs, they project to have the fifth-worst rotation in baseball the rest of the way. Also to be considered is that Gerrit Cole 's lat strain has left him with an uncertain time-table. 
At this writing, the Pirates are only a half-game out of wild-card position, but the possible loss of Andrew McCutchen to injury has obviously hurt their chances. A bold play to shore up the rotation could help cushion that blow on a macro, team-wide level. 
Possible trade solution: Bartolo Colon , Ian Kennedy
Detroit Tigers , shortstop
That this has been a problem isn't exactly surprising considering that Jhonny Peralta walked this past winter and incumbent Jose Iglesias will miss the entire season. Current place-holder Eugenio Suarez has been adequate to date (96 OPS+ on the year), but he projects poorly the rest of the way. Specifically, ZiPS tabs Suarez for a .241/.302/.346 line going forward. By comparison, the average MLB shortstop this season has a line of .254/.312/.370. 
The Tigers, it should be noted, are all but locks to win the AL Central, and post-deadline they have a rotation that's poised to carry them deep into October. That's to say, they're hardly desperate for an upgrade at short, but it'll be a weakness the rest of the way. 
Possible trade solution: Alexei Ramirez , Jimmy Rollins