Some perspective on Barry Bonds' Hall of Fame candidacy
Throughout the arguments over whether or not Barry Bonds should be inducted into the Hall of Fame, we see many approaches, unfortunately including sanctimony, name-calling, accusations and analogies. One thing I have yet to see is an examination of the competitive spirit and human nature. That is to say: Put yourself in his shoes in 1998.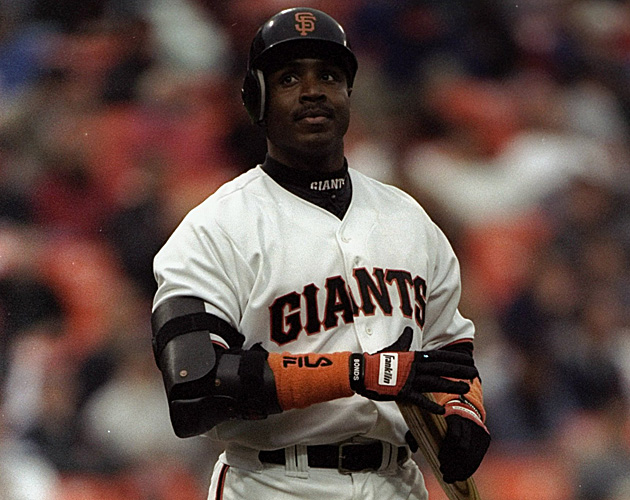 Barry Bonds, circa 1998. (Getty Images)
RELATED: Ranking the 2013 Hall of Fame candidates: No. 1, Barry Bonds
We're now only a few weeks away from seeing the 2013 BBWAA Hall of Fame class introduced on MLB Network. The announcement will follow several months of contentious debates about the candidates, especially those connected with performance-enhancing drugs. In fact, this has been the most polarizing ballot ever, notably due to the presence of Roger Clemens and Barry Bonds.
Throughout the arguments over whether Bonds, Clemens et al should be inducted, we see many approaches, unfortunately including sanctimony, name-calling, accusations and analogies (like PED use being akin to burglary!). One thing that I have yet to see -- when it comes to the specific cases of Bonds and Clemens -- is an examination of the competitive spirit and human nature.
That is to say: If you put yourself in their shoes, are you totally sure you wouldn't have used anything? Please think about this with an open mind, be honest and save the venom. This is a serious conversation to have, and angry accusation-spewing is counterproductive in any intellectual proceeding.
Just put yourself in Bonds' shoes in 1998. Remember the Great Home Run Chase? Mark McGwire and Sammy Sosa were the toast of baseball, as both shattered Roger Maris' single-season home run record. McGwire ended up with 70 bombs, Sosa 66.
Following that season, according to Jeff Pearlman (from his book, "Love Me, Hate Me: Barry Bonds and the Making of an Antihero"), Bonds said the following to Ken Griffey Jr.:
"You know what, I had a helluva season last year, and nobody gave a crap. Nobody. As much as I've complained about McGwire and (Jose) Canseco and all of the bull with steroids, I'm tired of fighting it. I've got three or four good seasons left, and I wanna get paid. I'm just gonna start using some hard-core stuff, and hopefully it won't hurt my body. Then I'll get out of the game and be done with it."
It's worth noting that Griffey has denied that conversation ever took place, but let's just assume this was Bonds' thought process at the time.
He was one of the most talented players in the game. Along with Griffey, they may well have been the two most talented. And Bonds was right about 1998. He had an incredible season. He hit .303/.438/.609 with 37 homers, 122 RBI, 120 runs, 44 doubles, seven triples and 28 stolen bases. He also won his eighth Gold Glove. This was all only good enough for eighth in MVP voting, and Bonds was a relative afterthought in the national consciousness.
In knowing all this, so what if he said to himself, "Screw this. I'm better than these guys, so it's time to show them just how much better I am."? Does this really make him the villain whom many believe him to be?
If it helps, personalize this. What if you knew you were the best person in your profession, but several people were doing things that moved them past you and garnered all the money, attention and accolades? And these things -- while technically illegal -- could be used without immediate consequence. Simply, if something is "illegal" but there's no penalty for use, it's not really illegal.
Wouldn't you at least think about using? Would you use? I can only speak for myself, but my honest answer to the latter question is I don't have the first damn clue.
To the former, I believe any competitor would at least think about it. Many people would still refuse to use after thinking about it from a morality standpoint, but you'd be hard pressed to convince me it wouldn't even cross your mind.
As for me personally, I think back to my college years. I played baseball. Or rather, I rode pine. I accrued three total plate appearances in one season, and that was it. Drug testing was in place and, additionally, I don't have any idea where I would even begin to find PEDs. But what if there was no testing and PEDs were readily available? Would I have used in order to increase my power and get more playing time?
I don't know.
I really don't. I'd love to be able to say I would refuse to use anything because it would disgust me to look in the mirror knowing what I've done. But I also know how much I wanted to get on that field and how competitive I am. In being honest with myself, there's no possible way I can say that I wouldn't have strongly considered using. Again, I'm not sure I would have used, but I'm not sure I would have said no, either.
And I believe most people could think of situations in which they'd at least consider a route in this scenario similar to one that Bonds allegedly took. He wasn't a chemical creation. He was one of the most talented players in baseball who tired of seeing inferior players steal his spotlight.
This doesn't mean Bonds was right, it doesn't mean he was a model citizen and it most certainly doesn't make him a hero. It simply means Barry Lamar Bonds is a human being -- a supremely talented, proud and competitive human being. And, yes, a flawed human being, as we all are.
For that, I don't blame him.
For more baseball news, rumors and analysis, follow @EyeOnBaseball on Twitter, subscribe to the RSS feed and "like" us on Facebook.
The lefty starter is coming off a terrible season

After acquiring Ian Kinsler and Zack Cozart in recent days, the Angels are trending upward

Cozart's coming off a big season as the Reds' shortstop
The veteran slugger spent the last eight seasons with Cleveland

The Padres may be poised for an active winter

Yes, Bryce Harper is going to make a lot of money next winter