Someone forgot to tell Taijuan Walker he asked for a new number
Taijuan Walker asked the Mariners for a new number after the season. Or did he?
UPDATE: Walker will now wear No. 32 and, just to be clear, he is not headed anywhere in a trade as of right now. Franklin has not yet been assigned a new number.
* * *
The Mariners introduced both Corey Hart (one-year deal) and Logan Morrison (trade with the Marlins) at a press conference on Friday afternoon, one day after introducing Robinson Cano. As usual, the team had fresh jerseys waiting for their new additions:
Today's press conference for Corey Hart & Logan Morrison starts now. Watch live: http://t.co/fG7FA7RBOJ pic.twitter.com/akhhVtnXU2

— Seattle Mariners (@Mariners) December 13, 2013
Astute readers will notice that No. 20 and No. 27 belonged to two of the team's top young players last season, Nick Franklin and Taijuan Walker, respectively.
Franklin and Walker have been involved in a bunch of trade rumors in recent weeks and having their uniform numbers given away might be an indication something is up, right? Well, the team did say this a few minutes after posting the photo:
For those wondering, Logan will wear #20, Corey #27. Nick Franklin and Taijuan Walker have requested new numbers for next season.

— Seattle Mariners (@Mariners) December 13, 2013
Oh, well, no big deal then. Rookies are usually so happy they've finally reached the big leagues that they just keep their mouths shut and take whatever number they're given. They're in the show and number decisions can wait until the offseason. Make sense.
Except this happened a few minutes later: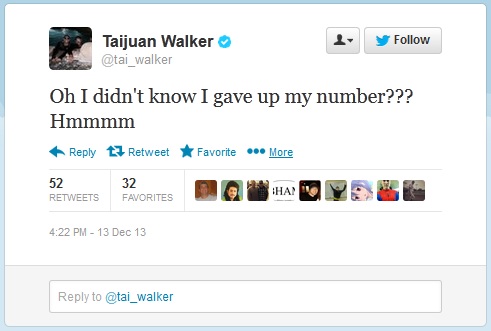 Walker deleted the tweet a few minutes later, but I have a screen cap. The internet doesn't forget anything.
Maybe Walker simply forgot he requested a new number. I imagine the last few months of his life have been pretty hectic between finally getting the call and all the trade rumors and whatnot. It could have slipped his mind.
Or, for the conspiracy theorists out there, perhaps something much bigger is afoot.
Does the Jackson signing mean the Giants are out on Lorenzo Cain?

Acuna edged out Shohei Ohtani and Vladimir Guerrero Jr.

There's no reason to run over the cases for and against Bonds, so let's have fun instead
The coveted right-hander would certainly be a fit in Milwaukee

We rate the best mustaches from random baseball cards because, why not?

Colon wants to break a Dennis Martinez record