Something to Choo on: Will Mets again take big free-agent plunge?
Star outfielder Shin-Soo Choo would fit the Mets perfectly, and while the Mets should have the money, they also have a lot to think about -- including their own history.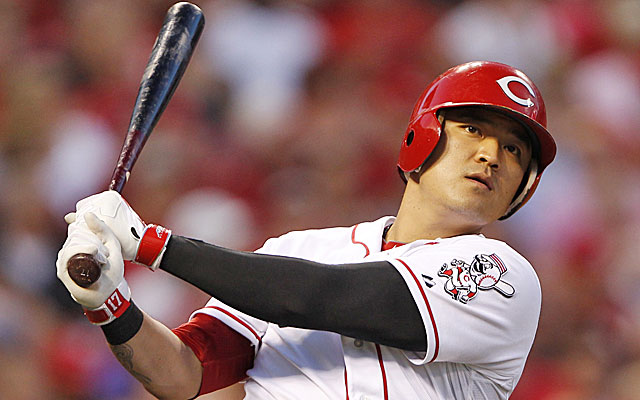 The Mets have a couple mega contracts coming off the books this winter. Those contracts (Johan Santana and Jason Bay) will account for more than $50 million in savings at a time when the organization seems to have emerged from the Madoff debacle and has some obvious offensive needs and early targets. Shin Soo-Choo is one who "fits the bill" in the words of one Mets-connected source.
However, club higher-ups, as familiar as anyone with gigantic free-agent deals gone awry, are grappling with how to allocate their sudden and significant spending money, and specifically, how hard to try for the biggest free agents again after their notable recent signings flopped.
"There's no question long-term contracts carry risk, and right about the time you're clearing payroll you can wind up right back where you started if it doesn't work out," Mets general manager Sandy Alderson said in a phone interview. "On the other hand, you have some times where you have to roll the dice. I certainly haven't ruled out a big-ticket item."
With an "effective payroll" of $56 million (not counting Bay, who's gone, or Santana, who's hurt), many Mets fans hope this is ultimately viewed as the right time to roll the dice.
To their credit, the Mets have amassed a stash of young starting pitchers that look like they could form the makings of an excellent rotation. But there are obvious lineup holes. The Mets are once again out of contention at 64-79, thanks to those holes, plus an all-too-familiar spate of injuries that began in spring training with Santana but eventually hit star David Wright, emerging pitching superstar Matt Harvey, closer Bobby Parnell and much of the bullpen.
The Mets should certainly have the money to make their big move now. While watching a recent series against the Dodgers, one Mets decision-maker noted that the Dodgers had $175 million in players on their active roster while the Mets had only had $25 million. That's no knock on the Dodgers, who swept that series and, after their wondrous last three months, are now looked upon as a World Series favorite. It's just a reminder of how small the Mets' real, active payroll is for a big-market club, and how much spending room they should have.
Even so, it will be interesting to see how the team-owning Wilpons and Alderson approach things. The Wilpons seem to be moving past the Madoff years that saw their payroll drop by more than a third, from $140 million to the $90-million range, but they also have their own recent negative history with mega deals.
While Santana provided a few great years and one of the biggest moments in Mets history for the then-pitching-record $137.5-million contract agreed to after a trade with the Twins, the biggest recent Mets free agents have provided almost zero bang for the buck. Just consider Bay's $66-million deal, Oliver Perez's $36-million deal and Luis Castillo's $26-million deal. (Though in the case of Bay, the Mets actually would have been much better off paying even bigger bucks and going with Matt Holiday, who signed eventually with the Cardinals for $120 million and would have been their first choice if not for dollars and timing.)
 Alderson has his own history with huge free-agent deals, as well. A decade ago as a top executive with Major League Baseball, he publicly judged some of the biggest free agent deals of the time to be boondoggles, most notably at the 2000-01 Winter Meetings in Dallas. It was there that Alderson, often in colorful and pointed language, criticized a few of the biggest contracts in one of the wildest winters of spending ever, including the then-record $252-million Alex Rodriguez Rangers deal, the $160-million Manny Ramirez Red Sox deal, the $120-million Mike Hampton Rockies deal and the Mets' own $42 million Kevin Appier deal. (Notably, Alderson would turn out to be right about most of those deals.)
Based on the needs of the Mets and the strengths of the player, Choo looks like the biggest potential target for the Mets this winter. As an excellent corner outfielder with a big on-base percentage, he actually looks like a perfect fit, and Mets people have indeed have discussed him internally at length. With the biggest free agent, Robinson Cano, viewed as likely to return to the Yankees (or possibly go to the Dodgers if they make a big play for him) and Mets people comfortable with the emerging Juan Lagares in center field (which makes Jacoby Ellsbury an unlikely target for them), Choo could easily emerge as the biggest player on the Mets' radar.
Alderson understandably won't comment on specific players, saying only, "Our goal is to improve the team. We have a number of different ways we can do that."
One big key, of course, may be the medical report Matt Harvey receives Monday when he visits noted sports doctor James Andrews. The Mets have acquired an impressive array of young starters in recent years, but if Harvey requires Tommy John surgery and thus isn't available until 2015, Alderson may look to add a veteran starter to go with Jonathon Niese, Dillon Gee, Zack Wheeler and the other young starters.
Even so, the emphasis will be on offense.
The Mets expect to have their first-base answer in-house, between Ike Davis, Lucas Duda and Josh Satin, and will pencil in Travis d'Arnaud at catcher, Daniel Murphy at second base and Lagares in center – though they hope to see more offensive consistency from d'Arnaud and more plate discipline from Murphy. With David Wright back at third base, that will leave shortstop and the outfield corners as the main areas for import.
Ruben Tejada had a lost year and is out of favor and Omar Quintanilla looks like a utilityman, so shortstop will very likely be an emphasis, though the free-agent market at that premium position is less than promising. The emergence of Lagares, the addition of speedy veteran Eric Young Jr. and especially the enormous surprise season of Marlon Byrd meant a potential disaster area in the outfield was somewhat better than expected, but Byrd was traded to the Pirates and Young is seen as an excellent fourth or fifth outfielder they'd like to bring back as a backup. So outfield will once again be the biggest area to look at.
While Choo appears like the best fit, there will surely be a bidding war for a player who is second the National League with a .425 on- base percentage. Choo was below average in center field this year, but will presumably be coveted as a corner man by many teams. Many factors are playing in the minds of the Mets as they decide whether to go all in for Choo. Hunter Pence, Nelson Cruz and Curtis Granderson are among other top corner outfielders, though Cruz, at 33, probably doesn't fit the Mets, and none fits them as well as Choo.
One of the factors weighing on Mets people is the vast success of the Red Sox who determined last winter to bring in several "mid-range" free agents rather than spend wildly on one or two big ones, a decision that's enabled them to revamp their team and led them to be the only team in the American League with better than a .600 winning percentage. One Mets executive suggested there's "a lot of merit" to that approach.
Another is the Mets' own recent history, which also includes their failed attempt to sign free-agent center fielder Michael Bourn, who hasn't yet quite lived up to his $48-million, four-year deal (plus vesting option) in Cleveland, and is batting .258 for the contending Indians. Though one top Mets executive recently expressed relief not to have signed Bourn -- the Mets, ultimately, sought to wait to see if they could retain their draft choice via grievance before Bourn decided to take the same guaranteed money plus the option with Cleveland – another Mets exec said, "I think it's a little early to write off Michael Bourn."
That doesn't mean Bourn, Bay, Perez and all the rest won't impact the Mets' thinking as they approach their most important free agent season in years.
Speaking about the biggest deals, Alderson said, "They're definitely a crapshoot.''
It's a crapshoot, all right, but it's one the Mets may have to partake in again.
Get 15 percent off any order of more than $75 at CBS Sports Shop

Get your sports fans something that they'll wear all year

No, you're not imagining things. This MLB offseason has been very slow compared to the last...
Francesa will retire from radio next month, so he'll have plenty of free time next summer

The Twins need help in the rotation, and they may look to the trade market to find arms

Here are the bullet-points of what went down Tuesday regarding MLB and the Braves' punishm...