Something to watch in World Series: Defensive miscues
With much attention on what to do with the batting orders as the DH is lost in an NL park, the World Series could turn on a defensive miscue. Just look at the first two games.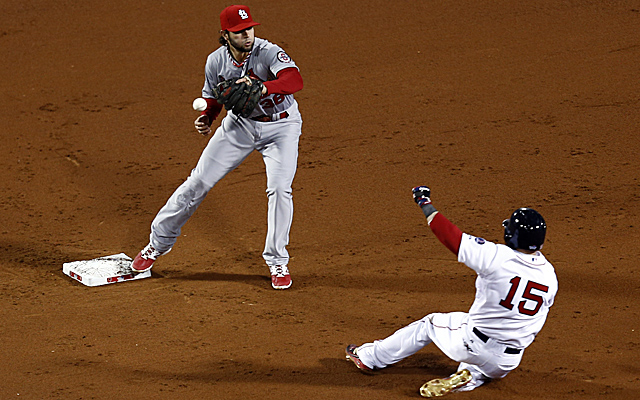 ST. LOUIS - With the 2013 World Series shifting to a National League ballpark for Games 3-5, the designated hitter is off the table.
For the Red Sox, that means starting either David Ortiz or Mike Napoli at first base with the other sitting on the bench. It sounds as though Ortiz is going to get the starts at first base, and he hasn't played first more than 10 times in a season since 2004. This season, he saw 39 innings at first, and none since Sept. 25.
On the Cardinals end, what if they decide to go with Allen Craig at first base? He hasn't played there since Sept. 4 and is coming off a tough foot injury. If they don't use him at first, they lose his bat -- and he's been pretty clutch in the postseason in the past and was ridiculously clutch this regular season. If they do use him at first, will he be a defensive liability?
All this looms large, as defense cannot be ignored. Take the first two games of the series. Defensive gaffes caused two of the biggest momentum swings in the entire series -- leading to one victory for each team.
In Game 1, Pete Kozma botched an easy feed from Matt Carpenter instead of turning the inning-ending double play. Next up, Mike Napoli hit a three-run double and the Boston rout was on.
In Game 2, the Cardinals benefitted from two Red Sox errors on the same play:
So with the shift to the NL and tons of concentration on what to do with each of the offenses, I can't help but think about the defensive impact. With every single little play sporting the potential to turn around an entire game -- and, really, the entire series -- one defensive miscue would be what tilts the scales.
Kenny White has won 8 of his last 10 MLB Over-Under picks and has a strong play for Game 1

OOTP's team ran some simulations for us on the 2017 World Series

Reddick spent half the 2016 season in L.A. and did not enjoy it
Martinez has spent most of the past decade as Joe Maddon's bench coach, but should be ready...

The Dodgers have acquired more players through trades than by any other means

Surprisingly few current Astros were originally drafted by the team