Soriano, Peavy, Nolasco, Iglesias among best MLB in-season pick-ups
Alfonso Soriano was the best in-season acquisition this year, but with the Yankees just about out of it, it's fair to say the Dodgers, Red Sox and Tigers may have helped their playoff teams most.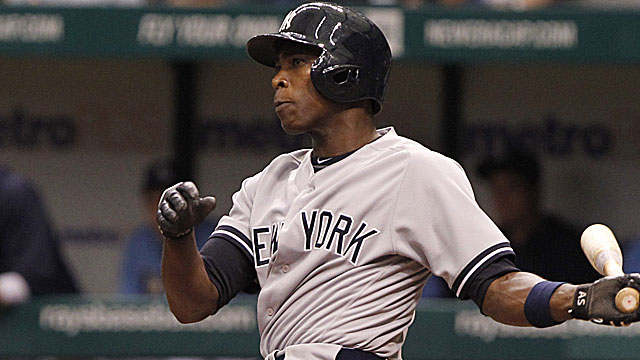 When "the Bud Norris deal" is the biggest trade on trade-deadline day, we know it's not exactly a boffo deadline day.
Nothing against Norris, a very solid pitcher in both Houston and Baltimore, but the biggest deals came earlier -- the trio of trades involving Jake Peavy, Matt Garza and Alfonso Soriano.
That's three very big deals involving five teams, though ultimately the biggest names didn't go anywhere. Giancarlo Stanton stayed in Miami, no matter how many teams tried to pry him away. Cliff Lee didn't come close to going anywhere, though the Phillies talked to the Red Sox and some others.
But that doesn't mean no one helped themselves. Many did, and here are the 25 biggest summer pickups (major leaguers only):
1. Alfonso Soriano, Yankees: "This is the top summer acquisition and I don't think anything's close," one GM said. Soriano has 17 homers and 50 RBI, virtually the same numbers he produced in Chicago in little more than 60 percent of the games. New York and the short porch in right field really seem to agree with Sori. The Cubs did fine by getting right-hander Corey Black, who thrived after being converted to a starter in the minors for them. The background to this one is fascinating: Yankees higher-ups Hal Steinbrenner and Randy Levine pushed for a couple years to try to bring Soriano back too the Bronx, and GM Brian Cashman finally made it happen after trying in the winter and again in March -- though Cashman, after rejecting numerous other proposals this time, also told Cubs people he didn't want to surrender Black for Soriano before his bosses ordered him to relent on Black. Turns out, the Yankees needed Soriano just to keep them afloat.
2. Ricky Nolasco, Dodgers: Los Angeles struck early, surrendering three promising arms for Nolasco, who has pitched splendidly for his hometown team (he's from the Inland Empire area near Riverside). The trio of pitchers Florida receive all show promise, though two or perhaps even all three are expected to be relievers. Meanwhile, Nolasco enhanced the best pitching staff in the National League as well as his own free-agent cause by going 8-2 with a 3.14 ERA in LA. No one has benefited more than the Dodgers (Nolasco and Hanley Ramirez) and Tigers (Miguel Cabrera, Anibal Sanchez) from Marlins trades.
3. Jake Peavy, Red Sox: Boston got itself a fourth terrific starter for the playoffs in a three-team blockbuster that helped everyone (in the deal the Tigers landed young shortstop Jose Iglesias and White Sox young outfielder Avisail Garcia, see right below), helping cement its playoff spot and aiding its World Series chances. Peavy is 3-1 with a 3,68 ERA and 1.07 WHIP in Boston and will join Clay Buchholz, Jon Lester and rejuvenated John Lackey in the postseason rotation and push Ryan Dempster (another ex-Chicagoan) and Felix Doubront into a better bullpen.
4. Jose Iglesias, Tigers: In some ways this is one of the most impressive pickups in years. Detroit needed to grab a viable shortstop in a fairly short time frame with a 50-game suspension hanging over the head of All-Star Jhonny Peralta, and it landed one who should be there for years. He's batting .276 with two homers and 10 RBI but most importantly he brings magical defense to an infield that had been solid but rather sedentary. He's missed the past few games after being hit on the left hand with a pitch, but is expected back for playoffs.
5. Avisail Garcia, White Sox: This was a three-team trade that worked for all, as Chicago received much-needed help for their limp lineup in the form of Miguel Cabrera's protege. Hitting .317 with four home runs and 19 RBI. Should hit for years to come.
6. Justin Maxwell, Royals: An overlooked trade-deadline pickup, Maxwell hit one of the biggest homers in years for the Royals, a walk-off grand slam to beat the Rangers and keep their playoff hopes afloat. Obtained for minor-league pitcher Kyle Smith.
7. Scott Feldman, Orioles: He was a good pickup for the Cubs as well as Baltimore, which made several acquisitions on a limited budget. He's a very solid starter and is 5-5 with a 3.57 ERA for the Orioles. He didn't help Baltimore into the playoffs, but he did help his value as a free agent.
8/9. Pedro Strop and Jake Arrieta, Cubs: The Cubs turned the smart signing of Feldman for $6 million into two pitchers for their future. Strop's (partial) move to closer may have upset Kevin Gregg, but it makes sense. Strop is 2-2 with a 2.70 ERA and 0.90 WHIP in Chicago after a rough start in Baltimore following major use as the set-up man for the champion Dominican Republic in the WBC. The talented Arrieta is 3-2 with a 3.94 ERA and .185 batting average against.
10. Alberto Callaspo, Athletics: Just one of many A's moves that worked, he's hitting .275 with four homers and 19 RBI for Oakland.
11. Alex Rios, Rangers: Texas got him by mostly by agreeing to pay Rios' salary (all but $1 million of the $12 million this year) and giving up defensively-strong infield hopeful Leury Garcia. He's done about as hoped, batting .286 with six homers and 21 RBI (including a cycle Monday night) as the Rangers struggle to the finish line without the suspended Nelson Cruz.
12. Ian Kennedy, Padres: Kennedy has regained some of his past form after a rough first half in Arizona. He's 3-2 with a 4.65 ERA for the Padres, who beat out the Angels by surrendering lefty reliever Joe Thatcher, relief prospect Matt Stites and a draft pick and could employ Kennedy in their rotation for years.
13. Emilio Bonifacio, Royals: Toronto seems to be the one team that hasn't really benefited much from ex-Marlins, but Kansas City has been helped by Boni, who has 15 stolen bases and a .291 batting average. Nice addition for their continuing playoff chase.
14. Mark Rzepczynski, Indians: This is the second time he's been a worthwhile add for a playoff hopeful, having boosted the 2011 World Champion Cardinals. While he'd fallen on hard times in St. Louis, he is back as a force in Cleveland, with a 1.04 ERA and 17 strikeouts in 17 1/3 innings.
15. Brian Wilson, Dodgers: There still appears to be some magic in that beard, as he is 2-1 with a 0.79 ERA after the onetime Giants closer joined the rival Dodgers as a still-unsigned free agent.
16. Jose Veras, Tigers: The ex-closer adds another strong arm to a bullpen that's been reborn -- mostly because Joaquin Benoit was moved to the closer spot. Houston received minor-league outfielder Danry Vasquez and another in the deal.
17. Bud Norris, Orioles: Norris has delivered about what they figured, going 4-3 with a 4.63 ERA (though his ERA and most other numbers were better in Houston). The rebuilding Astros received outfield prospect L.J. Hoes in a package.
18. Marlon Byrd, Pirates: He hasn't re-produced his magic as a Met, but with a .277 batting average, and .742 OPS, he's been solid (and a major improvement over whet they'd been getting previously in right field). John Buck (.300 in 20 at-bats Pittsburgh) is an extremely solid backup and good enough to start in several other places. The Mets aren't displeased to have added youngsters Dilson Herrera, an infielder, and Vic Black, a reliever, so that trade worked for everyone.
19. Francisco Rodriguez, Orioles: Baltimore makes the list a third time (though that won't be consolation to missing the playoffs of course). K-Rod is 2-0 with 28 strikeouts and four walks for Baltimore. Including his impressive start in Milwaukee, that'll at least set him up for a decent free agency. Milwaukee did well to get third-base prospect Nick Delmonico for him.
20. Scott Downs, Braves: Nobody is better at finding bullpen help than the Braves, and while he hasn't been as good in Atlanta as he was for the Angels, he's 2-1 with a 3.46 ERA and 15 strikeouts in 13 innings. Cory Rasmus, Colby's brother, is 1-1 with a 5.31 ERA for the Angels.
21. David DeJesus, Rays: After finally finding his landing spot in Tampa following a pit stop in Washington, he's had a couple huge moments there.
22. Matt Garza, Rangers: He was expected to be much, much higher on this list, and although his acquisition can't be considered a success to date, he does have four wins in solid work (4-5, 4.56). The Cubs have to be pleased to have gotten prospects Mike Olt, C.J. Edwards and Neil Ramirez for him. Chicago believes Olt's issues are related to a concussion last year and that he'll be back strong while Edwards has great potential.
23. Grant Green, Angels: He bounced around in Oakland but could eventually find a home at second for the Angels if they trade Howie Kendrick this winter. The local (Orange County, Calif.) product is hitting .288 and has a .744 OPS.
24. Mark Reynolds, Yankees: With Kevin Youkilis going down and Alex Rodriguez unable to play the field, he's been a Godsend (especially compared to all the previous infielders they trotted out to third base this year). Has five homers, 17 RBI and .237 batting average. Would like to sign back with the Yankees.
25. Kyle Farnsworth, Pirates: He's barely a mention among all the many Pirates' worthwhile pickups this year, but he does have a save since coming aboard Pittsburgh's playoff-bound ship.
Our experts have a unanimous World Series pick

Otani's rare ability to hit and pitch will need to be accounted for in realms beyond real...

Kenny White has won 8 of his last 10 MLB Over-Under picks and has a strong play for Game 1
OOTP's team ran some simulations for us on the 2017 World Series

Reddick spent half the 2016 season in L.A. and did not enjoy it

Martinez has spent most of the past decade as Joe Maddon's bench coach, but should be ready...