Soriano, Yankees deal makes too much sense not to happen
Soriano is the Yankees' best offensive option, and the Yankees are very likely the Cubs' best option.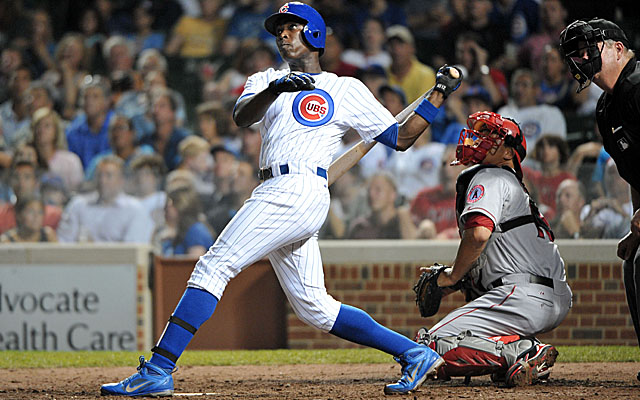 Various sources have been suggesting throughout the day that the Yankees and Cubs aren't necessarily all that close to a deal involving Alfonso Soriano, and that's very believable.
They are surely haggling over the money, and since there's a lot of money involved they may still be haggling for a while.
But that doesn't mean a deal won't get done. It simply makes too much sense for Soriano to return to the Yankees.
For one, the Yankees, whose last 20 hits are all singles, are desperate now for a power hitter, and they are running out of other options.
For another, the Cubs have been looking at possible trades for Soriano for years.
Word is, the Cubs will wind up paying more than half the $25 million remaining on Soriano's deal through next year when they are done bartering (and assuming they can reach a deal). Soriano is still a productive power hitter, but he's been overpaid since signing that $136 million, eight-year deal at the height of the market.
The Yankees wouldn't appear too have other great options. The Padres told them Chase Headley can't be had (at least by them). The White Sox would want the Yankees to pick up all Alex Rios' $12.5 million salary, the Mariners aren't selling (at least not yet) and Norichika Aoki doesn't provide the type of power they seek.
The Yankees have checked in on Justin Morneau. But it shouldn't be a surprise they prefer Soriano, who's showing way more power and is also righthanded.
The Cubs may be talking to other teams as well, though at the moment they are hard to identify. The Rangers, who could use a righty hitter, don't appear to be heavily involved after making one big deal with the Cubs already (for Matt Garza). The Pirates are a team that needs an outfielder, but a right fielder such as Rios would be a much better fit.
The Yankees also are a team Soriano, who has full no-trade powers, may be apt to accept -- which is another reason the Bronx remains his best landing spot
The Yankees have mulled a run at Soriano many times since he was traded away nine years ago in a monster deal. It would be interesting to see him to come back now, exactly at a time the man he was traded for back in 2004, Alex Rodriguez, has a baseball future that's very much in jeopardy, due to injuries and other things.
The lefty starter is coming off a terrible season

After acquiring Ian Kinsler and Zack Cozart in recent days, the Angels are trending upward

Cozart's coming off a big season as the Reds' shortstop
The veteran slugger spent the last eight seasons with Cleveland

The Padres may be poised for an active winter

Yes, Bryce Harper is going to make a lot of money next winter