Sorry, Wedge: Sabermetrics not behind Dustin Ackley's slump
Mariners still have high hopes for former No. 2 overall pick Dustin Ackley, but sending him to the minors was the right thing to do.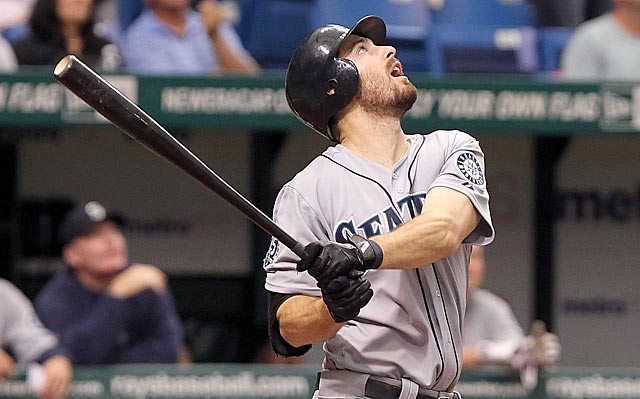 Poor Eric Wedge. He's surely under a lot of stress, what with his Mariners struggling again. He very likely may be figuring he needs to start winning, and fast.
But that still doesn't completely explain his complaint Tuesday that sabermetrics are to blame for big-time prospect Dustin Ackley's unexpected, upsetting, big-time slide. Wedge must be upset that Ackley's slump is so confounding the player had to be demoted the other day. Anyway, let's hope that explains Wedge's odd remarks to Greg Johns of MLB.com.
Because what Wedge said made no sense.
If you haven't heard, here's what Wedge said of Ackley's offensive issues: "It's the new generation. It's all the sabermetrics stuff, for lack of a better term, you know what I mean? People who haven't played since they were 9 years old think they have it figured out. It gets in these kids' heads."
There's no doubt Mariners people are upset to have had to demote Ackley, the No. 2 overall pick after Stephen Strasburg in the 2009 draft. Ackley is a fellow they gave a $7.5 million bonus to and for whom they still have have high hopes.
One Mariners person referred to the day they promoted another big infield prospect, Nick Franklin, a high school infielder who was taken the second round that same year, while demoting Ackley as "bittersweet." That is an apt feeling, and totally understandable.
What isn't understandable is how Wedge really believes sabermetrics, or sabermetricians, are to blame.
Some sabermetrics folks took some pokes at Wedge in response. But even us non-sabermetricians don't get it, either.
If there is a team or two that may misapply or overemphasize sabermetrics, and it is possible there is one, it certainly is not the Mariners. And even if Ackley was thinking too much about some new stat (and there's no indication he was), that's still on Ackley, of course.
The Mariners understand as much, even if Wedge is seemingly trying to pin it on the stat guys.
"He lost his way," one person close to the situation said about Ackley's current situation. "He's got to get back to where he was.''
Where he was: Seemingly on his way to stardom. Ackley, in fact, was one of the most productive hitters in college baseball over the past couple decades at North Carolina. No one would figure he'd struggle like this.
When his big-league career got going, one scout said the other day, "You didn't want to miss one of his at-bats. He hit everything on the screws.''
There are all sorts of theories about where it went wrong. People in the know figure it has to be part mechanical, part psychological. One idea, much more plausible than Wedge's, is that Ackley simply needs to get stronger.
In the meantime, the Mariners are doing the right thing. As one Mariners-connected person said, "Why put him in the spotlight where the whole world is watching?" Why, indeed.
The minors isn't the end of the line, anyway, not at only 25. Chase Utley is a star second baseman who didn't have a straight line to the majors. Onetime Mariners great Edgar Martinez took the same career path.
Meanwhile, Wedge should know that Ackley's performance is on Ackley, who was hitting .205 with a .516 OPS after 45 games at the time of his demotion to Triple-A Tacoma. There is no indication Ackley is blaming anyone else, and good for him.
Ackley is a hard worker who has turned himself into a decent second baseman when the question coming out of college was his glove, not his bat. He had to play first base his final season at UNC because he underwent Tommy John surgery. But since he isn't a power hitter, he needed a new position in the majors -- center field or second base.
Managers sometimes will try to protect players by finding fault elsewhere, and if that's the case, maybe Wedge's heart was in the right place. But the reality is, the next best place to look after Ackley would be the Mariners' staff, including Wedge.
That's why Wedge's comment looks like something between a diversion and an excuse.
The Mariners actually have had excellent overall production from that 2009 draft, thanks mostly to third baseman Kyle Seager, Ackley's North Carolina teammate. Seager's productivity is as much a surprise as Ackley's. Ackley remains a conundrum.
Making the situation more frustrating, Ackley showed the expected promise as a rookie in 2011, finishing sixth in Rookie of the Year voting. He dropped off precipitously his second year, hitting only .226 with a palindromic .622 OPS, though he did have 12 homers and 13 stolen bases. So there definitely was hope for a turnaround. 
Then this year started, and it was all downhill. Ackley has had few good moments. In fact, he had only a .266 on-base percentage. So if there is even a shred of evidence of trying to please the sabermetrics crowd, it isn't in the numbers.
It's understandable if Wedge is frustrated. Ackley isn't the only talented young Mariner who is struggling. Jesus Montero was sent down ahead of Ackley. And Justin Smoak also has yet to develop into a star.
This has been something of a trend in Seattle.
That city, an Internet hub, also might have a few more people who are mathematically or sabermetrically inclined, or favor the new school of thought. But to blame Ackley's slump on the new school or the new numbers makes no sense at all.
The numbers are only to blame in the sense that they aren't very good.
deGrom is set to become a free agent after the 2020 season

Perkins missed most of the last two seasons due to injury

Jonathan Singleton was suspended after a third positive test for a drug of abuse
Rodriguez will join Jessica Mendoza and Matt Vasgersian on the "Sunday Night Baseball" boo...

Jeff Wilpon talked about payroll on Tuesday, and it won't make any Mets fan happy

Yelich's agent recently asked the Marlins to trade him before the spring