Sources: Dodgers fire bench coach Hillman, advance scout Taylor
Two of Don Mattingly's allies were let go, only a day after the manager expressed unhappiness over his status with the NL West champs.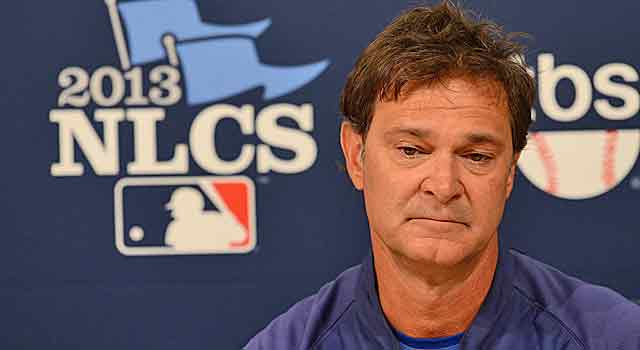 The Dodgers fired bench coach Trey Hillman and advance scout Wade Taylor, sources say.
The pair are seen as two of manager Don Mattingly's closest friends with the team.
While the firings came only one day after Mattingly expressed unhappiness with managing as a lame duck this past season (and potentially next season), it's quite possible that the timing could be coincidence. In any case, it is clear that the Dodgers weren't the happiest of qualifiers for the NL Championship Series.
They carried a "World Series or bust" mentality and came up two games short. It's been reported here and elsewhere they've intended to bring Mattingly back, but that hasn't been made official yet and his comments suggesting how "tough" and "frustrating" this year was are believed to have taken Dodgers powers by surprise.
The press conference was conducted before Mattingly and GM Ned Colletti had a chance to discuss the future.
The Dodgers have been under the assumption Mattingly would come back for 2014, as his option vested with the NLDS victory over the Braves, and for now that seems likely.
"He's under contract for 2014," Colletti texted Monday, regarding Mattingly's status.
Taylor, a well-respected veteran scout who pitched for the Yankees in the early '90s, was originally hired by the Dodgers' scouting staff, though his ties to Mattingly are well known, as well.
Colletti delivered the news to Hillman, who called it "very disappointing" but went on to praise the Dodgers for the opportunity and the way in which it was handled. Colletti told him he could have another job in the organization if he doesn't find the major-league field job he seeks at this date.
"It was three great years in a wonderful organization, a real blessing to be with a franchise like this," said Hillman, the former Royals manager and an ex-third base coach. "Ned was very professional. He wasn't that fired up about giving the news. When you feel there's some remorse, it makes it a little bit easier to take."
Regarding Mattingly, Hillman said, "I think the world of Donnie. He's got a future as a tremendous manager, either here or somewhere else."
Dodgers manager Dave Roberts on Sunday announced his World Series rotation for the first four...

How should the Astros play it when one of their two aces isn't on the mound against the Do...

The former big-league infielder also worked as GM of the Puerto Rico national team
The Indians pitching coach would be getting his first MLB managerial job

In the last several years, lots of droughts have ended in MLB

The most likely scenarios are Dodgers winning in five or six games