Sources: Phillies put star left-hander Cole Hamels on trade market
The Phillies have begun making calls to gauge trade interest in star lefthander Cole Hamels.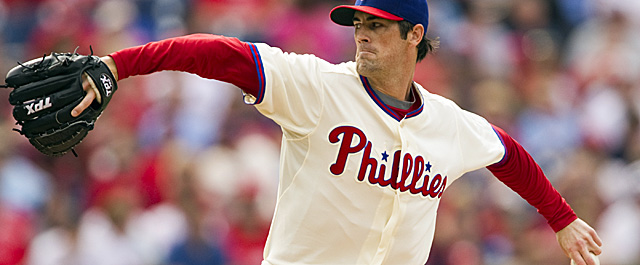 While the Phillies hoped to keep Hamels, contract talks have gone nowhere. (U.S. Presswire)
The Phillies dropped a bomb on the trade market when they recently began making calls to see about trade interest in Cole Hamels, CBSSports.com has learned.
Hamels is a free agent after the year, and a source with knowledge of his contractual situation said there has been no progress made in contract talks.
More on Phillies
Related links
The Phillies are struggling through an injury-riddled first half. They traded Jim Thome to the Orioles on Saturday, but the team suggested that didn't mark the end of the sell-off.
The Phillies may just be gauging early interest in Hamels or getting talks started in case their struggles continue. Chase Utley recently returned from injury, and they are awaiting returns for two more stars, Ryan Howard and Roy Halladay. It's hard to imagine them giving up contending this early, so it's very likely they are laying the groundwork for the possibility of a trade before the July 31 trade deadline.
The Phillies are said to be seeking at least three good young pieces for Hamels, one of the best lefthanded starters in the game. Shane Victorino is another Phillie free agent who's most likely available, as well.
Phillies general manager Ruben Amaro declined immediate comment.
The Phillies were thought to have interest in retaining Hamels, who is 10-4 with a 3.08 ERA, and it isn't known whether that hope has changed based on any new information. The Dodgers have been seen as a major threat to sign Hamels as a free agent.
The Phillies suggested a contract extension along the lines of Jered Weaver's deal with the Angels (about $85 million for five years) near the end of last season. It is believed Hamels is interested in a longer deal, perhaps one closer to CC Sabathia's $161-million, seven-year contract with the Yankees.
The Phillies are 36-44 following a four-game losing streak, 10 games out in the N.L. East and seven games out in the wild-card race.
The coveted right-hander would certainly be a fit in Milwaukee

We rate the best mustaches from random baseball cards because, why not?

Colon wants to break a Dennis Martinez record
The Twins have been rumored to be interested in Darvish all winter

Rolen is one of the best third basemen of all time, but you wouldn't know it based on this...

Neither Josh Donaldson nor Brian Dozier have talked about a new contract extension