Sources: Texas declined $56M proposal from Cruz last winter
Nelson Cruz will try to work his way back to play for the Rangers in the playoffs, but his chances to remain in Texas long-term seem even less certain with the revelation the team didn't accept the four-year offer made by his previous agents.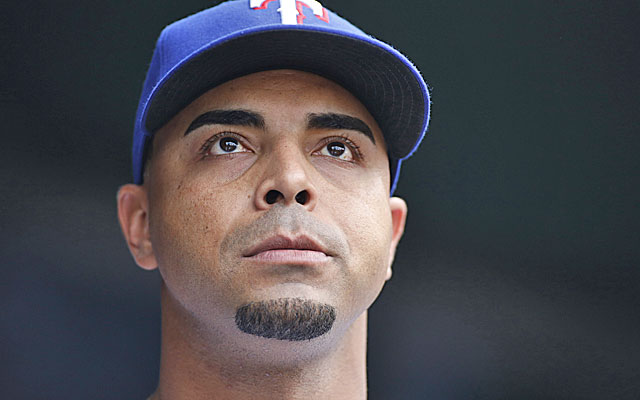 Suspended star outfielder Nelson Cruz is expected to report to the Rangers' Instructional League sometime next week, suggesting there's a decent chance he could be back playing for them come playoff time, though a spot isn't guaranteed to him.
However, Cruz's chances to remain with the Rangers long-term seem somewhat iffier with the revelation that a Cruz offer presented by his previous agents last winter to sign back with them for $56 million over four years was declined by the team at the time.
Cruz's old agents, the embattled Levinson brothers of ACES, went to Texas with the proposal for that deal that would pay him $14 million per year, CBSSports.com learned, and while a lot has changed since then (including Cruz's representation; he recently switched to Adam Katz), there's no evidence the Rangers might reverse course and accept a similar deal.
Beyond the agent change, which could easily alter the plan going forward, two other major factors carry the potential to cause a reassessment of Cruz's value. One is the 50-game PED suspension he accepted from MLB for his link to the Biogenesis case. The other is the 33-year-old Cruz's huge year before he went to the sidelines for the ban; he had 27 home runs, 76 RBI and a .269 batting average, numbers that put him on pace for about 40 homers and 110 RBI and could play huge in a market without many sluggers.
The Rangers are making "no guarantees" he'll be back on the team should they make the playoffs, though manager Ron Washington has signaled a preference to have him back and there seems to be no hard feelings over his 50-game suspension for PEDs or his subsequent decision to accept his penalty rather than appeal the ban, as a few of his teammates had hoped he would.
Cruz is considered a "plus" clubhouse presence and he scored points for opening up to teammates about his Biogenesis involvement in spring. So the decision whether to activate him for the playoffs will come down to how he looks in the Instructional League, and perhaps to a slightly lesser extent how the active Rangers outfielders are performing. Texas acquired Alex Rios to play right field after losing Cruz, and he's hitting .283 for the Rangers (and has another year to go on his contract), though left fielder David Murphy has struggled most of the year and is at .222.
In his first public comments since accepting the suspension, Cruz recently told Gerry Fraley of the Dallas Morning News, "Hopefully, the team goes to the playoffs and gives me a chance to help them out. I'll be ready."
Cruz is still second on the Rangers in home runs and RBI to Adrian Beltre, so it would still be somewhat surprising if they didn't include him on its playoff roster -- though it's been made clear he isn't guaranteed a spot. Fraley pointed out Cruz is traveling to Instructional League at his own expense (though he should make up for it as a free agent after the year).The Rangers, who lead the A.L. West by 1/2 game over Oakland, maintain an excellent chance to win at least a wild-card spot as they'd have to blow a leads over both the Rays and Yankees (and they lead New York by 5 1/2 games), as well as the A's, to miss the postseason entirely
His free agency appears somewhat more unpredictable.
Power pays in free agency and Cruz's 27 home runs are still the most of any free agent, though he's now just one homer ahead of Robinson Cano and Raul Ibanez (26) in a market without many sluggers. Following them are Marlon Byrd (22), Shin-Soo Choo (20), Brian McCann (19), Kendrys Morales, Mike Napoli and Hunter Pence (18) and Justin Morneau, Mark Reynolds and A.J. Pierzynski (17). Here's an inexact list of the top 50 free agents published last week.
Cruz's suspension could also come into play in the winter, but while Melky Cabrera, who had been expected to get as much as $65 million for five years before his suspension, had to settle for a $16 million over two years with Toronto, Cruz is viewed much more favorably as a positive personality and consistent power source who accepted the penalty for his mistake.
CBS Sports HQ Daily Newsletter
Get the best highlights and stories - yeah, just the good stuff handpicked by our team to start your day.
Please check the opt-in box to acknowledge that you would like to subscribe.
Thanks for signing up!
Keep an eye on your inbox for the latest sports news.
Sorry!
There was an error processing your subscription.
The Dodgers are welcoming Manny Machado to the team

A weekend-long Subway Series kicks off with Noah Syndergaard on the mound

The Giants are cutting it close with the luxury tax number
The Manny Machado and Brad Hand deals were examples of two different approaches

Follow along with every move made before the 2018 MLB trade deadline

Keep up with all the latest trade rumors around Major League Baseball