Speculation starting that Red Sox will enter Hamilton market
The Boston Red Sox have a lot of flexibility in the free-agent market, so Josh Hamilton could get a look.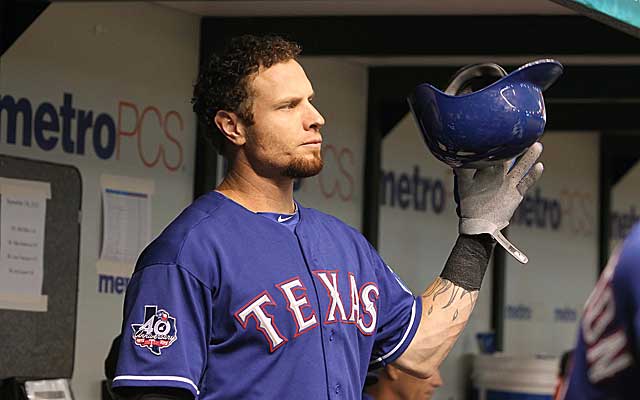 Josh Hamilton could be a fit in Boston, but the Red Sox aren't tipping their hand. (US Presswire)
CHICAGO -- Could the Boston Red Sox become a player for Josh Hamilton?
While several less-monied teams have been speculated as players for the superstar outfielder, some suggest to keep an eye on the Red Sox.
The Red Sox have shown interest in some very useful free agents such as Mike Napoli, Stephen Drew and their own Cody Ross. But a few wonder whether they may aim even higher.
Related Info
Other content
"Boston wants to do something big and it wouldn't shock me if they became players for Josh Hamilton,'' one competing GM said.
Red Sox owner John Henry gave a succinct answer when asked what he'd like to do this winter.
"Improve the team,'' he said.
The Red Sox have all but ruled out Zack Greinke. They don't believe he's right for their market, though don't feel too sorry for Greinke, as he'll have the Angels, Dodgers, Rangers and many others pursuing him.
The Red Sox admit they are giving some thought to Hamilton. They need two outfielders, and the belief has been that they are more inclined to fill multiple holes with multiple medium-priced players than go for the big splash in the wake of the failure that was the Carl Crawford contract.
However, with Crawford dispatched (along with Adrian Gonalzez and Josh Beckett), they have a lot of money, and it is known they have at least checked in on free-agent outfieler Michael Bourn. The impression left at the GM meetings was that they were involved in more things than anyone else.
"We have a lot of flexibility,'' owner John Henry said.
Mariners president Chuck Armstrong said here that they are "looking at'' Hamilton. The Brewers, Orioles and maybe the Braves are seen as possibilities for Hamilton.
The Red Sox have the ability to beat all those teams in a bidding situation if they desire. And Henry suggested the dissolution of his investment business won't hurt the team. "It's had no impact on me financially,'' Henry said.
He didn't mention anything about Hamilton. But the speculation is just getting started.
The Twins have already fortified the bullpen with Addison Reed, and now they want to address...

The Orioles likely want pitching, and the Indians have plenty of it

Halladay died in a November plane crash off the coast of Florida
The power-hitting outfielder is headed to Toronto

Martinez could add some power to a Boston lineup void of it

It's almost that time of the year again, time for the Tebow madness to return