Sports Illustrated has very, very, very high hopes for the 2017 Astros
Sports Illustrated has bought into the Astros extreme rebuilding plan and foresees big things in three years.
More MLB: Power Rankings | Expert Picks | Latest news & notes | Fantasy news
Thanks to a hot streak a few weeks ago, the Astros are "only" on pace to lose 93 games this season. That's terrible, but when you lost 111 games last year and at least 106 games in each of the last three years, 93 losses is a big improvement.
The Astros, as you know, are in the middle of a massive rebuilding effort. They've slashed payroll, traded veterans, hoarded prospects, and lost a boatload of games. Some of those prospects, like outfielder George Springer and first baseman Jon Singleton, are making an impact right now. Others are still a year or three away from their MLB debuts.
Nonetheless, Sports Illustrated as big expectations fror the Astros ... three years from now. They pegged Houston as the 2017 World Series champs in their latest issue: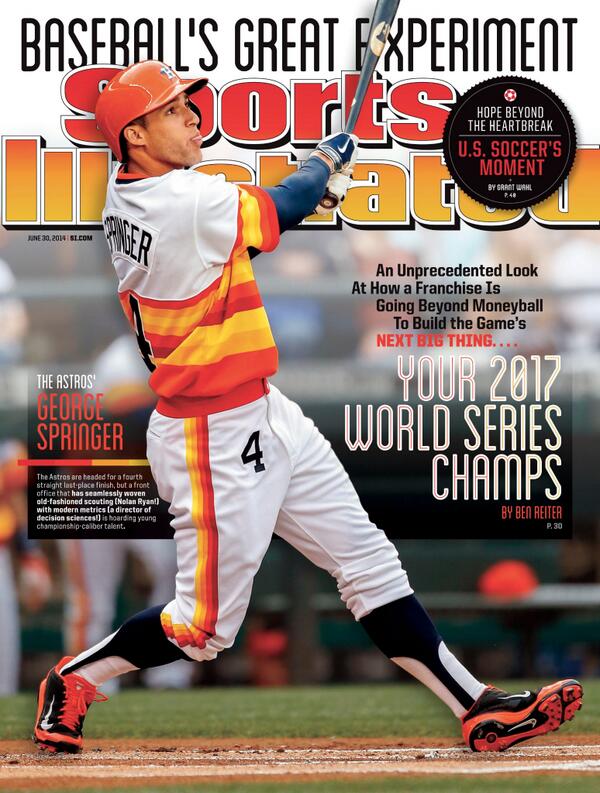 That's certainly a bold prediction, I'll give them that. I seem to remember the publication declaring the then-Devil Rays the 2009 World Series champs about a decade ago. I think Delmon Young and Elijah Dukes were on the cover.
Does the Jackson signing mean the Giants are out on Lorenzo Cain?

Acuna edged out Shohei Ohtani and Vladimir Guerrero Jr.

There's no reason to run over the cases for and against Bonds, so let's have fun instead
The coveted right-hander would certainly be a fit in Milwaukee

We rate the best mustaches from random baseball cards because, why not?

Colon wants to break a Dennis Martinez record