Spring positional battles: Brewers, Dodgers have 2B question
With three weeks until the 2014 season opens up for most teams, let's take a look at five positional battles to watch for this week.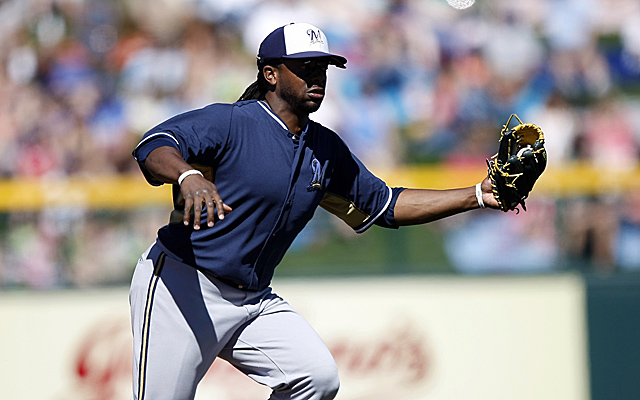 MORE: Spring Training | Scoreboard | FA tracker: hitters | FA tracker: pitchers
We're into the second week of March and the traditional "opening day" (the one that takes place on a Monday with day-game action) is exactly three weeks away. That means all 30 MLB clubs are in the process of trimming down their rosters and competition for certain jobs is really starting to intensify. So let's take a look at five prominent job competitions and where they might stand.
We'll do this each Monday until the season begins.
Brewers second baseman
Young Scooter Gennett hit .324/.356/.479 in 230 plate appearances last season when filling in for the injured Rickie Weeks. He could conceivably be sent back to Triple-A, though, should the Brewers decide to go back to Weeks at second, notes an article from beat writer Tom Haudricourt (jsonline.com).
Entering Monday, Gennett is hitting .111 (2-for-18) with five strikeouts. He does have a home run, but he's not performing nearly as well as Weeks, who is hitting .353/.500/.588 this spring in 17 at-bats (six hits, including a double and homer).
Weeks is a former All-Star and is set to make $11 million while Gennett has minor-league options remaining. Barring a trade -- and at Weeks' salary, that's a tough proposition -- Weeks will probably win the job if he keeps outhitting Gennett.
Dodgers second baseman
Alexander Guerrero was signed from out of Cuba to take over at second base, but he may not be ready for primetime just yet, so Justin Turner and Dee Gordon are also in the mix. As of a week ago, Dodgers manager Don Mattingly said "it's up in the air" (latimes.com), with Chone Figgins and Brendan Harris also being options if Guerrero isn't able to take hold of the job.
Since then Guerrero has hit a grand slam to help increase his stock. Overall, entering Monday, he's hitting .250/.308/.375 with a homer and six RBI.
Gordon (.208/.296/.375) isn't hitting well, but he's 8-for-8 in stolen bases. Neither is Figgins (.143), though he's drawn seven walks and sports a .357 OBP. Harris is also struggling at .167/.273/.167. Turner, on the other hand, is pretty hot, hitting .368/.478/.526 with three doubles.
Red Sox center fielder
With Jacoby Ellsbury gone to the Bronx and Shane Victorino definitely not moving back to center, there's a battle between prospect Jackie Bradley and former elite power-speed combo man Grady Sizemore.
It's easy to forget, but Sizemore is only 31 years old, so it's possible he has a comeback left in him. Thus far in the spring, he's 3-for-8 (.375), but more importantly, his speed is close to where it was when he was stealing more than 30 bases a season. Reports indicate he's been clocked at 4.2 seconds from home to first and that he was at 4.14 pre-knee issues.
Entering Monday, Bradley has struggled (.190/.261/.238).
Reportedly, this competition is going down to the wire and one of the biggest concerns is how much Sizemore's long-troubled knees can handle.
"The competition's there, but we haven't arrived at a conclusion with Grady yet," manager John Farrell said (masslive.com). "We're hopeful that Monday and Tuesday he's got a chance to go back-to-back days, so we still have to get answers to some questions that aren't there yet." 
Royals fifth starter
Yordano Ventura and Danny Duffy are not only vying for the fifth starter spot, but it also appears that the man who "loses" the competition will head back to Triple-A Omaha.
Ventura, 22, has allowed four hits and two earned runs in five innings (3.60 ERA, 1.00 WHIP) with three strikeouts and one walk.
Duffy, 25, has been roughed up for 10 hits (four homers) and seven runs, six earned, in seven innings (7.71 ERA, 1.57 WHIP). He's struck out six to only one walk. He is coming off a very encouraging outing, though, as he allowed only a (reportedly wind-aided) solo homer in three innings and was efficient (37 pitches) in doing so.
"He was on the attack," manager Ned Yost said (kansascity.com). "Good stuff. Stayed within himself."
Indians third baseman/Carlos Santana's position
If Carlos Santana can stick at third base, the Indians' offense looks to be a lot stronger. That would leave Yan Gomes as the everyday starter behind the plate and the designated hitter spot open. Thus far, Santana has committed two errors at third base, both of the throwing variety -- that is, completely overthrowing first base.
"I think the one thing not to forget is he's not the finished product," manager Terry Francona said (cleveland.com). "He's working really hard. If he can continue to get some rhythm. At times, he'll catch the ball and then he doesn't move his feet. He's got plenty of arm, and that's where you're seeing him scatter a ball every once in a while. It's still a work in progress. The good news is he's willing to work."
Whatever happens with Santana's progress at third base will be the source of a roster ripple effect.
If Santana is the everyday third baseman ...
•Yan Gomes would be the regular catcher and the Indians might need a true backup catcher instead of using Santana as the "backup" option. Matt Treanor is in camp and might fit the bill.
•The DH spot could be used to get Jason Giambi in the lineup, at least against right-handers. Ryan Raburn would also probably see an uptick in at-bats.
If Santana is found to not be ready to play third base ...
•There definitely wouldn't be a need for another catcher. It would just be Gomes with Santana spelling him on defense.
•Lonnie Chisenhall would again be the third baseman, with Mike Aviles a backup option.
•Santana would be the predominant DH, with Giambi being a pinch-hitter and Raburn the fourth outfielder.
deGrom is set to become a free agent after the 2020 season

Perkins missed most of the last two seasons due to injury

Jonathan Singleton was suspended after a third positive test for a drug of abuse
Rodriguez will join Jessica Mendoza and Matt Vasgersian on the "Sunday Night Baseball" boo...

Jeff Wilpon talked about payroll on Tuesday, and it won't make any Mets fan happy

Yelich's agent recently asked the Marlins to trade him before the spring