SS market: Teams eye Didi, Drew, Franklin ... and how about Vizquel?
The Tigers and Mets are among teams in need of a shortstop with spring training winding down.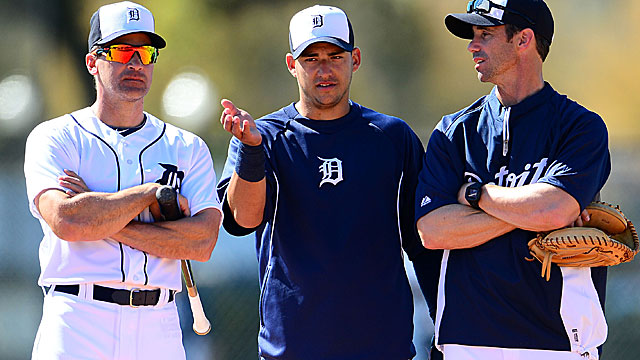 PORT ST. LUCIE, Fla. – Things are starting to get interesting on the shortstop market.
Jose Iglesias is expected to be out several months (one estimate was "three to four" months, at least) to heal a fracture in each lower leg. The Tigers haven't released official information following Iglesias' date with a specialist in Vail, Colo. but they've begun to canvass the leagues for a possible short-term replacement.
Ruben Tejada is said by observers to have a confidence gap in Mets camp, causing the Mets to send out their own net for possible replacements.
And even Elvis Andrus has missed a few days in Rangers camp with a forearm issue and as a precaution won't throw again until seeing a doctor Friday, though he's telling friends he doesn't believe the issue is anything beyond the usual spring soreness.
Here's a closer look at some shortstop options for the teams (mostly the Tigers and Mets since Andrus is likely to be all right) …
Tigers people are acting unworried, mentioning that Iglesias was going to be their No. 9 hitter anyway. However, Iglesias is going to be tough to replace on defense, and the Tigers aren't a team that generally just plugs in a minor leaguer or journeyman and hopes for the best.
For now, their options include internal candidates Danny Worth, Hernan Perez and Eugenio Sanchez, who are being penciled in at present. But rival execs warn to bring an eraser, as they don't see the Tigers finding the solution from within.
Detroit will need someone defensively very strong, partly because they lost a whiz in Iglesias but even more because rookie third baseman Nick Castellanos is more slugger than fielder. One scout said he hasn't looked good at all at third, in fact.
Thus, the Tigers' two best options if they are looking to try to replicate Iglesias' defense might be top free agent Stephen Drew, an established and excellent defender, and Diamondbacks shortstop Didi Gregorius, an acrobatic gloveman. The initial word is that Drew isn't all that likely for Detroit, presumably because of the potential cost and loss of draft choice, but Gregorius would come at a cost of premium prospects, as well.
The Diamondbacks have two young starting-quality shortstops in Chris Owings and Gregorius, and a fair assumption is that Owings is the more likely to stay in Arizona. One Diamondbacks person compared Owings to Craig Biggio, and that is pretty fair evidence that he's probably not going anywhere. Does anyone want to trade the next Biggio?
Available young Mariners infielder Nick Franklin hasn't been connected to the Tigers yet, and that may be because he's seen as more hitter than defender, and possibly more second baseman than shortstop. Ultimately, he may be a better fit for the Mets.
If the Tigers don't want to spend as much in terms of prospects they could also look to the Braves' Tyler Pastrornicky, the Cardinals' Pete Kozma or maybe the Pirates' Clint Barmes (Ken Rosenthal first suggested that last one).
One scout said he could see Marlins slick-fielding shortstop Adeiny Hechevarria, a sort of Iglesias-lite, filling their need. But a Marlins source said they have yet to be contacted regarding Hechevarria.
And if they really don't want to give up anything, the Tigers can always try asking their new coach, the 46-year-old wunderkind Omar Vizquel, who last played in 2012. That doesn't appear to be a serious option, at least not at this point. One Tigers person joked that he didn't want to ask Vizquel because "he'd probably do it."
Hey, there may be worse options.
The Mets are throwing out a net for a shortstop while continuing to monitor Tejada, who's said by all to be at a low point in terms of confidence. They have Mets legend Edgardo Alfonzo working on him in that area, trying to undo what's been done. Mets GM Sandy Alderson was irked to have read an early unnamed quote from an alleged Mets official questioning Tejada's shape. In any case, there's plenty to question now. He hasn't been so hot in reality, as he is 3 for 25 with surprisingly suspect defense.
The Mets are going to start giving more chances to youngster Wilmer Flores, a big kid (6-foot-3) who may be better suited for any of the other infield positions but looked good in an early tryout game. However, a trade or signing seems like a likelihood, if not a necessity, at this point.
The Mets had some early conversations with Drew, suggesting they could possibly pay him about what he made last year ($9.5 million) without making an official offer. Drew is said to have once sought a two-year deal with an opt-out, with the opt-out being the hangup for the Mets.
Several executives around the league say they see Drew as the Mets' best answer. "Why haven't the Mets signed Drew yet?" is the perhaps the most common question heard from competing GMs.
A multiyear deal would actually make sense for Drew with the Mets since they have no surefire shortstop coming, and they look like a serious team in 2015, once Matt Harvey comes back and Zack Wheeler and Noah Syndergaard mature. They will very likely need a shortstop next year, and the free-agent market isn't exactly stocked with them, with J.J. Hardy and Jed Lowrie being the best alternatives.
The Mets also have talked to the Diamondbacks about their two shortstops and the Mariners about Franklin, though there's no word yet whether they've decided if Franklin is a shortstop or second baseman. The Rays and Orioles are among other teams looking at Franklin, though not as a shortstop.
In any case, as reported here Wednesday, while scouts from the Diamondbacks and Mariners have been eying Syndergaard, the Mets have determined they won't sacrifice Syndergaard to get their shortstop, leaving Rafael Montero, Jeurys Familia and Jenrry Mejia as the best potential pitching bait to land a shortstop.
That could change if there was any signal the Cubs would part with big-time shortstop prospect Javier Baez -- but alas, there has been no such word forthcoming.
Andrus is expected to be OK, but even if he has to miss a little time, the Rangers are an unusual team where their second baseman, young Jurickson Profar, could slide over and adequately play the position. Of course, that would leave them with a hole at second instead.
The O's need rotation help, and Cobb is available for hire

The Red Sox and Cardinals are expected to make trade offers next

The free agent first baseman may be a fit in St. Louis
The front office changes in Atlanta continue

The Marlins are more likely than you think on our list

Judge finished a distant second in the balloting and he paid respect to the winner