St. Louis, San Francisco mayors talking trash, making wagers
We see this type of thing quite frequently in the NFL, but it seems a bit more rare in baseball. That "thing" is mayors of two cities locking horns on the Internet. Today, it's the mayors of St. Louis and San Francisco going head-to-head.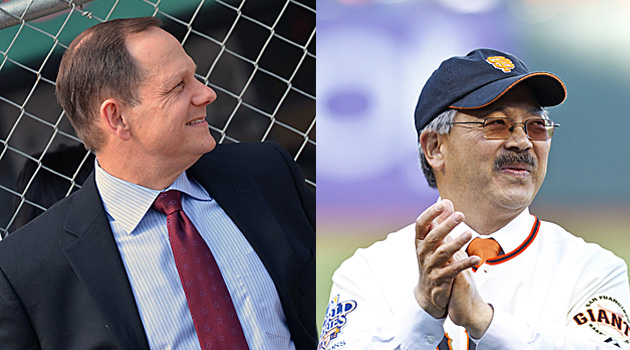 Slay (left) and Lee have wagered and are exchanging some friendly trash talk. (Getty Images)
We see this type of thing quite frequently in the NFL, but it seems a bit more rare in baseball. That thing is mayors of two cities (San Francisco and St. Louis) with teams competing for a championship locking horns over their Cardinals and Giants on the Internet.
It's San Francisco Mayor Edwin M. Lee vs. St. Louis Mayor Francis G. Slay.
First, the bet, via sanfranciscosentinel.com:
More playoff coverage
ALCS: Tigers vs. Yankees
NLCS: Cardinals vs. Giants
"The Mayor of the losing city will change his Twitter profile picture to the logo of the winning team for a day. Also, the losing Mayor will send food and beverages traditionally associated with the respective cities so the winning Mayor can invite the community into City Hall for a party to celebrate. Mayor Lee will send dim sum and Anchor Steam Beer. Mayor Slay will send St. Louis barbecue, toasted ravioli and a court of St. Louis brews, led by the King of Beers."
Hopefully the barbecue comes from Pappy's Smokehouse. Yum. Anyway, now onto the trash talk!
"I originally wanted to bet the Golden Gate Bridge for the St. Louis Arch, that's how confident I am that the Giants are going to beat the Cardinals and advance to the World Series," said Mayor Lee (sanfranciscosentinel.com). "But having Mayor Slay change his Twitter avatar for a day and receiving St. Louis [fare] is a better, more appropriate bet, I'd say."
"I appreciate Mayor Lee's tough talk," said Mayor Slay (sanfranciscosentinel.com). "We're a little more modest because we are so used to winning. The last five playoff series all started the same way: tough talk from opposing mayors. They also ended the same way: A St. Louis Cardinals victory, and the people of St. Louis enjoying some very good food."
Ooooh, the gloves are off!
For more baseball news, rumors and analysis, follow @EyeOnBaseball on Twitter, subscribe to the RSS feed and "like" us on Facebook.
We don't need to discuss Chipper's Hall of Fame case, so let's have fun instead

Dioner Navarro still hopes to return someday

Christian Yelich's agent says his client's relationship with Marlins is 'irretrievably bro...
The free-agent market has been slow and one player is bracing for an even longer wait

The Mets didn't want to trade a young outfielder for an older one

Josh Harrison doesn't sound pleased Gerrit Cole and Andrew McCutchen have been traded away