Stalled development of non-Harvey youngsters a big problem for Mets
Right-hander Matt Harvey is the talk of baseball, but other young players on the Mets' roster are not developing as hoped.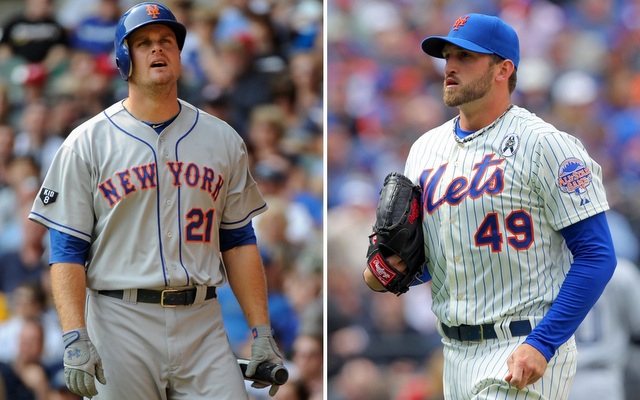 More MLB: Scoreboard | Standings | Probable Pitchers | Sortable Stats | Odds
You can make a pretty strong case that the Mets have the best hitter-pitcher combination in baseball. David Wright is a star, hitting .295/.410/.504 with five homers and eight stolen bases in 37 games. Matt Harvey is the best young right-handed pitcher in baseball, going 4-0 with a 1.44 ERA and 0.73 WHIP in eight starts. Those two form a pretty great core.
Unfortunately for the Mets, MLB rosters run 25 men deep, and the other 23 players on the roster form one of the worst clubs in the majors. The Mets have lost six straight games and 14 of their last 18 to drop to 14-23. Only three teams have worse winning percentages this season -- the Marlins, Astros and Angels. Their win totals dropped in each of the last two seasons, and it looks likely to happen again this year.
A record that poor takes a total team effort, but the Mets have gotten some surprisingly solid production from veteran stopgaps like John Buck (116 OPS+), Marlon Byrd (110 OPS+), Brandon Lyon (104 ERA+) and LaTroy Hawkins (107 ERA+). The bigger issue is that nearly all of their young players -- basically everyone other than Harvey and the underrated Bobby Parnell -- have taken a step backward this year.
These are the guys who are supposed to be building blocks, the guys who were being counted on as the foundation of the next great Mets team. They're all in their 20s and at an age when you would expect them to take steps forward and improve, not take a step back. It's troubling.
I do think Niese and (to a certain extent) Gee will be fine. I think they'll turn things around at some point relatively soon and pitch up to their usual standards the rest of the season. Murphy's performance decline is nitpicking and not a huge concern. Davis' chronic slow starts are brutal, though, to the point where the idea of sending him to Triple-A has been floated in each of the last two seasons. He was supposed to develop into the lineup's lefty complement to Wright. Duda's defense negates his offense, while Tejeda's offense negates his defense.
For the last few years, the Mets' biggest problem has been the bloated contracts on their payroll. The Oliver Perezes and Jason Bays. Now, they have to figure out why their non-Harvey young players aren't progressing as hoped, and that progress was what this year was about. The club was unlikely to contend, but seeing improvement from their young players would be a big-picture win. Instead, they all appear to have hit a developmental wall in the early going.
The lefty starter is coming off a terrible season

After acquiring Ian Kinsler and Zack Cozart in recent days, the Angels are trending upward

Cozart's coming off a big season as the Reds' shortstop
The veteran slugger spent the last eight seasons with Cleveland

The Padres may be poised for an active winter

Yes, Bryce Harper is going to make a lot of money next winter