Stanton, Marlins close on record deal worth $325M for 13 years
Giancarlo Stanton seems ready to stay in Miami. The sluggers and the Marlins are close on a 13-year, $325 million deal.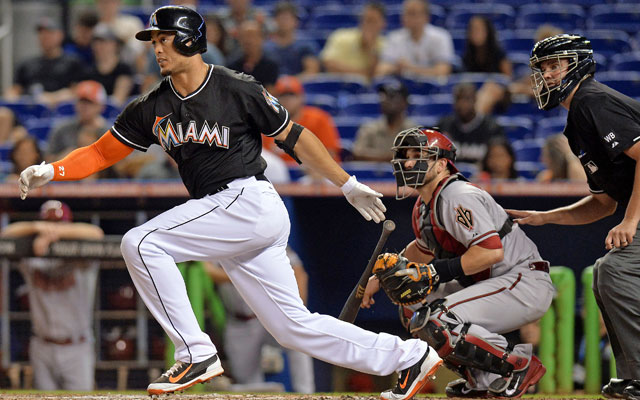 Giancarlo Stanton and the Marlins are closing in on a landmark deal, believed to be for $325 million over 13 years, sources connected to the team told CBSSports.com.
Stanton's record deal will have a no-trade clause and is expected to include an opt-out clause as well, allowing him to exercise a right to leave after a number of years.
There is agreement on terms, and only language remains to be finalized, sources said.
The dollars are extraordinary for the Marlins, a lower-revenue, lower-spending team that stepped up. Before this deal, which is for $25 million a year, the Marlins had only $8 million in future obligations, according to mlbtraderumors.com. Now that figure will rise by about 40 times.
The Marlins made Stanton the centerpiece of their offseason and, more than that, their future. Miami is on the verge of hitting a home run with a deal that breaks Alex Rodriguez's record (for all of North American sports) with his $275 million deal with the Yankees. Signing Stanton was seen as a long shot at the beginning of the offseason, as Stanton was believed to be skeptical about the team's efforts to win perennially. Apparently their conversations went very well over the last several days negotiating, however.
The Marlins are trying to sign some of their other good young players to extensions, though the chance to sign superstar pitcher Jose Fernandez seems remote at this point, making Stanton vital to keep.
The average annual value will be $25 million. But the other issues were just as important to Stanton, who most wants to play for a winner. The opt out gives him a chance to leave during the course of the record contract, if things aren't going as expected.
The no-trade clause is something the Marlins have historically never given and it's why they ultimately had little chance to sign Albert Pujols when they tried three years ago.
Stanton, who just turned 25, is considered one of the best players in the game; he just finished second in NL MVP voting to Dodgers star pitcher Clayton Kershaw.
Stanton put up a monster year in 2014 but he missed the final couple weeks of the season after being hit in the face by Milwaukee pitcher Mike Fiers, suffering facial fractures and broken teeth. Stanton looked great when he picked up his Hank Aaron award at the World Series, and the Marlins are obviously unworried it'll lead to any lingering effects.
Keep tabs on the top 50 free agents right here

The Padres have been heavily connected with Hosmer all offseason

The Twins needed rotation help, so the Odorizzi acquisition makes sense
The Rays pulled off a head-scratching move Saturday night

The Rangers will certainly be back in the market for a reliever

Watson will give the Giants a good left-handed reliever