Stanton says it 'would be so much fun' to participate in Home Run Derby
Giancarlo Stanton is hoping he will get the opportunity to participate in his first Home Run Derby this year.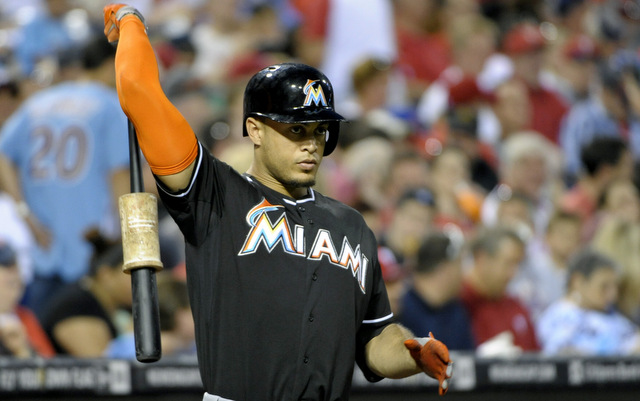 More HR Derby: New Format | Abreu not interested | Tulo, Bautista named captains
Important news, baseball fans: Marlins slugger Giancarlo Stanton would like to participate in this year's Home Run Derby. Stanton told ESPN's Jayson Stark he hopes he will get to take his hacks at Target Field next month after having to skip the 2012 Derby due to arthroscopic knee surgery.
"It would be fun," Stanton told ESPN.com on Tuesday. "I was unfortunate in 2012. I was, what, half a day from being in one? So it would be fun to get my second chance at it."

...

Asked if he'd always felt the Derby was tailor-made for him, Stanton said: "Well, I've always watched it growing up. And I obviously know what I can do in batting practice. It would be so much fun to see how it would all pan out, to participate in it."
Having seen a few of them firsthand, Stanton's batting practice displays are not as impressive as you might imagine. He takes his pregame preparation seriously and focuses on getting his swing locked in and hitting to all fields, not ripping home runs that don't count. That hardly means he would be a bad choice for the derby though.
Troy Tulowitzki will serve as the NL captain this summer and will choose four other players to be part of the five-man squad. Stanton seems like an obvious choice, but that was the case last season, when David Wright passed over him to take Bryce Harper, Pedro Alvarez and long-time friend Michael Cuddyer to the Derby.
Stanton, 24, is hitting .308/.401/.592 (170 OPS+) with an NL-leading 20 home runs and 58 RBI in 77 games this season. He has hit 137 homers in 566 career games despite playing his home games in big ballparks. Needless to say, a Home Run Derby with Stanton would be must-see television.
The Red Sox and Cardinals are expected to make trade offers next

The free agent first baseman may be a fit in St. Louis

The front office changes in Atlanta continue
The Marlins are more likely than you think on our list

Judge finished a distant second in the balloting and he paid respect to the winner

Stanton just won the 2017 NL MVP award but could wind up being dealt this offseason