Star-studded USA feels elation to advance, but even more relief
Late rallies help Team USA defeat Canada in a do-or-die Round 1 finale.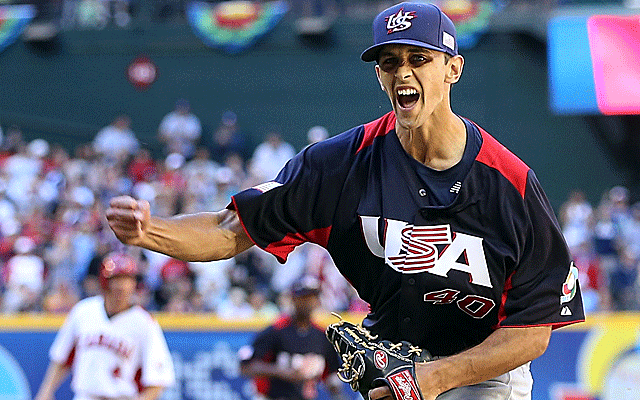 Marlins reliever Steve Cishek locks down the final out in the eighth to preserve a one-run lead for Team USA.
(Getty Images)
PHOENIX -- Team USA gets to take its considerable talents to South Beach for round two of the World Baseball Classic, and by the end of the final do-or-die game against Canada those talents were especially, finally, in clear evidence.
There was some elation after Team USA dispatched of Canada 9-4 to advance, but mostly there was relief. As they say, this is our game. But for two games and seven innings, you could hardly tell.
World Baseball Classic
Related content
Second baseman Brandon Phillips, who flashed his range from here to Tempe in the key eighth inning, when Team USA overcame a one-run deficit, said a defeat here would have been "embarrassing.''
Steve Cishek, a Marlins reliever who locked down the final out in the eighth inning to preserve a one-run lead, said it would have been "devastating.''
And Diamondbacks reliever Heath Bell, the winner for a clean seventh inning, summed it up this way: "Everyone would have been bummed."
The best thing for them is that the potentially embarrassing opening round is in the past, and Team USA gets to go to Miami to face the big boys now, a place where there will be no shame to lose. Italy will accompany USA for the games at Marlins Park, with the tough Puerto Rico squad and the powerhouse Dominican Republic team awaiting them in a much deeper pool.
Team USA almost didn't make it. After being upset 5-2 by Mexico in the first game here, it needed to win two straight, doing so thanks to a David Wright grand slam against Italy followed by the late seven-run, two-inning rally against Canada. There were tight, tense moments in each of their last two games, made moreso by their clinker in the opener against Mexico.
"I think maybe the first loss was the best thing to happen to us," said David Wright, a WBC enthusiast and standout. "It made us realize we have a target on our backs. We can't just show up and expect to win these games."
Perhaps you'd think they'd know that, after going 7-7 in the first two World Baseball Classics. But of course, they show up with a veritable All-Star lineup, and the opponent has only a handful of major-leaguers at most, and it's hard not to think it's going to be easier than it is.
Wright, who has taken a leadership role here, said the team showed up with a calm confidence -- though it didn't show on the scoredboard 'til late.
There was some talk Team USA might have to play to qualify for the 2017 WBC had it lost to Canada, and Wright said while players were aware of the possibility, they didn't think too much about it because they were focused on winning.
It wasn't until the final two innings of the decisive game against Canada that USA did what folks had been expecting, which was to blow things open. Three runs in the eighth and four in the ninth finally made it a walkover, especially with baseball's best current closer Craig Kimbrel coming in to nail down the five-run lead.
Adam Jones ripped a two-run double into the left-centerfield gap to score pinch runner Willie Bloomquist and Wright and give the U.S. its first lead, at 4-3, with one out in the eighth inning. In the pool here Wright had five hits, five RBI and seemed to be in the middle of every rally. "David is completely awesome,'' said Bell, his former teammate with the Mets.
Shane Victorino, who induced raised eyebrows by being penciled into manager Joe Torre's surprise lineup, made it 5-3 before Canada rallied to score one and load the bases in Canada's half of the inning. The bottom of the eighth was the key to Team USA's victory.
That's when Cisek got pinch hitter Tim Smith to bounce out to Phillips, who had made a run-scoring dive on a grounder by Adam Loewen two batters earlier, to preserve a 5-4 lead. Torre stayed committed to his plan to use all his players some but not too much, as he made several surprise choices, from starting Victorino over slugger Giancarlo Stanton, to calling on right-handed reliever David Hernandez instead of lefty Jeremy Affeldt to face the three big lefties in the middle of Canada's order (Joey Votto, Justin Morneau and Michael Saunders), to Cishek getting the key out instead of Kimbrel, who was saved for the ninth.
Kimbrel didn't enter until after late addition Eric Hosmer scorched a three-run double in the ninth and helped make it a 9-4 game. By that time, the fates were sealed.
Torre talked before the game about his desire to use everyone who joined the team, a noble idea. But Wright said he didn't ever get the feeling that participation too precedent over prevailing. "Yeah, it's in the back of your mind. But winning's in the front of your mind," Wright said. "Everyone knows winning supersedes everything."
For 18 innings plus seven more, there was no guarantee that was going to happen.
Canada starter Jameson Taillon, a top Pirates prospect who hasn't pitched above Double-A yet, flashed his 96-mph heater and brilliant breaking ball but left with the score tied at 2, thanks to a little shaky defensive work by third baseman Taylor Green, who was playing only because Brett Lawrie suffered a rib injury on the eve of the event and had to pull out.
Team USA looked like it was in trouble for most of the game. But Wright saw no shame in that. "Every guy coming in threw 96, 97. And every guy in the middle of their order is pretty potent," Wright said.
Michael Saunders, the Mariners outfielder who beat Wright for MVP by going 8 for 11, hit an early two-run home run off USA starter Derek Holland, who went a solid five and left with the score 2-2 and emotions still frayed. Meanwhile, Team USA employed the bunt three times early with runners at first and second and no outs, belying their rep as a team of sluggers.
Twice the bunt plan didn't lead to runs, undoubtedly upsetting the sabremetric set. But Ben Zobrist's perfectly placed bunt in the fourth turned into a hit, and led to two runs when Green threw one low that first baseman Votto couldn't handle.
The game was tight and tense though the eighth inning, when Torre employed the two righties to get through Canada's lefty-heavy lineup (seven of nine hitters were left-handed). Then finally Team USA could relax a little. Wright said there was indeed a sense of relief.
Many also felt elation.
"There's no better feeling,'' Hosmer said.
"It is nice to be able to go to Miami winning two in a row and playing pretty clean baseball, Wright said.
They all felt much better about things.
Phillips, who has a way with words and opinions (how else to explain nearly a million Twitter followers for his @DatDudeBP account), said, regarding the other option of a return to Reds camp. He said, "I'm not ready to go back to Goodyear. There's nothing in Goodyear.''
So on to Miami it is for Team USA, bloodied but still standing. And finally smiling.
The Twins have already fortified the bullpen with Addison Reed, and now they want to address...

The Orioles likely want pitching, and the Indians have plenty of it

Halladay died in a November plane crash off the coast of Florida
The power-hitting outfielder is headed to Toronto

Martinez could add some power to a Boston lineup void of it

It's almost that time of the year again, time for the Tebow madness to return