Starlin Castro erasing doubts with big bounce-back season
Did a bad 2013 season cause too many people to forget just how young and talented Cubs shortstop Starlin Castro is? If so, it's time for that to change.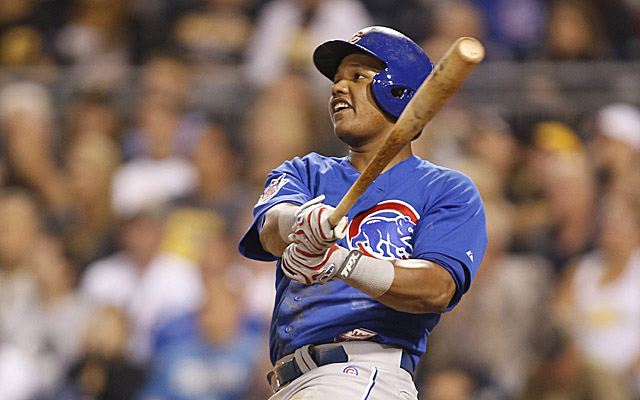 More MLB: Power Rankings | Expert Picks | Latest news & notes | Fantasy news
Cubs shortstop Starlin Castro was a two-time All-Star before he even turned 23 years old, but after a disaster of a season in 2013, it seems that some forgot just how talented he is and how good a player he can be.
After a three-run Castro home run helped propel the Cubs to a 6-3 victory over the Pirates Friday -- a continuation of a recent hot streak for the shortstop, which we'll cover a bit later -- it's pretty evident that what should actually be forgotten is the obvious aberration that was his 2013 season.
In the aforementioned disaster of a season, Castro hit .245/.284/.347 (72 OPS+). He walked at the lowest rate of his young career while striking out at the highest rate of his career. He had a few defensive lapses and even crawled into the doghouse of then-manager Dale Sveum a few times. It was bad enough that there were realistic concerns heading into 2014 and it surely had something to do with Sveum being fired.
Under new manager Rick Renteria, Castro hasn't just returned to his old self, he's actually become a better version than he was before -- specifically with the added power. The home run Friday was his 11th of the season. His career high is 14. He's already recorded 43 RBI, with his career high being 78. He's also on pace to set a career high in doubles (he has 22, his career high is 36) and slugging percentage (.490, career high is .432). Though the average (.290) and on-base percentage (.332) wouldn't be career highs, we have to keep in mind offense is down compared to Castro's first two seasons (2010-11).
Speaking of that, it's pretty easy to forget how young a player is when he was promoted to the majors at such a young age. In Castro's case, he was just 20 when he joined the Cubs. He turned 24 this past March. For some perspective on that, take note of all the love George Springer of the Astros deservedly received during his hot streak last month -- and then realize that Springer is actually older than Castro. Cubs rookie Mike Olt is another "youngster" who is older than the veteran Castro. 
Among regular MLB shortstops, only Chris Owings and Xander Bogaerts are younger than Castro. Youngsters Andrelton Simmons, Jean Segura, Brad Miller and Adeiny Hechavarria are, yes, older than Castro.
With all that in mind, Castro has probably become underrated nationally. The reason for this is three-pronged: The Cubs being a last-place club right now, Castro being a five-year veteran and his down year in 2013. But let's contextualize just how much he's already done -- even after an awful season and as he continues to develop at the big-league level.
Castro already has 775 career hits. He's on pace to record 106 more this season. Let's say he only gathers 75 more, which is ridiculously conservative. He would join elite company.
Only 20 players in major-league history have had at least 850 hits through their age-24 seasons. Click here to see the list on baseball-reference.com's play index tool, and it's a list that includes names like Ty Cobb, Robin Yount, Al Kaline, Ken Griffey Jr., Jimmie Foxx, Hank Aaron, Mickey Mantle, Roberto Alomar and a few more Hall of Famers.
See what I mean when I say Starlin Castro is now underrated, nationally? He's building a pretty stout resume, especially now that the power is coming around.
We might see Castro make his third All-Star team this coming July. The only NL shortstop who is definitely better than him is Troy Tulowitzki, who will most certainly start the game. With anyone else, there's at least an argument to be had. Take Hanley Ramirez. Castro leads him in hits, average, slugging, doubles and RBI while being tied in home runs.
With his confidence riding high in the midst of an excellent stretch -- Castro is 21-for-53 (.396) with eight doubles, four homers and 14 RBI in his last 13 games -- it's not a stretch to say he'll have even better numbers once the All-Star teams are chosen. Not many players make three All-Star teams before they turn 25. The ones who do are special.
Even if Starlin Castro doesn't make the All-Star Game, however, he's more than proving that last season was a fluke and that he's absolutely one of the pieces -- along with Anthony Rizzo, to name one -- the Cubs can confidently build their future around. On that front, what a difference a year makes.