Starlin Castro would OK position change for Javier Baez's benefit
Would current Cubs shortstop Starlin Castro (a two-time All-Star) change positions to make room for a 21-year-old prospect? Yes he would.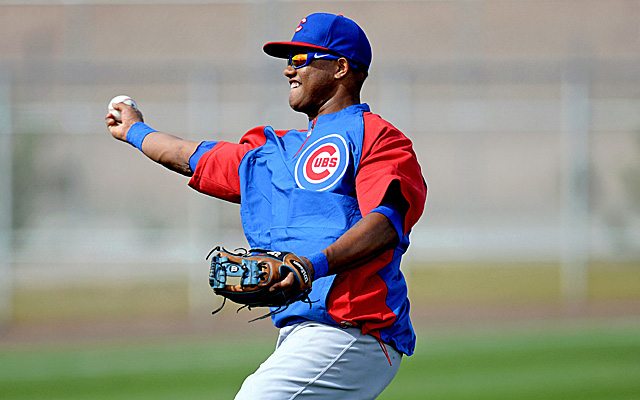 MORE: Spring Training | Scoreboard | Team previews
Cubs shortstop Starlin Castro couldn't have been blamed for looking over his shoulder a bit. After all, he's coming off the worst year of his young career and 21-year-old phenom Javier Baez also plays shortstop. We've seen many situations in the recent past where an established veteran is reluctant -- or even angry -- when asked to change position in lieu of getting a talented youngster into the lineup.
For Castro, that won't be a problem.
"If I need to move positions, I'm OK with that," Castro told csnchicago.com. "If he is on our team and him being there helps the team win, then I am fine with that. I just want our team to win. That's it."
Baez hit .310 with three doubles and five homers in 42 spring at-bats and has been ranked as a top-10 prospect in all of baseball by many publications. He's gotten some time at second base this spring but will open the season playing shortstop in Triple-A.
Castro, meanwhile, is a two-time All-Star who led the NL with 207 hits in 2011. Sure, he's coming off a bad season (.245/.284/.347), but he has the track record, is only 24 and is signed through 2019 with the Cubs. He could pretty easily make a public or even private declaration that shortstop is his position and Baez would be better served elsewhere. Instead, he's chosen to say the right thing. Kudos for that.
The Twins have already fortified the bullpen with Addison Reed, and now they want to address...

The Orioles likely want pitching, and the Indians have plenty of it

Halladay died in a November plane crash off the coast of Florida
The power-hitting outfielder is headed to Toronto

Martinez could add some power to a Boston lineup void of it

It's almost that time of the year again, time for the Tebow madness to return