Starting pitching prices reasonable so far this offseason
It's early, but so far this offseason the prices for free agent starting pitchers has been surprisingly reasonable.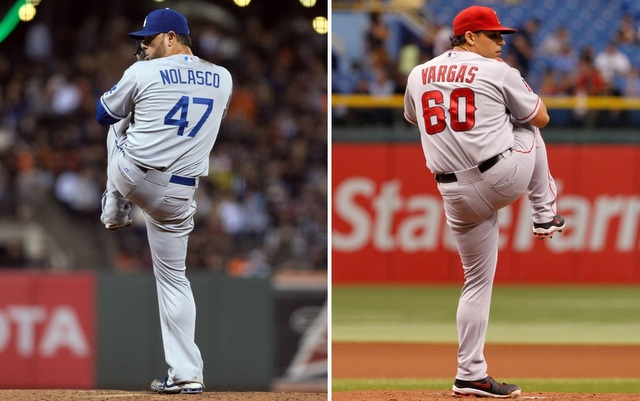 MORE: FA tracker: position players | FA tracker: pitchers
Thanks to several factors -- first and foremost, the new national television contracts that will put an extra $25 million in each team's pocket starting next season -- teams have more money to spend than ever this winter. The Collective Bargaining Agreement limits how much they can spend on amateur players and the best young big leaguers are signing long-term extensions, so all that extra cash is going to the few quality free agents available.
So far this winter, the price for starting pitching has been surprisingly reasonable. The market boom for these guys has yet to materialize. Granted, free agency has only been open for a month and the best pitchers (Matt Garza, Ubaldo Jimenez, Hiroki Kuroda, etc.) are still unsigned, but those who have inked deals have been pretty affordable. Here are the six free agent starters to sign so far.
Nolasco and Vargas were the healthiest of the six (Vargas did miss time with a blood clot, not some kind of structural injury) and that's reflected in their contracts. Both guys are the same age (30) but Nolasco has a longer track record, better pure stuff and is more of a strikeout pitcher. Teams will pay more for pitchers who can get outs without the help of their defense.
Among the four "reclamation projects," only Hudson secured a multiyear contract. That's because a) he was the best pitcher of the bunch in 2013, and b) he's coming off an ankle injury, not something arm related. Haren had a shoulder issue this past season, Johnson had bone chips taken out of his elbow a few weeks ago, and Vogelsong missed a bunch of time with a finger injury and saw his velocity fall considerably.
Teams are paying roughly $7 million per WAR these days, according to Lewie Pollis at Beyond the Box Score. That's on the free agent market. Pre-free agency players are way cheaper. Of the six pitchers to sign so far this winter, only Hudson ($7.2 million per projected WAR in 2014) comes close to that $7 million number. Nolasco ($4.7 million), Vargas ($4 million) and Haren ($4.5 million) are a few million cheaper per win while Johnson ($3.0 million) and Vogelsong ($3.1 million) are even cheaper.
Nolasco and Vargas are more relevant here than the other four because they were pretty much their usual selves in 2013. They better represent the market, I think. The other guys had some kind of structural injury at some point and that definitely changes the equation. The Twins and Royals did well to get bang for their buck this winter, at least in terms of projected 2014 performance. Four years down the line ... who knows?
Once the top free agent starters behind the sign, chances are we'll see deals closer to that $7 million per WAR. Teams have gotten pretty good value so far this winter, particularly Minnesota and Kansas City by this admittedly quick and dirty analysis.
Wright was arrested at his home Friday

The former Tigers teammates were voted into Cooperstown by the 16-person Modern Era Commit...

The Yankees still have room for a good-sized signing even after Saturday's trade with Miam...
St. Louis gets some much needed help for their bullpen

Keep tabs on the top 50 free agents right here

Morrow thrived with the Dodgers last season