Steinbrenner denies story he might sell Yankees; Levine calls Hal 'enthusiastic'
Yankees managing partner Hal Steinbrenner strongly denied that he's thinking of selling.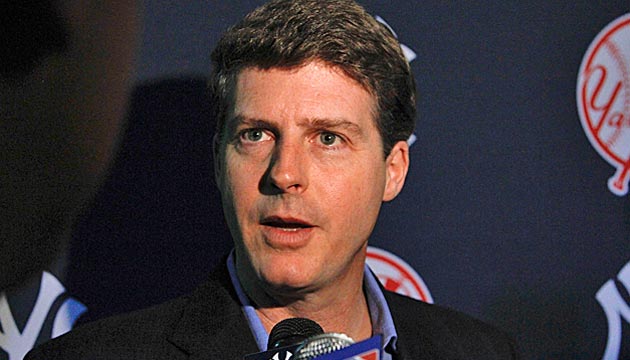 Hal Steinbrenner says a Daily News report is 'complete fiction.' (US Presswire)
Yankees owner Hal Steinbrenner issued a strong statement not only denying a New York
Daily News
story suggesting he will explore selling the Yankees but ridiculing it. "I just read the
Daily News
story. it is complete fiction. Me and my family have no intention to sell the Yankees and expect it to be in the family for years to come,.''
The story used unnamed sources who speculated that Steinbrenner might want to sell following the sale of the Los Angeles Dodgers for $2.15 billion to a group led by the Guggenheim partners, plus basketball icon Magic Johnson and longtime baseball executive Stan Kasten. There were no named sources supporting the contention Steinbrenner might sell, and the story seemed to be built on speculation Steinbrenner prefers non-baseball business. While Yankees people were enthused by that Dodgers sales price, no tangible evidence of any Yankees sale talk has surfaced, in that story or elsewhere.
Yankees president Randy Levine this morning painted a picture of the story being so far from the truth it barely deserved a serious response. Levine joked, saying, "I am going to put together a group and call Mort Zuckerman to buy the
Daily News
. Would you like to join me?''
On a more serious note, Levine said that the picture of Hal Steinbrenner lacking interest in baseball or the team is absurd. "He is very enthusiastic,'' Levine said of Hal. "He's been managing partner three years. He won the World Series once, got to the ALCS once and we're here now. He doesn't have George's personality, but nobody does.''
George Steinbrenner bought the Yankees for under $10 million in January, 1973. He died in 2009. His younger son Hal was initially portrayed as reticent to take over the team as managing partner, but he has seemed to embrace the role since taking over for older brither Hank who is more of a wild card than the Williams-educated Hal and has since virtually disappeared from the public scene.
Levine also asserted that the idea that the younger Steinbrenner doesn't like players is absurd. Said Levine, "It's total BS.''
J.D. Martinez is reportedly headed to Boston on a free-agent contract

Keep tabs on the top 50 free agents on the market right here

Arizona didn't waste much time turning to its fallback option following Martinez's deal with...
The former AL MVP has been one of baseball's best players in recent years

The free-agent slugger will join the Red Sox after all

Harper would prefer if reporters respect his wishes