Stephen Drew breaks up Arrieta's no-hit bid with two outs in the eighth
Cubs right-hander Jake Arrieta lost his no-hit bid on a Stephen Drew single with two outs in the eighth inning on Monday night.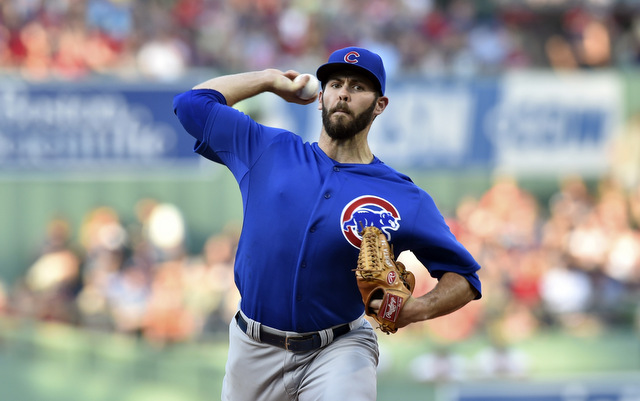 More MLB: Power Rankings | Expert Picks | Latest news & notes | Fantasy news
The new and improved Jake Arrieta was untouchable for most of Monday night. The Cubs right-hander was four outs away from no-hitting the Red Sox in Fenway Park when Stephen Drew broke it up with a solid single to right.
Arrieta threw a career-high 120 pitches in the game, so fatigue may have been a factor. He had thrown as many as 114 pitches in a start twice before -- once in August 2010 and again in April 2012. Arrieta started the season on the disabled list with a shoulder issue.
Boston's only base-runner before Drew's single was a Mike Napoli walk in the fifth inning. Arrieta has struck out 10 and, frankly, there wasn't anything particularly close to a hit before Drew's single. David Ortiz hit a soft line drive to second in the fifth inning that looked like it might sneak through, but Darwin Barney reeled it in.
Arrieta, 28, came into Monday's game with a 4-1 record and a 2.05 ERA in 10 starts and 57 innings. After pitching to a 5.23 ERA from 2010-13, Arrieta appears to have made legitimate improvement this year by scaling back on his fastball usage and instead relying on his array of offspeed pitches.
There have been two no-hitters thrown during interleague play: David Cone's perfect game against the Expos in 1999 and a Jered Weaver/Jose Arredondo combined no-hitter against the Dodgers in 2008. The Angels actually lost that game 1-0.
The last Cubs pitcher to throw a no-hitter was Carlos Zambrano back in September 2008, when he no-hit the Astros in Milwaukee's Miller Park. The game was played in neutral site due to Hurricane Ike.
The Red Sox were last no-hit by Chris Bosio of the Mariners, way back in April 1993. They were last no-hit in Fenway Park by Jim Bunning of the Tigers way back in 1958.
Josh Beckett, Tim Lincecum and Clayton Kershaw have all already thrown no-hitters this season.
Chicago won the game 2-0 on a Nate Schierholtz two-run home run off Jake Peavy.
Gonzalez was reportedly killed in a car crash in Cuba

Our Black Friday FA shopping guide includes a starting pitcher, slugger, super sub, and re...

Get 15 percent off any order of more than $75 at CBS Sports Shop
Need a gift for someone who loves baseball? We're here to help as the holidays approach

Several prominent Japanese-born Mariners and ex-Mariners have said they will help as well

Get your sports fans something that they'll wear all year