Stephen Drew, Kendrys Morales willing to wait until June to sign
Stephen Drew and Kendrys Morales, the last two big names on the free agent market, may be willing to wait until draft-pick compensation is no longer in play.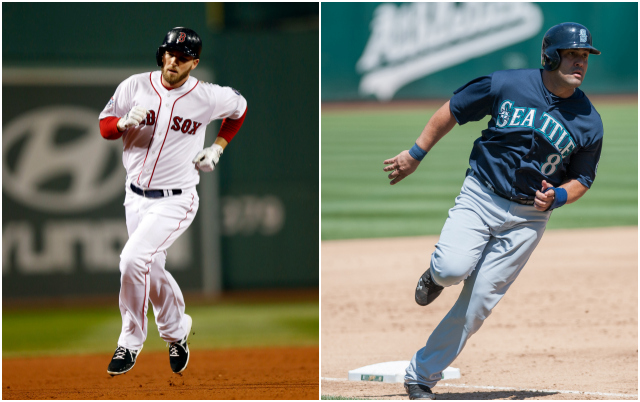 HEYMAN: Mariners, Morales still talking
We're just a little more than two weeks from opening day, and Stephen Drew and Kendrys Morales are still looking for employment. In large part, that's because each player turned down a qualifying offer from their former teams. That means that whatever team signs Drew or Morales must in turn forfeit their highest pick as part of the free agent compensation system (note: teams with a top-10 draft pick are exempted). That drag on free agent value has already reduced Nelson Cruz and Ervin Santana to signing below-market deals, and the system is doing the same to Drew and Morales. 
The wrinkle, of course, is that no compensation picks can be lost on signings that occur after the June draft. That self-evident consideration of course isn't lost on Scott Boras, who represents Drew and Morales. Here's more from ESPN.com's Jerry Crasnick: 
Boras said he continues to have active dialogue with teams on both players, including discussions about potential multiyear contracts. One scenario under consideration, he said, is for Drew and Morales to sign after the June draft, when they will no longer be burdened by draft-pick compensation.

"The system they've been dealt has basically prevented them from free agency," Boras said. "They want to make sure about their next step, whatever that will be. It means either signing a long-term contract now -- and we're still taking offers on those -- or a number of other prospects that could occur after the season starts or in June, after the draft happens.
That's a possibility, of course. However, bear in mind that by signing in early June and then rounding into regular-season form, the player in question would be sitting out more than one-third of the season. That's going to be reflected in any post-June contract he signs. Frankly, I'm not sure taking a discounted multi-year deal in June is going to wind up giving each player more security than signing now and trying the market again next offseason, when they'll presumably hit the market again after signing a one-year pact for 2014. With that said, I trust Boras is a better judge of market realities than I am. 
Boras's larger point, though, is true, and that's that the compensation system is really punishing free agents more than it's compensating teams who lose those free agents (recall that Drew's signing elsewhere, for example, would net a comp pick for the high-payroll, reigning-champion Red Sox).
At the very least, the system needs to be heavily adjusted in the next collective bargaining agreement so as to eliminate some of these unintended consequences.
Maxwell joins a growing movement across sports

The Yankees punched their ticket to the playoffs with a win over the Blue Jays on Saturday

Sabathia's stance seems to be an increasingly popular one among athletes
Plus the A's and Brewers have hope, Giancarlo goes deep again, and much more

Matt Chapman and Matt Olson give the A's hope

Despite an awful month, the Dodgers are again NL West champions