Stephen Strasburg watch: Mother Nature can't limit Strasburg's innings
Despite a 51-minute rain delay in the third inning, Stephen Strasburg still went 6 innings and picked up his 15th victory of the season.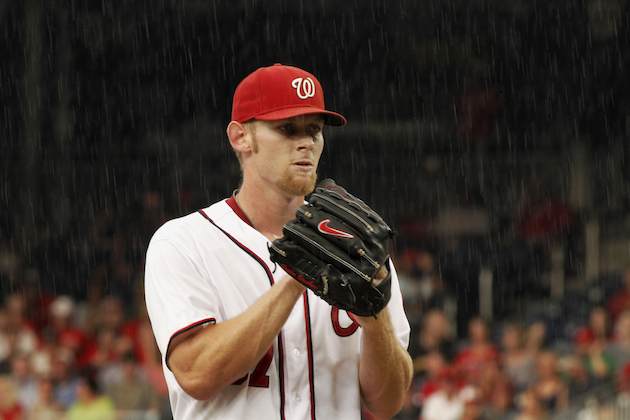 Stephen Strasburg threw six innings on Tuesday despite a 51-minute rain delay in D.C. (Associated Press)
While Mike Rizzo is expected to limit Stephen Strasburg's innings, Mother Nature couldn't Tuesday night. Despite a 51-minute rain delay with two outs in the top of the third inning, Strasburg returned, throwing six innings to put his season total at 145 1/3.
Strasburg allowed just one run on four hits over six innings, striking out 10 and walking one in a 4-1 victory over the Braves.
The magic number for Strasburg's shutdown is believed to be somewhere between 160 and 180 innings, so let's check out where he stands: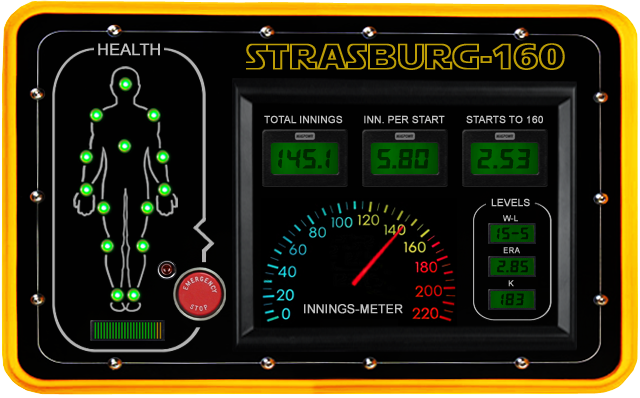 Also with the win, Strasburg won his 15th game, tying him for third in the National League behind teammate Gio Gonzalez and Cincinnati's Johnny Cueto, both of whom have 16 wins. His 10 strikeouts gave him 183 on the season, taking over the league lead from New York's R.A. Dickey.
The win also gave Washington a seven-game lead over the second-place Braves.
With a day off on next Monday, Strasburg isn't scheduled to pitch again for a week, taking the hill next Tuesday, Aug. 28, at Miami. Strasburg is 2-0 in three starts against the Marlins this season and hasn't allowed a run in 18 innings. Miami's managed 13 hits and struck out 19 times against Strasburg this season. He'll face Ricky Nolasco, who is 9-12 with a 4.94 ERA overall. The 29-year-old right-hander has struggled this season against the Nationals, going 0-2 with a 6.35 ERA in two starts.
For more baseball news, rumors and analysis, follow @EyeOnBaseball on Twitter, subscribe to the RSS feed and "like" us on Facebook.
They still would much rather grab the AL East, however

Sale becomes the first AL pitcher to reach 300 strikeouts since 1999

Steve Balboni's long-standing record of 36 has finally fallen
Several players called for the netting to be extended down the base lines following Wednesday's...

Maria made landfall as a Category 4 on Wednesday

The players are trying to do their job and don't want to see anyone hurt