Steroid stigma unfair to 500-home run club member David Ortiz
David Ortiz now has 500 career home runs. And yet, every time you say anything about him, someone is there to scream, "Steroids!" It's not right.
More Papi >> No. 500 | By the numbers | HOFer? | Historic run | Next?
Red Sox DH David Ortiz joined one of baseball's most storied and exclusive clubs when he hit his 500th home run on Saturday. In many corners of the home we call the Internet, the instant news of Big Papi's 500th dinger hit, screaming outrage seeps through in the form of one word:
STEROIDS!
Maybe more, such as "PED" or "cheater" or something like that.
Remember, back in 2009, there was a report that Ortiz failed the drug-testing survey in 2003 that was required to be kept anonymous by Major League Baseball. More than 100 others failed and were never outed, yet Ortiz was. And that has stuck with him ever since, despite now having played 11 seasons since with a testing system in place and never, ever failing one. Not one.
"If one day I'm up for the Hall of Fame and there are guys who don't vote for me because of that, I will call it unfair," Ortiz told the Boston Globe back in the spring.
He's 100 percent correct.
In an extended piece for The Players Tribune back in the spring, here's more from Ortiz:
In some people's minds, I will always be considered a cheater. And that's bulls---. Mark my words: Nobody in MLB history has been tested for PEDs more than me. You know how many times I've been tested since 2004? More than 80. They say these tests are random. If it's really random, I should start playing the damn lottery. Some people still think the testing is a joke. It's no joke. Ten times a season these guys come into the clubhouse or my home with their briefcases. I have never failed a single one of those tests and I never will.
Scoff if you wish, but you cannot deny that Ortiz has never been suspended with a testing program in place. You never saw a mention of his name in the Biogenesis or any other scandal, either. He's either clean or he's the world's best doper. 
There have been 47 different players suspended for PED violations since the testing system was put in place. Ortiz's name is not on that list.
He's also correct in that in the minds of many fans and media members, he'll always be considered a cheater. He's again correct that it's BS.
Here's more from Ortiz on the 2003 test:
No one had ever told me I'd failed any test. Now six years later some documents get leaked and they're saying I'm dirty. I called my agent and asked what was going on. He didn't have any answers for me. I called the MLB Players' Association and they didn't have any answers for me. To this day, nobody has any answers for me. Nobody can tell me what I supposedly tested positive for. They say they legally can't, because the tests were never supposed to be public.

Let me tell you something. Say whatever you want about me — love me, hate me. But I'm no bulls----er. I never knowingly took any steroids. If I tested positive for anything, it was for something in pills I bought at the damn mall. If you think that ruins everything I have done in this game, there is nothing I can say to convince you different.
Again, there were 100 other players flagged who weren't outed. Why Ortiz?
I have no idea, but I can tell you that it's not fair to single him out and judge his career based upon that without knowing who the other 100 players are. We can't judge those guys, so it's hypocritical to try and denigrate him for it. Especially since he's never been pegged since. Not one time.
As for the notion that players couldn't possibly still be quality power hitters in their late 30s, are we going to accuse Hank Aaron of using steroids? He hit 47 homers when he was 37, 34 when he was 38 and 40 when he was 39.
No, I'm not comparing Ortiz to Aaron as a career-long home run hitter, but the point is that one cannot say Ortiz "has to be using something" unless the suggestion is that it's impossible for anyone to do what he's doing at his age. If that's the case, Aaron has to be viewed through the same lens, no?
If Ortiz tests positive for something tomorrow, I'll rescind every word of this defense, but I feel pretty confident that isn't going to happen. Why? Because it hasn't happened yet and he sounds so confident to the point of being defiant. This isn't like Ryan Braun where he convinced people a sample was tainted. There have been no samples in 11 years that were problematic with Ortiz.
For that, he should have earned the trust of anyone paying attention. His side -- and mine, by virtue of this column -- has 11 years worth of testing as proof. The other side has speculation, a dubious report and non-arguments like "He's big!"
Feel free to choose the latter, but it's not firm ground upon which to stand.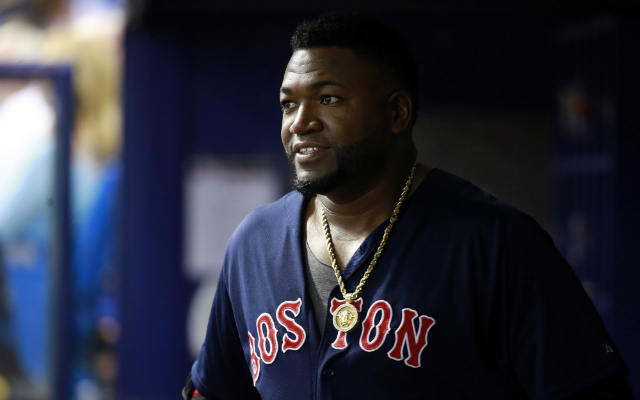 CBS Sports HQ Daily Newsletter
Get the best highlights and stories - yeah, just the good stuff handpicked by our team to start your day.
Please check the opt-in box to acknowledge that you would like to subscribe.
Thanks for signing up!
Keep an eye on your inbox for the latest sports news.
Sorry!
There was an error processing your subscription.
SportsLine's Mike McClure, a DFS pro with nearly $2M in winnings, gives optimal lineup adv...

The Reds will be without their starting second baseman for some time

Verlander would otherwise have hit free agency this winter
The Giants need outfield help badly heading into the regular season

The Mariners are going through a rebuild after a hectic offseason

St. Louis acquired Goldschmidt from Arizona in December