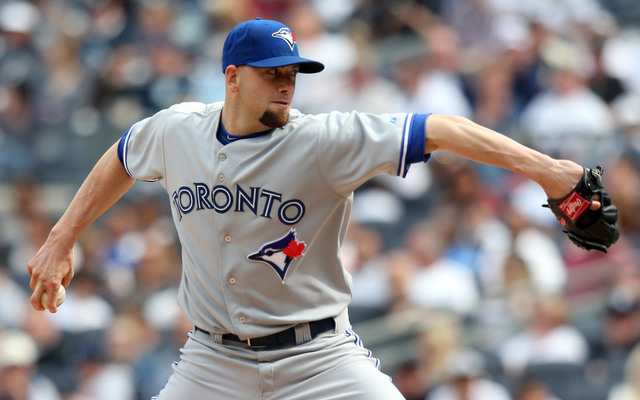 More MLB: All-Stars Hardy, Gomez once traded for each other | Mujica an unlikely All-Star
NEW YORK -- It wasn't the first pop that nearly ruined Steve Delabar's career. It was the second.
"I had some soreness going on [in my right elbow]," explained Delabar during All-Star media day on Monday. "I threw a pitch, and I felt a pop, and then I threw two more pitches, and I felt a bigger pop. Then I was like, 'That's it, I can't go.'"
Delabar, who is now an All-Star setup man for the Toronto Blue Jays, had suffered a compound fracture in his pitching elbow while with the Brockton Rox of the independent Canadian-American Association in 2009. The bone broke through the skin and required a metal plate and nine screws to repair. Back in February, he tweeted out this photo of the x-ray:
@JaysRamblings hang in there! It gets better!! pic.twitter.com/92aqmv4J

— Steve Delabar (@SteveDelabar_50) February 1, 2013
"The alarm doesn't go off when I walk through [security at the airport]. But when they have the wand, they'll set it off," Delabar joked. "They check your watch, they check your belt buckle, then they go over my elbow, and I'm like, 'Yeah, there's a plate in there.'"
Delabar, who will turn 30 on Wednesday, can joke about it now, but the injury didn't just end his 2009 season. It ended his baseball career, at least temporarily. After being released following the elbow fracture, he found himself working as a substitute teacher back home in Kentucky.
"I was a substitute teacher. It was anything from second-grade subjects to algebra, senior-advanced chemistry," he said. "It was pretty broad on what I was doing."
While employed as a substitute in 2010, Delabar was also taking classes and working to become a health/physical education teacher at the University of Louisville. Baseball was an afterthought; he was preparing to start a career in the classroom.
"I was getting my [bachelor's degree], and I was going to enroll into the master's program right after that and finish up school, have my teaching certificate, all of that stuff," he explained.
When he wasn't in the classroom -- either as the teacher or student -- he was coaching a local high school baseball team. Delabar had his players working on a throwing program specifically designed to limit injuries and increase arm strength.
That throwing program came with an unexpected side effect: Delabar's own fastball returned. He was working out at an indoor facility. Soon enough, his once-fractured elbow was back to delivering low-90s fastballs. That earned him a tryout with the Seattle Mariners in April 2011.
"I went out originally to do a tryout. I went to do a couple live [batting practice sessions], and then they decided to sign me after that," said Delabar.
"I told the head of the department at the University of Louisville that 'I've got to go back and give this another shot.' This doesn't come around that often, for a guy my age to get a shot to even be able to -- I was out of it, anyway -- just to be able to get a chance to go back, he said, 'You know what, you're still young, so just go and have fun with it."
The tryout resulted in a minor-league contract. Delabar pitched at three minor-league levels for Seattle in 2011, posting a 2.25 ERA in 56 innings despite walking 40 batters and having a 1.54 WHIP. That performance was good enough to earn him a cup of coffee when the rosters expanded.
On Sept. 11, 2011, less than 18 months after a piece of bone was sticking out of his elbow, Delabar made his big-league debut at Safeco Field with a 1-2-3 inning against the Royals. He struck out Alex Gordon and Melky Cabrera after getting a fly ball from Alcides Escobar.
Delabar made the Mariners' bullpen out of spring training in 2012, but he was mostly a low-leverage reliever who bounced back and forth between Triple-A and the majors. On the day before the trade deadline, with Delabar's ERA at 4.17 and his WHIP at 0.93, Seattle GM Jack Zduriencik shipped him to the Blue Jays for outfielder Eric Thames.
"With Seattle -- I don't want to say just another bullpen guy -- but I was another arm," explained Delabar. "When a team trades for you, it's like, 'We want this guy.' So basically they took me and said just come over here and get guys out ... There wasn't that fear of, if I have a couple bad outings, [I might go back to the minors]. It's your job to kinda go with it."
And go with it is exactly what Delabar has done. He pitched to a 3.38 ERA and 1.30 WHIP after the trade, and this season he has taken his game to another level. Delabar has emerged as a shutdown reliever for Toronto, putting up a 1.71 ERA with the third-most strikeouts (58) among AL relievers in 42 innings. He is at Citi Field this week after beating out some fellow relievers in the All-Star Final Vote poll.
"Unbelievable feeling," said Delabar when asked what it means to be at the All-Star Game following his elbow injury and stint as a gym teacher-to-be. "Growing up, you see all the names and players that come to these events like this and you envision yourself doing something like that down the road. You think, 'I'm going to be a major leaguer, and I'm going to play in their shoes' and all that.
"But then to come here [after the injury and being out of baseball] and actually be a part of it is something special."