Stock Watch: Abreu keeps pounding away, could make AL MVP a race
Mike Trout remains the pick to win AL MVP, but if Jose Abreu keeps producing and can push the White Sox into the playoffs, the Cuban rookie could have a shot.
More MLB: Power Rankings | Expert Picks | Latest news & notes | Fantasy news
White Sox first baseman Jose Abreu is not only arguably the best hitter in the American League this year and very likely the best free-agent signing from last offseason, he's this week's winner of the prestigious Stock Watch.
The real questions, though, are whether Abreu has a chance to win the MVP this year, and whether he deserves it.
Abreu is having a remarkable season, leading the AL in home runs (31), RBI (84), slugging percentage (.627) and OPS (.988), and certainly is a viable candidate to win both the Rookie of the Year and MVP awards. But if the White Sox, who are close to the cusp of the AL wild-card picture but not really in the race as of this moment, don't become a real contender, should Abreu still get the nod over Mike Trout , the clear MVP favorite at this moment?
A lot can change over the final two months, but while Abreu has been nothing short of brilliant all season (and even more brilliant lately; .429 average, 15 extra-base hits in a recent 21-game hitting streak), as of now Trout deserves the honor. While Trout doesn't lead the AL in anything except WAR (5.8), a very strong case can be made that he has been the best player in the league when considering all facets of the game, even beyond the recitation of the high WAR number.
While WAR isn't a precise measure, in the case of Trout in 2014, it seems very plausible that it's a very close approximation of his contributions -- though Abreu's 3.7 seems very light. (You think with a replacement-level first baseman in there, the Sox win only three to four fewer games? Doubtful.)
Anyway, it's not hard to imagine that Trout's baserunning and defense would take him over the top as the league's best player, though Abreu has hit about as well or slightly better. Even if one concludes WAR is imprecise (does anyone really believe Josh Donaldson and Jason Heyward have been as valuable as Andrew McCutchen, for instance, even though all three players have exactly the same 5.3 WAR? I hope not).
Regardless, the real reason Trout deserves the award goes beyond his personal exploits. It has to do with the precedent of the MVP award.
As the name suggests it goes to the league's most valuable player, not necessarily its best player. Whether the stat guys prefer that the award go to the best player, there is an eight-decade precedent to suggest that it goes to the player who's most valuable. And that's most valuable in the league, not most valuable to his own team, as some have started to argue in an obvious attempt to make the award go to whoever they deem the league's best player.
Trout narrowly lost the past two seasons, not primarily because Miguel Cabrera had some amazing offensive stats but because Cabrera led his team into the playoffs.
Assuming Trout helps his Angels into the playoffs, and Abreu's White Sox don't stage a miracle comeback, Trout fairly should be in line to win the award this year. He is deserving of it, not because it's his turn (or was ripped off before, as some would have you believe) but because he has earned it.
If Trout didn't win the award his first two full seasons due to many voters' interpretation of the word valuable (including my own, as I supported the Cabrera pick, though my actual vote the past two years was for the NL MVP), Trout of course deserves the MVP this year for the same reason.
Trout may well be the best player, just as a strong case could be made that he was the best player his first two seasons in the major leagues as well, but if he finished second to Cabrera in 2012 and '13 largely due to his team's standing, there's no good reason he shouldn't win it this year. I understand that the hard-core stat guys have decided that the team's standing shouldn't matter, but if the award was not supposed to take into account how a player's exploits affected the pennant race, it should have been named MOP (most outstanding player), not MVP.
There have been occasional cases when players have won the award on non-contenders (Andre Dawson, Cal Ripken Jr. and Alex Rodriguez famously won it for also-rans), but those are rare exceptions when no one stood out on playoff teams or contenders. That isn't the case this year.
If the award was simply for the best player, Abreu might have a case, as he has been incredible or better since the start of the year. He leads in homers and RBI despite being on the DL and missing a couple of weeks, he has supplanted Cabrera as the top power hitter and he even leads Trout in batting average (.304 to .303). But like Trout two years ago, barring a White Sox miracle, he may have to settle for Rookie of the Year, where he's the clear leader now thanks to a combination of his terrific play and Masahiro Tanaka's unfortunate elbow injury.
Trout, though, should be MVP. While he doesn't lead the league in any traditional stats, he has been just as brilliant as in his first two years, maybe even more. Interestingly, he is second in on-base percentage (.394), OPS (.979), runs (76), and yes, strikeouts (118). Anyway, he is the pick here (for MVP anyway).
Here are all the Bulls and Bears ...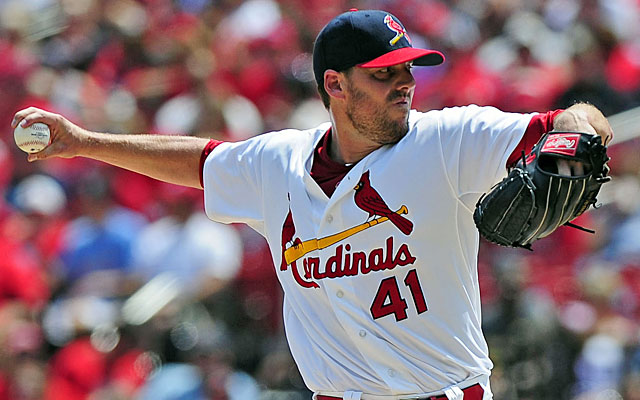 1. Jose Abreu , 1B, Chicago White Sox : He has been everything the White Sox could have hoped for and more. For $68 million over six years, he also is the best deal of last offseason.
2. Jon Lester , SP, Oakland Athletics ; John Lackey , SP, St. Louis Cardinals : Though only one of these two great pitchers spells his name correctly (kidding), they continue to have plenty in common.
They started well with their new teams, with Lester beating the Royals 8-3 on Saturday and Lackey topping the Brewers 3-2 on Sunday. Both are the key gets for two strong World Series contenders, especially Lester, who is 5-0 with a 1.38 ERA since June 12 and keeps the A's as the AL favorite (in fact he looks like a necessity thanks to the Tigers' acquisition of David Price a few hours later on deadline day). Lackey, like Lester, has a chance to win his third World Series ring now that he's with the Cardinals (though obviously they have to hit better and squeeze into the playoffs in a tight NL race).
Lackey gets bonus points for saying he won't balk at his $500,000 salary for next year, the result of a contract clause that added a year at the minimum if he needed Tommy John surgery (which he did two years ago).
3. Chris Coghlan , OF, Chicago Cubs : The 2009 Rookie of the Year (for the Marlins) looks like he's back. He led all of MLB with a .376 batting average in July, and he started August with three more multi-hit games, making it five in a row. At 29, he may finally have regained his form. He even had a 1.049 OPS in July. The Cubs decided they would rather keep him than trade him at the deadline. Can't blame 'em.
1. Ernesto Frieri , RP, Pittsburgh Pirates : After struggling for Los Angeles of Anaheim, he's struggling more in Pittsburgh, which is hard to believe considering his talent. Anyway, he has a 10.13 ERA for the Pirates, raising his 2014 mark to 7.34, which is so bad it's out of whack in this year of the pitcher. Beyond that, he broke Diamondbacks star Paul Goldschmidt's left hand with an errant pitch Friday, which may have been costly for both teams. While Frieri's pitch looked completely unintentional, the Diamondbacks retaliated the next day with a clearly intentional pitch that nailed Pirates star Andrew McCutchen in the back. While McCutchen survived that, he wound up leaving the Sunday while suffering a side injury hitting a sacrifice fly. Though it may be a long shot that McCutchen's injury is related to his beaning by the D-Backs, and Frieri can't be accountable for the Diamondbacks' behavior, it just adds to the story of his unfortunate season.
2. Ryan Howard , 1B, Philadelphia Phillies : Though it's believable the Phillies aren't really considering releasing him at season's end, he didn't help the long-shot trade cause, going 1 for 25 and lowering his batting average to .215. The guess here is the Phils would have to pay $60 million of the $70 million remaining on Howard's contract to trade him. That would be a record.
3. Dan Haren , SP, Los Angeles Dodgers : Haren is 0-5 with a 10.03 ERA over his past five starts. Manager Don Mattingly has said he will make his next start, but meantime the Dodgers may need to scan the waiver wire for some rotation help. With Josh Beckett seeming to be compromised lately by a hip injury, there's a decent chance the Dodgers will look to make a starting pitching pickup in August. Some candidates could include Bartolo Colon, John Danks and Ian Kennedy. While Kennedy could easily be blocked on waivers before LA has a chance to claim him, Colon and Danks have a decent chance to clear. Danks' $14.25 million salary each of the next two seasons makes him a logical candidate to go unclaimed. Colon is more questionable, though one rival NL executive guessed he would clear following his rough outing this weekend vs. the Giants.
The Astros will need Dallas Keuchel and Justin Verlander to take the pressure off in Games...

Judge and Sanchez played huge roles in the Game 4 comeback
The Yankees trailed by four going to the bottom of the seventh and still won

The Yankees rookie was caught stealing vs. the Astros in Game 4 of the ALCS, but he took the...

The Cubs are facing a right-handed starter for the first time in the NLCS